It's an honor
During the alumni awards dinner May 18, the following were awarded the Alumni Medal, the highest honor awarded by the University through the alumni association:
Don McGuire '80 began a career on Wall Street in investment banking and became COO of The Americas for ING Barings. In 2000, he left investment banking to become president of Beenz.com, a global Internet company, and then chairman and CEO of Metastatin Pharmaceuticals. He's now managing partner of KDM Advisors, using his financial and operating experience to help emerging companies grow.
McGuire has been an ambassador for John Carroll in recruitment, fundraising, and alumni activities in the New York City area. Most significantly, he has helped Carroll graduates launch their careers. He had six young alumni working with him at ING Barings in New York. Don has been an active member of the Boler School of Business Advisory Council and a frequent host to the John Carroll Finance Club on its visits to New York City. He has served on the alumni board and participated in the Alumni-in-Admissions program for years.
A partner at Baker & Hostetler, Jose Feliciano '72 has more than 35 years of experience in commercial and employment litigation. Before his long career in private practice, Feliciano served as Cleveland's chief prosecuting attorney. In 1984, Feliciano was one of 12 young Americans appointed by President Ronald Reagan as a White House Fellow. A past president of the Cleveland Bar Association, he has been elected to the American Bar Association's Board of Governors and House of Delegates. He served on the ABA's Standing Committee on Federal Judiciary where he worked on the nomination of U.S. Supreme Court Justice Sonia Sotomayor.
Feliciano, founder and chairman of the Hispanic Roundtable, was named by the U.S. Jaycees as one of the Ten Outstanding Young Men in America in 1985. He's been named Public Administrator of the Year in Cuyahoga County and was inducted into the Cleveland International Hall of Fame. A native of Puerto Rico, Feliciano brought his education and experience back to Carroll by teaching law- related classes for several years and by serving on the board of directors for 12 years.
A managing partner of the Zinner & Co. accounting firm, Robin (Szoradi) Baum '87 has more than 25 years of experience in public accounting and works primarily with multigenerational, closely held, and family-owned businesses. Her expertise includes various aspects of financial reporting and income and estate-tax planning and preparation. A member of the American Institute of CPAs and the Ohio Society of CPAs, she was named one of the "Top Forty Under 40" by Crain's Cleveland Business in 2003.
Baum, who has given numerous talks to alumni at reunions and serves as an ambassador for the University as a member of the Magis Advisory Group, is a member of the associate board of the Catholic Diocese of Cleveland Foundation. She serves on the board of trustees of Rainbow Babies and Children's Hospital Foundation and board of directors of the Jesuit Retreat House.
Paul Hulseman '82, a proud husband and father of 13, is senior vice president of Solo Cup Co. Since joining the family business as a territory manager in Cleveland, he has led the company's sales, operations, and supply chain divisions. During his career, he has often guided associates through strategic planning processes, expertise he brings to his leadership roles as an alumnus.
Hulseman, who served as the president of the alumni association and on the University's board of directors, is active in the Alumni- in-Admissions program and works tirelessly to recruit Chicago students. Since 1991, he has served as chairman of the Chicago Club Leadership Scholarship. Hulseman is a graduate of the Kellogg Management Institute at Northwestern University, former board member of the Family Business Center at Loyola University Chicago, and member of the Chicago Province Jesuits' Development Advisory Council.
Additionally, the 2012 Silver Quill, awarded annually to a class columnist of the Alumni Journal for dedication to the role, was awarded to David Gassman '89, who's been penning his entertaining column for 10 years.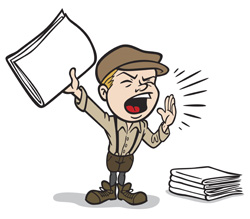 Extra! Extra! Read all about it!
The alumni association partnered with The Carroll News for a monthly column in the newspaper called Alumni Corner. Former Carroll News staffers will rotate writing the column to provide students a perspective about life during and after Carroll. If you're a former Carroll News staffer and would like to meet one more deadline, contact the alumni relations office at 216-397-1984 or alumni@jcu.edu. Visit jcu.edu/alumni to read columns from this past year.
Supporting future alumni
Through the generosity of past members of the Iota Chi Upsilon fraternity, the Iota Chi Upsilon Alumni Scholarship Fund has been awarded this year to two incoming freshmen – Mary McDonnell (from Pittsford, N.Y., and attended Our Lady of Mercy High School in Rochester), who's the niece of Jerry Mackey '69, and Sarah Price (from Fairview Park, Ohio, and attended Magnificat High School in Rocky River), who's the niece of Robert Steele '85. Portions of this scholarship fund, now totaling about $700,000, also have been renewed to several upperclassmen. Thank you, IXY alumni.
Chapter update
The foundation is set for a sustainable and vibrant engagement experience for graduates throughout the country. As a result, the alumni association is experiencing tremendous momentum thanks to our local and regional volunteers. Now you can connect with your city's chapter on Facebook to stay informed and network with fellow alumni. New fan pages can be found through keyword searches for: Buffalo, Chicago, Cleveland, Columbus, New York City, Pittsburgh, and Washington. Visit jcu.edu/alumni for more information and other exciting developments.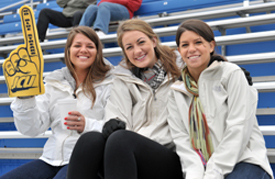 A mix of old and new at homecoming
Having long been one of JCU's signature events, homecoming serves as a blue-and-gold showcase for students and alumni. This year, it'll take on a different, but not entirely unfamiliar, look and feel. If you haven't been to the annual fall gathering recently, this is the year to do so.
For the first time in the University's history, homecoming will be combined with parent and family weekend, ensuring a vibrant and festive campus atmosphere. While traditional activities aimed at parents and families of alumni will remain intact, as will the dance and football game, the vintage homecoming experience synonymous with Carroll tradition will be recreated.
New events include a parent and alumni presidential reception Friday evening in the Dolan Science Center, a traditional pregame tailgate on Belvoir, a German-inspired bier garden for alumni in the tennis courts adjacent to the stadium, and a musical battle between a student and alumni band playing your favorite cover songs. The postgame block party will continue into the evening with student booths and some of Cleveland's finest food trucks.
homecoming and family weekend takes place Oct. 5-7. Visit jcu.edu/alumni for more details.
---
Leave a Reply