On-air personality Jen Toohey '97 builds a successful career in Cleveland
By John Walsh
Jen Toohey '97 has always loved radio, so it's no surprise she's built a successful career in the field.
Toohey was on maternity leave last winter when an opportunity arose at Cleveland's New 102 (WDOK), which is owned by CBS Radio. The station wanted help relaunching its morning show with veteran on-air personality Trapper Jack.
The show soon became Trapper & Toohey. It's the third morning show she's been a part of, the second as a host. The show's content is mainly discussion about news of the day. For example: In May, on Today with Kathie Lee and Hoda, host Kathy Lee Gifford asked actor Martin Short how his wife was doing. The problem was Short's wife died two years ago. It was an embarrassing gaffe for a TV host that was newsworthy for a few days.
"The show is about being relevant and having fun," Toohey says. "We talk about everything from the school shooting in Chardon [Ohio] to celebrity babies to American Idol. Our goal is to talk about whatever is engaging and relevant."
Working with a morning show co-host is like having a work husband, Toohey says.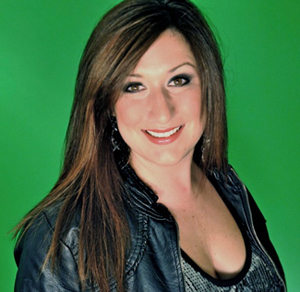 "There's a period of awkwardness and niceness at the beginning," she says. "Then you become comfortable and familiar with one another. It's like a forced marriage."
Toohey's schedule can be hectic at times, being on air in the mornings and a full-time mom for the rest of her workday. Daily show preparation ranges from watching TV programs such as Dancing with the Stars to reading news from multiple media outlets.
Every morning, Toohey's alarm sounds off at 3:30 a.m. because she's live on air from 5 to 10 a.m. In the evening, she's in bed by 9 at the latest. There are more normal hours on the sales side of the business, she admits. Although the hours are challenging, Toohey and her husband, Nate, are in a nice life-balance groove. When she gets home, she cares for their son, Noah, until Nate gets home, when the duties switch.
"Nate is great at sharing responsibility," she says, adding the couple spends a lot of time together on weekends.
A foot in the door
Toohey's radio career can be traced back to her days at John Carroll. The Pennsylvania native was first in her family to attend Carroll. (Her brother, Joe '10, followed her to JCU and was the second recipient of the NBC/John Carroll University Meet the Press Fellowship in honor of Tim Russert '72.) When Toohey came to JCU, she had an idea of what she wanted to do with her life professionally, so she majored in communications and took public relations, marketing, and performing arts classes.
"I've always loved radio," she says. "I did a radio show at Carroll but didn't think of it as a career at the time."
After graduating with a degree in communications, Toohey took a marketing job at Great Lakes Publishing, the company that publishes Cleveland Magazine. Shortly after working in the marketing role at Great Lakes, Toohey realized she needed to love what she did for a living. While planning events for the magazine, she met Danny Wright, a local WGAR on-air personality.
"I asked him a million questions about radio," she says. "I was curious."
Soon after a lunch with Wright, Toohey visited WGAR to learn more about the business. Then the station was looking to hire an overnight board operator. Toohey applied for the position and got the job. Her radio career officially started. Within a year, she was hired as a full-time producer on the "Brian and Joe Radio Show."
At WGAR, a country music station in Cleveland, Toohey's biggest highlight was attending the country music awards as a producer. The event was akin to a giant press junket for country music recording artists. Radio stations lined up, and artists sat down with each one for five-minute interviews.
After working with Brian and Joe for two years, she moved to Q104 as the mid-day host from 10 a.m. to 3 p.m. Within her first year there, she was promoted to the afternoon drive slot and stayed there for almost seven years, at which time she moved to the morning show to co-host "Toohey & Fee." From there, she moved to her current morning show position at NEW 102 – co-host of "Trapper & Toohey."
Celebrities and hard work
Throughout the years, Toohey has enjoyed interviewing – on the phone and in person – famous people, including:
• Tom Cruise, who was promoting the movie "Collateral" at the time;
• Katy Perry;
• Jon Bon Jovi;
• John Mayer;
• Paris Hilton, who was more businesslike than one would think; and
• Donnie Wahlberg.
"About 10 years ago, I interviewed Cyndi Lauper in studio and asked her to dump out her purse on the counter and she did," Toohey says. "She played along, and that was fun. I love the celebrity and pop culture of it all."
The most important advice Toohey gives those who consider pursuing a career in radio is to work incredibly hard.
"It's 24-hour-a-day type of work – it never ends," she says. "You always need to be prepping for the show. You have to truly love the business. Some people think it's about having a voice for radio, but it's not. It's about having a personality and being willing to try new things and make mistakes." JCU
To read about other alumni who work in the media, click here.
---
Leave a Reply