By Meredith Tayek
Helen Murphy, Ph.D., '67G has accomplished a lot of firsts in her 43 years at John Carroll.
In 1979, she started the neuroscience concentration at the University with Cyrilla Wideman, Ph.D. It was the first interdisciplinary academic program in the sciences at JCU and one of the oldest undergraduate neuroscience programs in the United States. In 1980, Murphy was the first female faculty member to receive the Distinguished Faculty Award.
The Cleveland-born professor of psychology first realized her love of the sciences at Magnificat High School in Rocky River, Ohio.
"I just started liking science courses in high school, and then when I got to college, I found them very interesting and challenging," she says.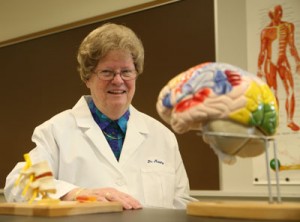 After Murphy graduated with a B.S. in biology from Notre Dame College in South Euclid, Ohio, in 1965, she came to John Carroll to pursue a master's degree in the same field. While she studied at JCU, Rev. Thomas Acker, S.J., her thesis advisor, let her teach undergraduate freshman labs. This, along with great teachers in science at the college and at Ph.D. level, sparked her interest in teaching. She completed her master's degree in 1967 and went on to receive her Ph.D. in physiological psychology from Illinois Institute of Technology in 1969. At the suggestion of Fr. Acker, she applied for a position on the psychology faculty and rejoined JCU in 1969. Murphy was hired one year after the University admitted women as full-time undergraduates.
"It was super," she says. "When I was here as a graduate student, there were very few women."
Ten years after she joined the faculty, Murphy was conducting research with Wideman, and the two recognized the University's need for a formalized neuroscience program.
"We were doing research and presenting it together, and at that time, there was no formal program," she says.
The concentration includes biology, chemistry, and psychology majors, so Murphy works with students and sees their development during their four years at JCU. That's why she's chosen to stay since 1969.
"It's being a part of their growth, all the way from freshman year through graduation, into their professional field," she says. "All of this is based on their background in the Jesuit tradition of men and women for others."
When asked about her favorite John Carroll memory, Murphy recalls two different aspects – the academic and spiritual. Her most beloved academic memory is the founding of the neuroscience concentration.
"From the spiritual point of view, it was making the Nineteenth Annotation Retreat with Fr. Schell," she says. "Then for many years, I directed the eight-day retreat for students, which was a wonderful experience. The opportunity to explore spiritual things has been wonderful here, which you wouldn't receive at many other places."
When Murphy isn't teaching or researching circadian rhythms in the Neuroscience Research Lab in the Dolan Center for Science and Tehchnology, she enjoys athletic pursuits.
"In the summer, I sail," she says. "I'm an avid sports fan, but unfortunately, our Cleveland professional teams have been disappointing. Nonetheless, I'm a big sports fan."
Murphy has no plans to retire or slow down anytime soon.
"We've already had seven students sign up for the independent research project next fall." JCU
This article originally appeared in the Magis newsletter.
---
Leave a Reply