In recent issues of this magazine, I highlighted our 125th anniversary activities throughout 2011 as we celebrated our pride and reflected on our rich history and traditions. We continue to build on this momentum – to enhance all aspects of the John Carroll experience for our current and future students, faculty, staff, and alumni.
I'm pleased to share the campus community has seized this moment in our history to think deeply about and chart the course for our next 125 years.
During the past few months, our university planning group has been meeting with the campus community seeking input about our emerging new priorities and reinvigorating our mission to learn, lead, and serve a global society in the Jesuit Catholic tradition. Similarly, our academic planning task force has been reviewing our course offerings and seeking ways the University's curriculum can be even more interdisciplinary and impactful for every student.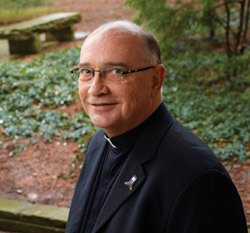 The cover story about crisis mapping underscores our ability to be a world leader in humanitarian response. The work of Jen Ziemke, Ph.D. – from co-founding a worldwide network of crisis mappers to teaching students about the subject – is helping people in Haiti, Libya, and Northeast Ohio. This is just one of the ways we're committed to graduating students who understand responsible global citizenship.
As you saw with the X-ray collaboration article in the last issue, health and wellness is another one of our strengths. We have many talented faculty in the College of Arts and Sciences and Boler School of Business who are engaged in innovative health-and-wellness-related initiatives. Our contributions to society in these areas – from teaching, research, and service perspectives – continues. For decades, we've been a destination school for prehealth preparation and science education, and we're developing unique premed tracks for those students interested in medical school. Northeast Ohio is a health-care powerhouse, and we must continue to build on the relationships and strengths we have in this capacity to enhance the student experience.
More will continue to emerge from our universitywide planning processes, and I'll continue to share updates with you. Currently, we've strengthened and stabilized our budget and enrollment, we're maintaining high student-retention rates, and the value of a Carroll degree is recognized widely. This is exemplified by our No. 1 ranking in undergraduate teaching and our No. 4 ranking as a value according to this year's U.S. News and World Report Midwest rankings.
I'm grateful for how our faculty, staff, students, alumni, donors, and friends came together to celebrate our 125th anniversary year. Your hard work, as well as your continued dedication and support, has made us who we are. Thank you.
May God bless you and our University as John Carroll moves "onward on" into the future.
Yours in Christ,
Robert L. Niehoff, S.J.
---
Leave a Reply