Academics, technology, and a global network born on campus improve humanitarian aid
By John Walsh
In 2002, political science professor Jen Ziemke, Ph.D., was working for the Peace Corps and living in Namibia, Southern Africa, a few miles away from a civil war in Angola she knew little about. So she decided to educate herself about the conflict, initially by talking to as many people on the ground as she could. Little did she know the research would ultimately lead her to co-founding the International Network of Crisis Mappers.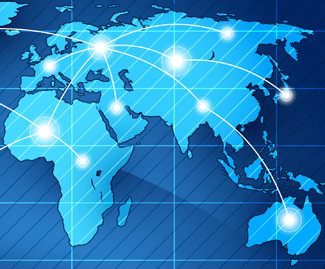 "I collected as many stories as I could about the details surrounding the war in Angola to understand why it was happening," says Ziemke, who was living near the Angola- Namibia border.
Ziemke, who earned her Ph.D. at the University of Wisconsin-Madison, collected information from newspapers and archives throughout a 40-year span. Because the data wasn't available online, she culled through numerous hard-copy archives, most of which were in Portuguese. Then she plotted the data – battle and massacre dates, locations, and the number of civilians killed – on a map because she wanted to know the rationale behind the violence and learn from its patterns. She wanted to know why some areas of the country were safer than others.
In 2008, after completing her Ph.D., Ziemke came to John Carroll where colleagues in the political science department encouraged her to add a conference to her curriculum vitae as part of a path to tenure.
She reached out to Patrick Meier, who was working at Harvard University at the time in the fledgling field of crisis mapping, to join her in co-organizing the International Conference of Crisis Mapping (ICCM), which lead to the creation of the network. Meier is also the director of crisis mapping and partnerships at Ushahidi, a Kenyan nonprofit tech company that specializes in developing free and open-source software for information collection, visualization, and interactive mapping. Ziemke and Meier sensed a time had come when so many people throughout the world were working on crisis mapping. They identified a broad need to discuss the rapid changes that were happening and the desire to spark new ideas to advance the field.
What it is
Crisis mapping allows people to obtain situational awareness about an area under duress using up-to-the minute information about what's happening on the ground. People can text information about an event happening in real time from cell phones. For example: "Something just exploded. I need food and water for my family. I was illegally detained. Help!" That message then can appear on a map, together with satellite imagery, to help people make decisions and take action immediately.
Crisis mapping by the numbers
3,478 members of The crisis Mappers Network
1,675 member organizations or affiliations
153 country members' working locations
194 countries where members have worked
191 countries from where the crisis mappers website was accessed
38 average age of members
15,350 members of crisis Mappers Google Group
5,073 email threads since 2009
80+ public catalog of crisis mapping deployments worldwide
Source: crisismappers.net
Crisis maps can be deployed in various situations, including complex humanitarian emergencies, natural disasters, and violent conflicts. Maps also can be deployed to monitor election fraud and human rights violations. Crisis mapping involves scholars and practitioners exploring advanced technologies and methodologies to understand complex humanitarian emergencies to help improve responses. Technologies include:
• mobile and Web-based applications;
• participatory maps;
• crowdsourced event data (relying on a crowd for information and stories that can be placed on a map);
• aerial and satellite imagery;
• geospatial platforms;
• visual analytics; and
• computational and statistical models.
Crisis mapping comprises four main components:
• data collection via imagery, street maps,
and crowdsourced event data;
• data visualization;
• analysis; and
• response.
Many individuals using these technologies are members of the International Network of Crisis Mappers, which claims to be the largest and most active international community engaged at the intersection between humanitarian crises, technology, and crisis mapping. It includes:
• experts;
• practitioners seasoned in humanitarian response;
• policymakers;
• technologists;
• journalists;
• scholars;
• hackers; and
• skilled volunteers.
Getting together
The crisis mappers network was launched by 100 individuals at the first ICCM in 2009 at John Carroll. Since then, the website – crisismappers.net– has been accessed from 191 different countries and is recognized as a crisis mapping hub. The network promotes communication and collaboration among crisis mappers to advance the study and application of crisis mapping.
The first conference included experts from more than 60 organizations, including the United Nations Secretary General's office and the Department of Homeland Security. Putting together the conference at Carroll was a daunting but invigorating task.
"Nobody knew what crisis mapping was when we asked them to come to the first meeting," Ziemke says. "I asked Patrick about a conference, and we estimated 15 people might attend but ended up with 100. It was supposed to be a one-time event, but people wanted to keep in touch. So the network was launched, and the conference became a highly anticipated annual event."
Subsequent conferences have been held in Boston (2010) and Geneva (2011). The fourth one, which will take place in October in Washington, D.C., will be hosted by The World Bank and Global Facility for Disaster Reduction and Recovery. The conferences include 20 rapid-fire ignite talks to inform everyone about latest advances in the field, self-organized sessions during which participants can brainstorm in small groups to discuss subtopics that interest them, a tech and analysis fair, and a keynote address. The website offers educational resources, videos, course syllabi, and webinars to facilitate the development of the crisis mapping field.
In action
Crisis mapping emerged from relative obscurity during the response to the earthquake that struck Haiti in 2010. Because there wasn't a 911 system in place, people worked tirelessly to create a new number (4636) to which anyone in Haiti could text their needs for free. Volunteers were on the incoming end of tens of thousands of messages coming from the 4636 number, helping translate, process, and create georeferenced reports from the information. Volunteers, many of whom set up shop in a room at Tufts University in Boston, used Google Docs, shared spread sheets, Twitter, Open Street Map, Ushahidi, and Skype chat rooms to work. They used Skype chat rooms because email was too slow for real-time collaboration. They signed up for shifts and, among other tasks, monitored hashtags on Twitter to find additional information that could be mapped.
"The response to the earthquake was intense," Ziemke says. "Volunteers stayed up all night and worked around the clock. Sometimes other aspects of their lives were ignored. It was difficult to stop working and focus on other tasks, or even sleep, because so much work was constantly in the pipeline. "We learned the importance of keeping a balance between crisis-mapping work and our lives outside it."
Top 10 crisis mapping projects of 2011 (a crowdsourced list)
1. Lord's Resistance Army (Africa) crisis tracker
2. Cell phone positioning for improving efficiency of humanitarian relief
3. Crowdsourcing satellite imagery analysis for UNHCR (the united Nations refugee agency) – Somalia
4. Sinsai information crisis map of japan
5. Libya crisis map
6. Monitoring the 2011 elections in Liberia
7. Christchurch earthquake in New Zealand
8. Satellite image analysis of military presence/activity in three cities in Syria
9. Pakistan floods reporting and mapping
10. Launching the tasking server
Source: crisismappers.net
After the response to the Haitian crisis, seasoned humanitarian practitioners, having learned about new data available on the Haiti crisis map, wondered if volunteers would respond to future crises in a similar fashion. Was the response to the earthquake in Haiti an exception or a trend? To respond to this concern, a group of crisis mappers at the second ICCM in 2010 launched the Standby Task Force (blog.standbytaskforce.com), which trains volunteers for live mapping. Tasks are divided according to volunteers' skills and interests, including media monitoring, translation, georeferencing, verification, analysis, and technical tasks. Presently, the task force has 700 volunteers who can be deployed by any community for a specific length of time.
In 2011, crisis mapping was used in response to the violence that emerged in Libya as significant sections of the country fought to oust the country's longtime ruler, Muammar Gaddafi. The United Nations Office for the Coordination of Humanitarian Affairs activated the Standby Task Force to create a live crisis map to help improve its situational awareness and humanitarian response. Where were the refugees heading? Where were the food and water requests? They used the map to help identify gaps in service provision. Volunteers searched the Internet for news and information that could help inform humanitarian response.
Other uses for crisis mapping including tracking tornado damage in the American South and the oil spill in the Gulf of Mexico, as well as human rights problems (detecting mass graves) in the Sudan.
Crisis mapping has improved the United Nations' responses to crises as a result of using real-time satellite images and detailed, up-to-date road maps (by relying on the volunteer OpenStreetMap community, a free and open-source wiki world map) and aggregating information into a geographic information system.
"The network is thriving because it involves different people who normally don't get the chance to speak to one another," Ziemke says.
People who work for the Red Cross and United Nations agencies, human rights workers, local first responders, and scholars from militaries and nongovernmental organizations found they have something in common to discuss. Despite the institutional differences, the crisis mappers network allows these individuals to collaborate on the same challenges and work together on future projects.
"We never imagined the network would grow this fast," Ziemke says. "Crisis mapping has grown because of its own demand. There was a need for a cross-cutting horizontal network that could mitigate some of the siloing problems that exist during disasters. People shared lots of data and imagery on the network during the Haiti response."
Possibilities
Now Ziemke is focusing on finding ways to help foster the crisis mapping community and conference series and thinking about ways the field can and should evolve.
She teaches most of her classes in the area of international relations and security, although she added crisis mapping to her courseload. Ziemke, who works on crisis mapping in between classes, teaches the only three-credit theoretical crisis mapping course in the country. Similar courses include a one-credit course at Tufts and an online crisis mapping course offered by TechChange, an institute for technology and social change.
Ziemke's engaged students use a lot of social media in class, about which they've developed a new perspective.
"Crisis mapping uses the power of a lot of people to accomplish many tasks," says Kevin Walsh '12, an economics and political science double major from Fair Haven, N.J. "It allows people who aren't at the forefront of technology to help out for the power of good. Crisis mapping, which helps make sense of a large amount of information, allows you to develop computer programs applicable to many different theories and display abstract ideas."
Jacqueline Wyman '12, a sociology major and foreign affairs minor from Youngstown, Ohio, was intrigued by the relationship between technology and humanitarian work, which usually don't go hand in hand.
"There are so many dynamics to it, but it's all about empowerment," she says.
Looking ahead, Ziemke says it might be possible to have the ICCM at Carroll again, pending funding and support. Financial backers of the conference include the World Bank; Google; and ESRI, a geographic information systems mapping software company.
One of Ziemke's long-term goals is to have a crisis mapping center at JCU involving various interdisciplinary fields, such as communication, computer science, political science, economics, and the Center for Service and Social Action. As part of such a center, there could be a dedicated room and classes that feed into it. Students and faculty could be mobilized easily during an emergency, and JCU's surge capacity could help fill a critical need at an important time, directly contributing to relief efforts. First responders are turning to remote volunteers to outsource critical but time-consuming tasks, which has great potential to improve situations on the ground.
"It's amazing what the power of knowledge and community can do to help people in such dire need throughout the world," she says. "Students want to do all they can to help. In the event a major disaster hits Cleveland, we know volunteers from all over the world will be pitching in to help us in our hour of need." JCU
For more information about crisis mapping, visit crisismappers.net.
---
Leave a Reply