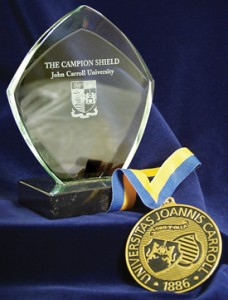 Alumni award recipients named
Congratulations to the following alumni for their outstanding achievements and contributions to the John Carroll community. They will be honored at the 2012 Alumni Awards Dinner Friday, May 18.
Alumni Medalists
Robin (Szoradi) Baum '87
Jose Feliciano '72
Paul Hulseman '82
Don McGuire '80
Silver Quill
David Gassman '89
More Carroll news
Onward is the new quarterly e-newsletter featuring updates about the alumni association. It includes:
• a feature article showcasing an alumni program, initiative, or event;
• profiles of interesting alumni;
• updates about what's happening on campus;
• the latest promotions and awards for alumni who are making a difference in
their communities; and
• the featured image from JCU's new engagement campaign.
Track the John Carroll bust as it makes its way throughout the country and world. Visit jcu.edu/withyou for more information.
Chapter update
John Carroll is committed to engaging alumni through an expanded chapter program. Chapters focus on five core components meant to mirror the mission of the University: service, leadership/professional development, educational/cultural/spiritual development, relationship/social programming, student recruitment/advancement initiatives, and support. With help from the alumni relations office, each chapter will create programming with these components while developing identities unique to each city or region.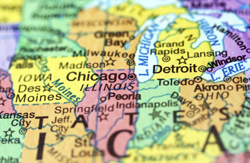 Volunteer recruitment has been successful. Surveys were sent to numerous cities to solicit ideas for programming and recruit volunteers for leadership committees. The encouraging results include the establishment of chapter volunteer committees in Columbus, Ohio, and Greater Metropolitan Washington. These two chapters join the historically strong and revitalized Chicago and Pittsburgh chapters that have developed a leadership structure and added members to their committees. In the coming months, volunteer recruitment will continue in cities that have a concentration of alumni, such as Cleveland, Akron/Canton, and Cincinnati.
For more information about the alumni chapter program, or if you'd like to become involved, contact Eric Eickhoff, assistant director of alumni chapter programs, at eeickhoff@jcu.edu or 216-397-3061.
Preparing for life after graduation
Student outreach is a priority for the alumni relations department. After all, those individuals taking classes in the Dolan Science Center, living in Hamlin Hall, or working out in the DeCarlo Center are future alumni. Our efforts to reach them should begin well before graduation. Enter the student outreach series Backpacks to Briefcases (BP2BC).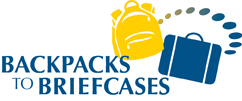 BP2BC offers seniors and juniors an opportunity to create a more seamless transition from college to professional life. The fun and interactive series is aimed to help all students develop important life skills that might not be learned in the classroom. Events included a speed networking night with alumni, a workshop about basic financial tips, a cooking seminar, and an etiquette dinner. Graduates featured throughout the series included:
• Kyle Reynolds '99 and Mark Annichine '99, who offered their financial expertise;
• Master of Ceremonies Rosanna Violi '07, who providing levity for a discussion about personal finance;
• Executive Chef Bob Sferra '86, who channeled his inner Michael Symon and whipped up a delicious meal for students at the Viking School classroom; and
• the National Alumni Board, which displayed its social graces at the student etiquette dinner.
"I can speak firsthand about how these issues impact recent graduates, so anything the University can do to encourage students to think about the next step in life is critical," Violi says.
BP2BC is a joint collaboration among the Center for Career Services, Alumni Relations, Orientation & Leadership, and Student Activities. To learn more about BP2BC, visit jcu.edu/backpacks.
Reunion 2012
Get your ticket to the Carroll Carnival
Step right up! Join fellow alumni for the festivities on Friday, June 15 at 6 p.m. under the Big top tent. You can:
• ride the rocket ride;
• watch the amazing St. Ignatius jugglers;
• observe magician Rick Smith;
• try your hand at traditional carnival games; and
• enjoy carnival fare.
For more information and to register, visit jcu.edu/reunion or contact Carla gall '05 at cgall@jcu.edu 216-397-1592.
Upcoming events
April 10
Cleveland Alumni Chapter service project
Cleveland Food Bank
April 14
Chicago Alumni Chapter service project
Greater Chicago Food Depository
April 14
Pittsburgh Alumni Chapter service project
Greater Pittsburgh Community Food Bank
April 14
Relay For life
JCU campus
April 20
Labre Service – alumni night
Departs from JCU campus
April 27
Alumni gathering
The Village Grille at LaFayette
Raleigh, N.C.
April 28
Jesuit Day of Service – cultivating community
St. Thomas Aquinas/Hough neighborhood Cleveland
May 16
Senior Week Casino Night
Sponsored by the Office of Alumni Relations JCU campus
May 18
Alumni Awards Dinner
Dolan Center for Science & Technology JCU campus
May 20
Commencement
JCU campus
May 24
Presidential alumni reception
Home of Jim '82 and Diana Coyne
Westport, Conn.
June 5
Presidential alumni reception
Library of Congress
Washington
June 8
Alumni golf Classic
Fowler's Mill Golf Course Chesterland, Ohio
June 15-17
Reunion Weekend
JCU campus
July 21
All Jesuit university alumni reception
Loyola University Chicago
Lakeshore campus
July 24
Chicago Alumni Chapter summer social
Location TBA
Oct. 5-7
Homecoming & parent's Weekend
JCU campus
---
Leave a Reply