Hawaii's Teacher of the Year, Chad Miller '00, uses philosophical inquiry to teach students
By Emily Gaffney '12
For Chad Miller '00, the process of winning Hawaii's 2012 Teacher of the Year award was a nerve-racking experience.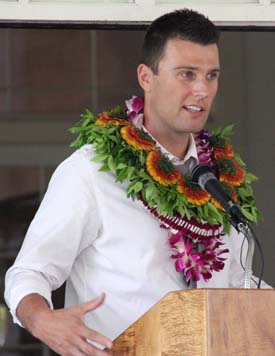 "It was like a big March Madness bracket," Miller says.
The eight-month process began when Miller, an English teacher at Kailua High School, was nominated for the award. He was selected from among other nominated teachers at his school to compete against teachers from other schools in the same school district. Once again, he was selected and moved on to be evaluated with teachers from the other six school districts in Hawaii and was recognized with the award.
"I was ecstatic," he says. "I was happy because it's an award for my students and everyone I work with. I won because of teamwork."
A significant reason Miller won the award was his approach to teaching – one that requires the help of students and co-workers to implement, he says. Miller uses a teaching approach known as philosophy for children, which aims to teach students reasoning through inquiry.
"It's bringing philosophical inquiry into the classroom," he says. "Students' voices had never been considered before. It was always about what the teacher said. This method shifts that power."
It was philosophical inquiry that engaged Miller in his own education. He studied philosophy as an undergraduate at John Carroll, and the subject matter inspired him so much he ended up majoring in it.
"It was the first time I thought school was awesome," he says.
Miller, who played football at JCU, says his whole Carroll experience led him to where he is now. Hard work, collaboration, and philosophical inquiry, which he learned on and off the field, are characteristics he uses in his professional career.
Miller didn't jump into teaching right after graduation, though. The Northeast Ohio native went to work in his father's medical-sales business, but he didn't enjoy that as a career. He wanted to put his philosophy degree to good use. Never a fan of the cold Northeast Ohio winters, Miller applied to a master of education program at the University of Hawaii at Manoa. He received his master's degree in 2005 and is pursuing his Ph.D. in philosophy of education.
As Hawaii's Teacher of the Year, Miller was in the running for National Teacher of the Year. Although he didn't receive the national award, Miller has many opportunities because of the state teaching award. In February, he attended a conference in Dallas where he met the other award winners throughout the U.S. and celebrated their accomplishments.
In April, Miller and the other award winners met again, this time in Washington to discuss education policy with legislators.
"I appreciated opportunity to discuss education with other educators and lawmakers," Miller says. JCU
To watch Miller discuss his work at Kailua High School, click here.
---
Leave a Reply