By Jennifer Holton '12
For many young career men and women, starting a business that expands to include international clientele signifies they've made it. But for Andy Halko '02 – the CEO of Insivia, a Cleveland-based strategic marketing agency that works with companies to increase their sales and exposure – it was just a start. Halko, one of Crain's Cleveland Business' 40 under 40, has grown the company to reach clients that not only span the nation's map but also extend to Israel and Ireland.
It's impressive for someone whose plans for such a company began during his senior year in college. He created the name Insivia because he wanted to be original and, after graduation, sat down with others to analyze the business and clients.
For Halko, the drive to enter the business field was sparked while he was in high school when he worked as the first employee of SPC Networks, a Monroeville, Pa.-based communication services company. Halko's work began mainly with computers, but when he started at John Carroll, the company wanted him to continue working and moved him into the area of Web design and electronic marketing for its clients.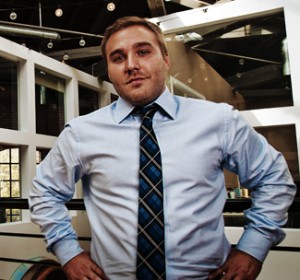 "A guy just started his own company, and I was one of the key people who had been with him while he was getting started," Halko says about John Sloane, who he met through his father. "I was with him day in and day out while he was building the company, so I watched him become successful during the six years I worked for him."
Once at Carroll, the management and information sciences student also spent time working for the University's Information Technology Services department and performed work on the University's website. He delved into computer science but realized he wanted to focus on business.
"I had the itch to go into the entrepreneurial side of business," he says.
That itch soon became Insivia.
While it was co-founded by Halko and Brad Freeman '02, a friend from Carroll, they decided to part ways in 2006. Halko stayed with Insivia, citing his passion for expanding the business. Now the company increases exposure for its clients and helps them with branding through Web design, video, and animation. Most of what Insivia does for its clients involves a digital twist through the use of animation, 3D modeling, statistical tracking, or QR codes. Eighty percent of Insivia's business is in Cleveland. It works with well-known organizations such as the Cleveland Clinic, University Hospitals, and Positively Cleveland.
Freddie Coffey, the Web manager of Positively Cleveland, worked with Insivia in 2010 to redesign its website, which showcases Cleveland's restaurants, hotels, events, and attractions for tourists visiting Cleveland.
"Andy and the design team were able to take all of our suggestions and ideas for what an industry-leading convention and visitors bureau's website can and should be and came back to us with a beautiful, unique layout that represented our marketing vision and the region we promote," Coffey says, adding how fantastic it was to work with Insivia from the brainstorming phase through the moment the Positively Cleveland website relaunched.
Halko's drive to expand his company stems from the value he puts on hard work. He describes his college-self as one of the many focused students who looked to the future and knew he had to work hard to accomplish his goals.
"That's something my [14] employees and I remain focused on," he says. "It's definitely about hard work. You have to put in the effort."
Besides the value of hard work, Halko says honesty is vital to the company's work ethic, labeling it as the key to success internally and externally.
"You have to be honest with co-workers and clients," he says. "We pride ourselves on making sure we tell them what we think and that we provide the best recommendation possible. Even if that recommendation is something they don't like, it's important to let them know we're experts."
Halko's devotion to his clients is one reason for the company's success. And there's room to grow. Ten years from now, Halko would like to see his agency be the one everyone wants to work with. It's an overreaching vision that defines what he wants for the company.
"We're here to improve the lives of others," he says. "Even though it's just marketing, it's about improving lives and helping others day in and day out. We're not just one group; we're part of a big ecosystem we all have to care for." JCU
---
Leave a Reply