Service program benefits JCU students and the children they tutor
By John Walsh
There are many meaningful service learning opportunities for John Carroll students, but one is luring students to return semester after semester.
We the People is a signature program, as well as one of the largest, of JCU's Center for Service and Social Action (CSSA). Last year, 140 students participated in it. Word about the program spreads in political science classes, and most of the students who participate return for multiple semesters.
We the People, which aims to improve society by developing citizens empowered with an understanding of the country's democratic system, is supplemental social studies instruction for fifth, eighth, and 10th graders in urban schools. JCU students serve as tutors – who educate elementary school children once a week about the U.S. constitution and citizenship while encouraging them to apply their learning to current events. They're supported by teachers' editions of textbooks, professional development, and teaching resources from Carroll and the Ohio Center for Law-Related Education (OCLRE). JCU students have the opportunity to receive credit through a weekly class that encourages reflection and discussion about urban education and service.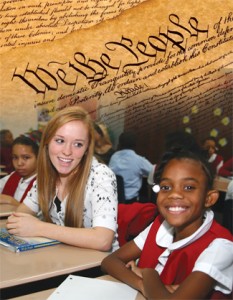 "Students understand the world and urban education firsthand, often better than by reading an article," says Peggy Finucane '80, Ph.D., the director of the CSSA. "Their weekly presence provides stability for kids. They help build the kind of confidence in children they can't get out of a book.
"This program has led some students to become teachers," Finucane adds. "It's caused other students to change majors. It's been powerful. We understand from the superintendent of East Cleveland Schools that more elementary school students are talking about law, government, and going to college as a result of participating in this program. The ability to be in a classroom is significant because it's impacting people's lives."
Licensed teachers, who remain present in the classroom, help with the lesson plans. Some are more hands off, but all let JCU students develop closer relationships with the children. Every classroom participating in the program has three or four JCU tutors, which allows for one-on-one time and small group discussions.
"To the best of our knowledge, it's the only place in the country where college students deliver content of this particular program," says Lauren Bowen, Ph.D., associate academic vice president for academic programs and faculty diversity.
The program is open to all students, regardless of major, and they can participate for one semester or as many semesters as they choose. However, students need to know the subject matter.
We the People culminates with a mock congressional hearing held at Carroll. All participants are invited to attend, and the winning classroom earns an opportunity to compete at a statewide hearing in Columbus.
The teachers' manuals for the program are funded by the CSSA and OCLRE, which have written grants for the program's funding. Classroom teachers, who choose to participate in the program, are eligible to receive a free classroom set of We the People textbooks, which are limited in number and available per congressional district. There's no cost to the elementary schools.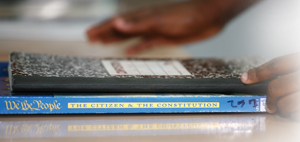 "We've collected textbooks and redistributed them this fall so we don't have to buy them again," Finucane says. "The only cost for the school is for transportation to Carroll for the mock congressional hearing in May."
Since the inception of the We the People initiative in 1987, more than 28 million students and 90,000 educators nationwide have participated, according to the Center for Civic Education, which develops the curricular materials.
At Carroll, Miriam McGinn, the program's graduate assistant, works to pair veteran tutors with younger or first-year tutors. She created student coordinator positions as the program expanded. There's one for each grade – fifth, eighth, and 10th. The student coordinators allow for more communication between student tutors and teachers.
JCU is writing a grant to the Ohio State Bar Association Foundation for $10,000 to fund next year's hearings. Then the University will reapply to fund the program as a whole. Finucane's biggest fear is there won't be enough JCU students to meet the community's demand for the program.
"We're nearing capacity with current resources," Bowen says. "We've had preliminary conversations about working in collaboration with Baldwin-Wallace College to implement the program on the West Side of Cleveland. In a perfect world, we would form a consortium, but we don't want to grow it irresponsibly."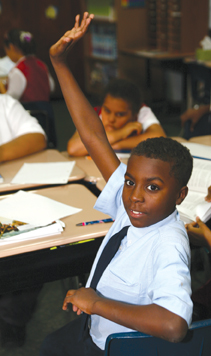 The program's origins
In 2006, Shirley Seaton, Ed.D., a former principal and teacher in the Cleveland Metropolitan School District and liaison for community affairs at JCU, thought of an idea about We the People that stemmed from a conversation she had with an elementary school teacher and principal who loved having college students in the classroom. As a result, she approached Finucane and Bowen. They agreed to involve JCU students in the program. About 15 students participated during the first year.
The program has expanded from fifth- and eighth-grade classrooms in elementary schools in East Cleveland and Cleveland to high schools in those cities, as well as elementary schools in suburban Maple Heights and Lutheran High School East in Cleveland Heights.
A principal's perspective
Vernillis Chambers, a Title 1 reading teacher and administrator who recently retired from the East Cleveland City School system after 35 years, discovered the program through Seaton.
"I love that woman," she says. "She has such love and interest in children."
Chambers, who was the principal at Caledonia Elementary School, says the school's curriculum focuses on reading and math. Time is a concern, and there's an emphasis on high- stakes testing.
"We need to make sure kids pass social studies tests because, in some elementary schools, social studies takes a back seat to reading and math," she says. "We have to emphasize social studies at a young age because kids need to have the building blocks to carry on and know the legal aspects of how the country is run and the connection to everyday life as it relates to government at each level – municipal, state, and federal."
Chambers, too, liked the idea of having college students come into the fifth-grade classrooms because it allows for so much interaction. "The draw for me was my link to JCU," she says. "I took continuing education classes at Carroll, so I have an affinity for the school. I wanted my students to have that exposure."
Chambers saw the connection between what children learn from We the People in elementary school and how that can lead to success in high school. She also liked the real life applications in which students could express dissent that didn't get them into trouble.
Elementary school students also have questions about JCU; and the program prods them to think about their life beyond high school and attend college.
"The program allows kids a different way to learn – cooperatively," Chambers says. "It gives them a chance to experience JCU students who work with them and don't just talk at them.
"As a principal it's a good feeling to know people such as JCU students care about your kids," she adds. "The kids get parents excited, and if the parents are excited, they support you."
Making a difference
Political science majors John Jackson '13 from North Canton, Ohio; Megan Everett '12 from Minneapolis, Minn.; and Lauren Halladay '12 from Lakewood, Ohio; helped educate and empower urban elementary school children.

Jackson worked at three elementary schools in East Cleveland and enjoyed seeing the students all the way through each semester.
"It's great to see kids grow in knowledge and confidence," he says. "Not only is the program about the material, it's about having a consistent role model. At the mock trial at the end of the year, the kids say things like, 'I want to come to John Carroll,' and are creating goals for themselves. They're believing in themselves."
Jackson connected with fifth graders because he remembers young teachers making a difference during his elementary school years. As a college student, he values the program.
"It enables you to learn about the U.S. government while being able to teach and interact with kids that need the information and want to learn," he says. "The kids light up every week when we walk in, which makes you feel good. I'll take this experience with me for the rest of my life."
Everett enjoyed teaching children how to be civically engaged and explained they have the power to change society. She taught them how to read newspapers, look up facts, and analyze issues. She explained how this information applies to their lives and affects them.
"They have so much interest," she says. "It's more comprehensive than only learning about the constitution."
The program teaches JCU students to be leaders and engage the local community.
"It also helped me select a career path – nonprofit management working with school districts," Everett says. "It's given me an issue to connect with."
Halladay was intimidated when she first started because the kids thought she knew everything, but she was hooked after the first semester. Through veteran tutors, she improved her teaching methods.
"I found myself scheduling my classes around when I was doing service," she says. "I owed it to the kids to finish the year with them."
Teaching the constitution has been beneficial to Halladay's studies partly because the teaching clarified the subject matter for her. Entering a constitutional law class was easier for her after teaching the constitution. She even used her experiences to write a paper.
"It's rewarding to work closely with students and watch them learn," she says. "Sometimes it's not until the mock trial when you see all your effort pay off. These tutors go above and beyond a typical service project. It's a bigger time commitment, but the pay off is immense." JCU
For more information about the We the People program, visit http://sites.jcu.edu/service/pages/signature-programs-events/we-the-people/ or oclre.org/wethepeople.
---
Leave a Reply