By John Walsh
Dr. Paul Saluan '88 is humble about his professional accomplishments. He:
• performed the first thoracoscopic scoliosis surgery at Children's Hospital Medical
Center of Akron in 2000;
• won the 2009 Pediatric Orthopaedic Society
of North America/Orthopaedic Research & Education Foundation research award for evaluating pediatric and adolescent bone and joint injuries;
• won the Scholarship in Teaching Award from Case Western Reserve University School of Medicine in 2009 for impacting medical education and the careers of residents through arthroscopy curriculum development;
• was recognized as the Teacher of the Year for 2010 by the Cleveland Clinic Orthopaedic Surgery Program; and
• is working to patent a surgical and postsurgical patient insulation cap.
His modesty is revealed through his unassuming, relaxed personality. Saluan, who's the youngest of seven children of Lebanese parents, says he's a regular guy who likes to have fun. His attitude and behavior stem from his hard-working father, Maron, who came to the U.S. in the '50s.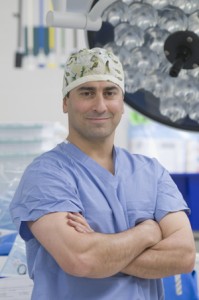 "My father had nothing when he came to the States," says Saluan, who was born in University Heights, Ohio. "He came to America for a better life for his siblings and himself."
When it came time for Saluan to think about where he'd attend college, he looked at many schools.
"When it comes down to it, it's what you put in to your schooling that gets you into medical school," he says. "I could have gone to an Ivy League school, but I went to a liberal arts school to receive a well-rounded education, play intercollegiate sports, and enjoy myself. And I knew the Carroll community partly because I had a brother, Andrew '85, and a sister, Lidia '83, who went there."
After Carroll, the biology major continued his education at Case Western Reserve University School of Medicine. While finishing medical school, his father became ill and died during his first year of residency.
"Life hit me at full speed," he says. "With the love and support of my wife, family, and friends, I made it through that difficult time."
When determining what area of medicine to practice, the orthopaedic field was natural to Saluan because he'd be taking care of athletes and active people.
"It's a concrete approach to medicine," he says. "When someone has a musculoskeletal problem, there's usually a mechanical and/or biological way to address the issue. There's not a lot of uncertainty."
During Saluan's fourth year in medical school, he gained interest in the Cleveland Clinic because it had many resources and harbors a great learning atmosphere. When he applied to residency programs, the clinic was a match.
"They were top on my list, and I was top on theirs," he says, acknowledging there were 400 applicants.
Around the same time, in 1992, Saluan married his girlfriend of three years, Deborah Westfall, who he met at Notre Dame College in South Euclid, Ohio. The business management major used to manage a women's health medical practice at St. Luke's while moonlighting as a personal trainer. They had their first child, Noelle, in 1995.
"She was as understanding as you can be when Noelle was born," he says. "At that point in my training, I was on call in the hospital every third night for a year."
While in residency, Saluan applied for a fellowship in Denver for specific training in scoliosis surgery, sports injuries, and fractures in children and studied under Dr. Robert Eilert, a pediatric orthopaedic surgeon. During Saluan's chief year of residency in 1998, Debbie was pregnant with their son, Quinn. The family sold their house in Lyndhurst, Ohio, Paul moved to Denver for the fellowship, and Debbie stayed in Cleveland with Noelle and moved in with one of Paul's sisters in Lyndhurst. Paul was able to fly back to Cleveland within an hour of Quinn's birth.
"Then all of us, including the dog, went out to Denver," he says. The Saluans returned to Cleveland to be closer to family. Once back in Ohio, Paul practiced at Crystal Clinic Orthopaedic Center in Akron. Then in 2005, they were blessed with their third child, Maria, whom they adopted from Guatemala.
"I wanted a practice of my own and to be near family," he says. "You have family for only a certain amount of time, and I want to make the most of that time."
The orthopaedic surgeon has been back at the Cleveland Clinic for four years. It recruited him as one of its pediatric and adolescent sports medicine specialists. He's involved in studying the biomechanics of ACL (anterior cruciate ligament) reconstruction and developing an outcome instrument for kids ages 11 to 18 who self report their symptoms to reinforce doctors are making an injury better. JCU
---
1 Comment
---
Leave a Reply