The University celebrated the 50th anniversary of Grasselli Library this fall. John Carroll magazine presents a reflection and time line to honor an integral building of the campus.
In 1961, Grasselli Library was a significant improvement compared to the old library on the third floor of the Administration Building, which was an uncomfortable, stifling place with no open shelves except for a few reference books. If you wanted a book, you needed to request it at the library desk, and then a clerk was sent on a mission to find it, climbing steel stairs and across a catwalk to access the requested volume. Seating in the old library also was limited, so if you borrowed a book, you took it back to the dorm or home if you lived off campus. If you happened to find a place in the library reading room, you were treated to a chorus of hissing and clanging radiators and temperatures that were anything but temperate. Ah, the good old days!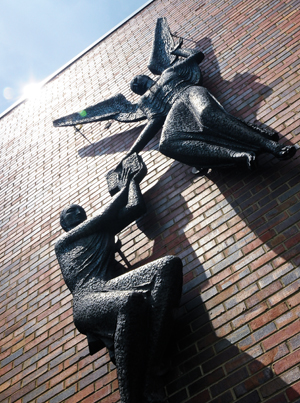 Rev. Jim Mackin, S.J., the first director of Grasselli Library, was soft-spoken and fit the stereotype of the serious library director. Fr. Jim, who always looked unshaven to me (although I think he was just a victim of a fast-growing, five-o'clock shadow), established rules he bent for no one. One rule was no eating or drinking in the building. Not even University-sponsored receptions would be allowed under his regime. While he could be quite pleasant at times, I think I saw him smile only once. Well, maybe.
Another rule: The G.K. Chesterton Room on the upper floor was sacred territory. It was locked 99 percent of the time, housing priceless first editions and other memorabilia associated with the rotund English author. The only time I recall being admitted to its inner sanctum was for an Alpha Sigma Nu (an honor society of Jesuit institutions of higher education) meeting. It was quite a priviledge for our ASN group to hold court amid the hefty, leather-covered furniture; dark, oak tables; and ginger-breaded bookcases.
– Paul Kantz '63
1961 – Library opens
1970-80 – Reclassification project changed Dewey Decimal System to Library of Congress Classification. Participated in the Cleveland Area Metropolitan Library System. Library holdings included 269,755 books and 1,177 print periodicals. Students borrowed 39,143 books.
1991-94 – Circulation of books increased 40 percent, following the installation of an automated system. Library holdings included 518,252 books and 1,579 print periodicals. Liaison system implemented. Internet station set up at the reference desk. 75 online searches were conducted by library professionals via dial-up service. Less than 5 percent of collections budget was spent on electronic resources, namely CD-ROMs. Library LAN initiated, increasing access for multiple users to six CD-ROM indexes.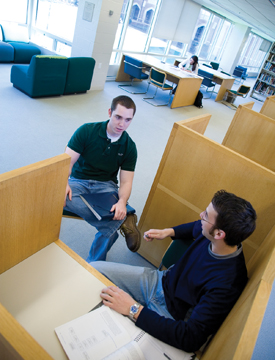 1995-2000 – Dedicated John G. and Mary Jane Breen Learning Center, an addition that doubled its size. Offered Internet access in public areas for the first time. Developed Electronic Classroom. Migrated electronic databases from LAN to Web environment. Developed first library Web page. Received $50,000 from Gund Foundation to facilitate OhioLink implementation. Networked Compustat in LoPresti Center for Business and Financial Information. Became a member of OhioLink. Implemented Electronic Journal Center. Dedicated Slovak Room.
2001-06 – Library holdings included 661,162 books, 1,765 print periodicals, 3,000 electronic journals, and 471 computer-based sources. Implemented ILLiad, improving Interlibrary Loan services. Opened Computer Commons. Inauguration of E-Reference and Chat Reference. Collaborated with Cleveland Heights-University Heights Public Library to provide a leisure-reading collection. Implemented ILL electronic document delivery. Hosted the traveling ALA Elizabeth I exhibition.
2007-11 – Received Saint John's Bible (Prophet's Edition), the first handwritten, illuminated Bible in 500 years. Opened Center for Digital Media. Implemented Text-a-Librarian service. Established Writing Center after-hours drop-in location. Opened Java City.
---
Leave a Reply