In 2011, we celebrated 125 years of Jesuit educational excellence at John Carroll University through a yearlong series of events. During this special time, we reflected on our history and traditions and connected with friends in the John Carroll family. Now it is time to build on the momentum of our 125th anniversary year and think about the future.
As we move forward, I know there are two constants that will not change – dedication to our students and our Jesuit Catholic character. These are the defining aspects of who we are as an institution, and they were the focus of our John Carroll University Gala on Dec. 2, 2011.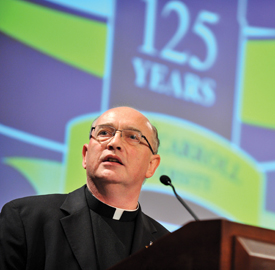 The gala was a great night for Carroll, especially for our students. The event raised more than $500,000 for student scholarships, and we announced that Frank '53 and Helen Schilling increased their pledge to the University to $16 million for the Schilling Endowed Scholars Program. This will be transformational for us and our ability to attract the best students. The standing ovation for the Schilling's tremendous dedication and generosity was heartwarming. You can read more about the gala and see photos on page 18.
I also would like to highlight how the John Carroll experience – with academic excellence at its core – provides compelling opportunities for students through collaboration with faculty, staff, and alumni, as well as our key partners in Northeast Ohio and beyond. For example, talented Carroll people connected to the mathematics and computer science department used their knowledge of IT, medical processes, and social networking to improve the efficiency and effectiveness of radiologists in the Cleveland medical community. You can read more about this on page 10.
It's these types of relationships – grounded in rigorous academics – that help us develop leaders with the vision, talent, ethics, and creativity it takes to unravel complex problems. The world needs this kind of leadership. The world needs more John Carroll graduates.
Thanks to you and your support, the University is strong, and I am excited by the potential of our next 125 years. I'm grateful for God's blessings throughout the University's past and for the prayerful support you have given us. Blessings to you in the new year.
Yours in Christ,
Robert L. Niehoff, S.J.
---
Leave a Reply