Robert Attenweiler '97 tries to make it as a playwright in New York City
By Kaitlin Gill '13
Like many students at John Carroll University, Robert Attenweiler '97 was searching for success, not waiting for opportunities to arise, but creating them for himself. After graduating from Carroll, Attenweiler faced a career in an arts and entertainment industry in which he didn't have much control. Though he lacked control over his career, he controlled his ability to write plays.
At the time, Attenweiler didn't have much experience as a playwright.
"Not knowing an ounce of anything about how to produce a play, I produced one of my plays," he says. "Then another. Then eight more and still counting."
Some of his previous plays include:
• "All Kinds of Shifty Villains," which is about a woman in trouble and a conflict that arises while a detective observes suspects;
• "… And We All Wore Leather Pants," which flashes back to the 1980s and the heyday of heavy metal;
• "Kansas City Or Along the Way," which is about a couple whose stories collide as they endure the hardships of the Depression era in Southern Ohio;
• "Cowboy Mouth," which is about a woman who kidnaps a man to turn him into her rock 'n' roll savior, but they find themselves in love along the way; and
• "Places Like Here," which is lightly based on the Washington, D.C., sniper shootings in 2003 and follows the life of an older man and his traveling acquaintance, who he learns leads the life of a serial shooter.
Information about these and other plays can be found at www.disgracedproductions.com.
Attenweiler did what he could to ensure success as a playwright.
"The work leads to more work and bigger opportunities, and then sometimes smaller opportunities, but then to the really big ones," he says. "Eventually, I'm the guy who you don't recognize sitting next to Spike Lee when the Cavs visit Madison Square Garden."
Being a playwright in New York City isn't easy.
"The self-deprecating joke to make is 'To make it like I have isn't all that difficult, but to make it any better than that sure is,'" he says.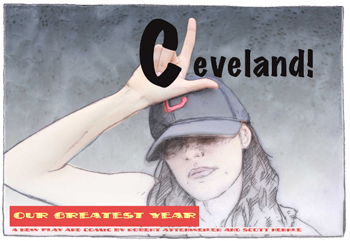 Attenweiler has been producing new work and publicizing it for seven years but admits it's a difficult profession.
"You have to have an almost embarrassing level of belief in yourself and the people you work with," he says. "It's such an abnormal industry in such an abnormal city that anyone who sees any of the myriad accomplishments considered successes, it's safe to assume, has done some heavy lifting to get there."
Attenweiler, an English major while at Carroll, can attribute some of his success to the University's English department.
"It's safe to say my most formative educators were professors I had at John Carroll," he says.
Those professors, such as Chris Roark, Ph.D.; Maryclaire Moroney, Ph.D.; and Jeanne Colleran, Ph.D.; gave him the personal attention and encouragement he needed to excel at Carroll, where he realized the value of the arts and developed a passion for them.
"My JCU education taught me the arts were important and communicating about them – about anything – requires rigor, passion, and compassion," he says. "That's helpful for any profession, but especially one where you're putting live actors in front of a live audience and trying to communicate something artfully." JCU
---
Leave a Reply