Faculty collaborate, advance curriculum through learning communities.
By Susan Curphey
Learning communities continue to impact the University, influencing faculty, its teachings, and ultimately students. The benefit of the interdisciplinary collaboration that occurs in these communities is evidenced in the new programs and curriculum that have emerged across disciplines from teaching ideas to new courses, even major and minor degrees. Three learning communities that have evolved throughout the past year are Globalization, Participatory Culture and New Media, and Intercultural Competence.
Globalization: Engaging the world
What began last year as a learning community about globalization has grown into a larger, multifaceted program because of funding from the McGregor Foundation Grant, Engaging the World: Educating for Contemporary Global Citizenship (see sidebar on page 5). This is the second such grant the University has received – the first McGregor grant was awarded in 2006 to support the initiatives of the Poverty and Solidarity learning community.
Like poverty, globalization is implicated in a wide range of cultural, political, and social phenomena.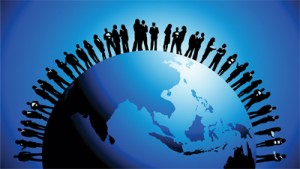 "Globalization affects everything from aesthetic evaluation to community organization to political boundary drawing," says Jeanne Colleran, Dean of the College of Arts and Sciences and initiator of the grant. "You see it all over the news – migration … the instability of the European markets … terrorism. You see it in emancipatory actions such as the Arab Spring and Occupy Wall Street. These are all examples of globalized dynamics."
Colleran believes globalization is the greatest intellectual challenge for JCU students, attributing the challenge to an information-based economy and changes in the economic landscape. Other complexities stem from a shift in the political realm where there are many more policy makers and participants.
"Our students live in a different world than 20 or 30 years ago; this world is simultaneously very connected and interrelated," Colleran says. "The McGregor grant and learning community will help faculty inform each other about this complex, intellectual, and educational issue. Twenty-five faculty members will meet for a semester to arrive at syllabi every year for three years. This is significant for John Carroll – it's not a common occurrence to globalize so much of your faculty."
John Carroll's history of learning communities has strengthened the curriculum in several ways. Interdisciplinary programs derived from learning communities include major and minor degrees in Peace, Justice and Human Rights and a minor in Entrepreneurship. Additionally, the Arrupe Scholarship was facilitated by a collective faculty interest in creating opportunities for undergraduates to be attentive to social justice in their coursework and co-curricular activities.
McGregor Foundation Grant
Engaging the World: Educating for Contemporary Global Citizenship
$236,000, plus $215,652 in matching support from the University
Three-year plan:
• 75 new or redesigned core curriculum courses
• Four or five new foundation courses in basic topics/ themes in globalization studies, allowing revised and shared requirements among area studies and other programs
• Course sequence leading to a minor in humanitarian response/crisis mapping
• Three immersion/ experiential learning projects in Africa, Latin or South America, and Cleveland/Northeast Ohio for students who are enrolled in humanitarian response/crisis mapping courses
Learning communities give faculty the opportunity to become more knowledgeable about a particular subject and provide the foundation to explore teaching more effectively.
"What is it about globalization – or any other topic – that brings the humanist, scientist and social scientist together?" says Lauren Bowen, Associate Academic Vice President for Academic Programs and Faculty Diversity. "It's these kinds of questions and discussions from our learning communities that begin to create a more integrated and interdisciplinary curriculum that is more contemporary, more salient, and resonates better for our students. It's this interactive process that creates change on campus."
The additional support of funds for stipends from the grant and University is meaningful and helpful given how incredibly busy faculty members are, Bowen says.
Learning communities also serve to provide intellectual and professional development for faculty.
"These communities feed our own creativity and vitality," says Anne Kugler, Director of the Center for Faculty Development, who facilitated the formation of this year's communities.
Kugler hopes faculty members take advantage of the opportunity learning communities offer them to formulate their ideas and interests.
English professor Phil Metres, facilitator of the expanded globalization program, joined the learning community last year because of his interest in large-scale global agreements, particularly economic, and their effect on people. The 1999 World Trade Organization summit, also known as "The Battle in Seattle," is an example.
"It's important to have conversations about issues that are contemporary and impact us in ways we're not always aware of," he says. "What's so exciting about being part of a learning community is the chance to be a student again and to learn, not only from our readings, but by fellow colleagues in various disciplines."
Intercultural Competence: Knowing how, when, and why to say what to whom
Since the 1990s, the concept of intercultural competence has gained increasing attention in international and interdisciplinary programs as a skill that needs to be intentionally taught and assessed, according to the group's facilitator, Julia Karolle- Berg, associate professor of German. It's typically measured in terms of knowledge, abilities, and behaviors.
The first task of this learning community was to address what intercultural competence means for those at John Carroll and how that translates into learning objectives. The group hopes the objectives will enable students to understand cultural appropriateness, challenge their cultural assumptions, and adjust their behaviors where necessary.
In September, those in the learning community participated a one- day workshop about intercultural competence led by instructors from the SIT (School for International Training) Study Abroad in Brattleboro, Vt. Faculty examined different theories and methods to begin implementing concepts into projects. One project, identified by Andreas Sobisch, Director for the Center for Global Education and associate professor of political science, is to develop a rubric for assessing the effectiveness of the University's study abroad programs.
The rubric would measure learning objectives, such as whether or not students gain a better understanding of the cultural perspectives, practices, and products of the country. Have they developed language skills? Are they better at negotiating ambiguous situations? Do they learn from experiences and alter how they interact with people?
The learning community also hopes to develop tools for international and American students at John Carroll that enable them to revise their differing perspectives. Additionally, the group is committed to find ways to recruit international students, particularly from China and South East Asia, more effectively.
"Intercultural competence encompasses so many different disciplines and facets of what we do at John Carroll," Karolle-Berg says. "It affects our world outside the classroom as well. When we encounter people from other cultures, the cultivation of these skills can be helpful."
In November, Karolle-Berg and Luigi Ferri, assistant professor of Italian, presented "Intercultural Competence: Approaching Theory and Practice through a Learning Community" at the American Council on the Teaching of Foreign Languages annual convention in Denver.
Participatory Culture and New Media: Taking Twitter to task
The Participatory and New Media learning community aims to build an educated community for faculty that deals with the shift from traditional reading and writing to new literacy skills associated with new media and technologies and to develop these skills in the classroom. For example, the group is examining teaching methods requiring less emphasis on memorization and greater focus on critical thinking, collaboration with co-students, and networking, says David Shutkin, associate professor of education, who facilitates the learning community along with Linda Seiter, associate professor of computer science.
Members of the learning community have discussed ways to prevent students from plagiarizing.
"If you live in the old world of memorizing information, the role of the teacher quickly becomes one of a cop," Shutkin says. "I'm an advocate of redesigning learning experiences so the issue becomes moot."
Shutkin and Seiter have applied new teaching methods in their First-Year Seminar class about digital media and social justice by assigning students to follow a Chinese activist on Twitter. By doing so, students could learn about the reality of their lives better than they could from a lecture or by reading a flat article.
"We're trying to better understand how students are communicating and learning about the world around them and collaborating through digital media to solve problems," Seiter says. "We need to adapt our teaching and take advantage of new ways students can learn."
The learning community also spends time examining the effects of new media and participatory culture outside the classroom. Shutkin says participatory culture – enabled by technology – has created an emergence of actions that may be unintentional or even unrelated. For example, the pursuit of social relationships on Facebook has resulted in the emergence of an enormous industry. Unrelated to that has been the creation of the possibility for people throughout the world to pursue democracy.
"We didn't really envision this when we started using Facebook, did we?" he says.
Shutkin thinks it's critical for John Carroll to position itself as it relates to new technologies in this new century.
"We need to figure it out," he says. "There's room for everyone around the table whether it's the English department, communications, political science, computer science or sociology. We're all implicated." JCU
---
Leave a Reply