From the tower
• John Carroll University was ranked among Kiplinger's Top 100 Best Values in Private Colleges for 2011-12. One of only six Ohio schools in the private school category, JCU ranks No. 81 in the nation. Kiplinger determines its rankings based on several criteria, including cost and financial aid, competitiveness, academic support, graduation rates, and student debt at graduation.
• John Day, Ph.D., has been promoted to provost and academic vice president. During his three-year tenure, six new academic programs have been developed and approved by the faculty.
• In the spring of 2012, the Barry M. Goldwater Scholarship and Excellence in Education Foundation will provide scholarships to U.S. students – who will be college juniors or seniors during the 2012- 2013 academic year – with excellent academic records who've demonstrated interest in, and potential for, careers in mathematics, the natural sciences, and engineering. To be considered, students must be nominated by their institution. The scholarship covers as much as $7,500 per year for expenses. For more information, visit act.org/goldwater.
• John Carroll has a special version of the beautiful Saint John's Bible (stjohnsbible.org) – the Prophet's Edition – located in Grasselli Library. Only 12 copies will be produced. The University received the first volume (Book of Wisdom) in April 2008. Since then, JCU has received Prophets in October '09, Psalms in May '10, and Pentateuch in March '11. It's expecting the Historical Books, Gospel and Acts, and Letters and Revelation.
• The University is engaged in the U.S. President's Interfaith and Community Service Campus Challenge, a White House initiative in which institutions of higher education commit to a year of interfaith dialogue and community service programs on campus. A group of faculty, staff, administrators, and students are working on a plan to increase the number of service activities. The John Carroll team chose to work with refugees to emphasize the importance of advocacy and action to promote social justice. Peggy Finucane '80, Ph.D., director of the Center for Service and Social Action, will lead the project along with six students. The group hopes to expand the work begun by Rev. Pedro Arrupe's Jesuit Refugee Services through work with US Together, an affiliate of the Hebrew Immigrant Aid Society.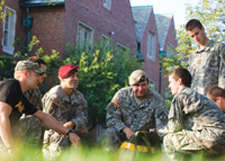 • JCU's Army ROTC program is ranked No. 1:
– in the state of Ohio;
– among private schools in the 7th Brigade footprint (Ohio, Indiana, Kentucky, Tennessee, except the Upper Peninsula); and Michigan
– among all religious schools in the 7th Brigade; and
– in the 7th Brigade for receiving the highest percentage of the highest scores at the Leader Development and Accessions Course at Fort Lewis in Washington state.
• The University's accountancy program placed third out of the nine finalists that advanced to the 2011 Deloitte FanTAXtic National Competition, which was held Nov. 18-20 at Deloitte University in Westlake, Texas. The competition provides students a glimpse of what they're going to be working on as tax professionals.
Events
• The Honorable William O'Brien '81 spoke at the Constitution Day celebration Sept. 19. Constitution Day recognizes the signing of the U.S. Constitution Sept. 17, 1787, by the Founding Fathers of this nation. O'Brien, a Circuit Court Judge for Cook County in Illinois, spoke about the rights accorded by several amendments in the context of a case he prosecuted, "The Girl X." O'Brien is the winner of an American Legion Award of Excellence and a Crane Gargoyle Award for Unique Achievement in Disability Advocacy.
• The Institute of Catholic Studies-Breen Family Lecture Series presented "Current Issues in Catholic Social Thought" with Rev. Thomas J. Massaro, S.J., professor of moral theology, Boston College of Theology and Ministry, Sept. 22. Fr. Massaro taught for 11 years at Weston Jesuit School of Theology in Cambridge before going to Boston College in 2008. His work in Christian social ethics draws upon wide- ranging studies in political science, economics, philosophy, and theology. For more information, visit jcu.edu/catholic.
• Rev. Francis Smith, S.J., formerly a member of the JCU English department, read his poetry Sept. 29. Fr. Smith is a well-published poet who has been writing poetry, teaching Shakespeare and Chaucer, and traveling the world for much of his 90 years. While at Carroll, he was in charge of bringing arts and entertainment to the school. Among the acts he booked were Louis Armstrong and Simon and Garfunkel.
• John E. Thiel, professor of religious studies at Fairfield University, spoke about "Imagining Ourselves in Heaven" Oct. 20. The lecture was the inaugural event for the Dolores L. Christie Lecture Series. Thiel's talk focused on what resurrected life in heaven is like. The talk considered how two theologians of the past – Thomas Aquinas and Jonathan Edwards – have imagined heavenly life, and concluded by considering a particular activity of the blessed dead theologians have never considered.
• The Ride for Miles event that benefits the Miles Coburn Environmental Symposium took place Sept. 18. The event consisted of a 15-mile bike ride, music bands, food, a $1 Chinese auction, and t-shirts for all riders. For more information, visit rideformiles.org.
• The 9th annual Footprints for Fatima 5K Run and 1 Mile Walk took place Oct. 1 during homecoming weekend. All proceeds benefitted JCU's Fatima Food drive to supply more than 100 families with food during Christmastime. For more information, visit jcu.edu/footprints.
• JCU held a Remembrance Day National Roll Call Nov. 11 on the steps outside Saint Francis Chapel. This year marks the 10th year of post 9/11 combat. More than 6,240 U.S. service members have died in two major theaters of operation – Iraq and Afghanistan. The event consisted of a synchronized reading of all the names of the Operation Enduring Freedom and Operation Iraqi Freedom casualties. All participating schools observed a pause at 11 a.m. PST to observe a simultaneous minute of silence. One hundred sixty-nine schools pledged to participate.
Misc.
• The Carroll Lot, the new parking lot on the former site of the Bohannon Center, opened Oct. 26 and added about 200 parking spaces. As a part of the project's second phase, sod was laid on Hamlin Quad to support athletics and recreation.
• The University unveiled a Ohio Historical Marker along the walkway in front of Grasselli Library Oct. 28. The Ohio Historical Society selected JCU to receive the marker in recognition of its 125th anniversary year.
University notes
• Michael Nichols, Ph.D., associate professor of chemistry, earned the Lucrezia Culicchia Award for Teaching Excellence, which is given to a member of the faculty in the College of Arts and Sciences who has made a distinct difference in the teaching climate of the college in such areas as model classroom teaching, campus leadership about teaching issues, pioneering teaching methodology, and creative course development.
• Edward Hahnenberg, Ph.D., the newly appointed Breen Chair in Catholic Systematic Theology, received the Spirit of the Conference Award from the National Association for Lay Ministry for his contributions on behalf of ministry in the Catholic Church of the United States. He also was named an official delegate to the U.S. Lutheran-Catholic Ecumenical Dialogue.
• Jeanne Colleran '76, Ph.D., was named to irish voice newspaper's 2011 Irish Education 100. The list highlights leading figures in education throughout the U.S.
• The University added four new members to its Board of Directors. They are:
– Rev. John P. Fitzgibbons, S.J., the recently appointed president of Regis University who will take office June 1, 2012. Most recently, Fr. Fitzgibbons served as associate provost for faculty development at Marquette University.
– Robert W. Hostoffer, D.O., '81, a clinical assistant professor in pediatrics at Case Western Reserve University and fellow of the American Academy of Immunology and the Clinical Immunology Society.
– Ray Smiley '51, former vice president of Gilford Instrument Laboratories and CFO of Applied Industrial Technologies, from which he retired in 1992. A CPA, he serves on the Advisory Committee to the Boler School of Business.
– Stephen Todd '69, a former managing partner with Ernst & Young who served as a coordinating partner of Eaton Corp., Lake Erie Region and E&Y global director and
vice chair – London.
---
Leave a Reply