Changing of the guard
At the Alumni Association Board meeting Sept. 20, 2011, George Sample '02 became the new president replacing past president Eric Jochum '83, who lead the board for the past three years. Jim Clark '57 and Anne Conway '72 also completed their terms of service.
New members are:
• Tom Moran '57
• Bob Sferra '86
• Kyle Reynolds '99
• Susan (Nadzam) Roubic '00
• Nicholas Reif '07
• Katherine Raderstorf '13
Raderstorf, a junior from Columbus, Ohio, was selected to serve on the board as an ex-officio member representing the student body. This group joins talented volunteers including Sample, Terri (Kluesener) Lewandowski '78, Jamie (Megeath) Jamison '88, Kathleen (Reichart) Laffey '90, and Mary Michelle Coleman-Walsh '97.
To learn more about the board, visit jcu.edu/alumni.
New service aids college decision process
The college decision process can be an arduous and overwhelming experience for many students and families. So much so, they're hiring private college counseling services or specialists with expertise beyond a typical high-school guidance counselor for advice about choosing the right college, essay preparation, and financial aid. Some services cost as much as $12,000. Beginning January 2012, Tom Fanning, director of admission and advancement, will offer various college advising services for children of alumni who face a difficult college decision process. In a career spanning 25 years in college admission, Fanning is recognized as an expert in the field nationally. For more information about this service, visit jcu.edu/alumni, or contact Fanning at 216-397-4246.
Developing chapters
JCU welcomes Eric Eickhoff as the new director of alumni chapter programs. Eickhoff comes from The College of William & Mary where he managed and supported 24 regional alumni chapters, serving more than 54,000 alumni, since 2007. He implemented an alumni chapter expansion plan and helped re-establish several dormant chapters. This expertise will be invaluable as alumni relations expands the chapter network. Eickhoff, a native of Pepper Pike, Ohio, has several ties to JCU. His father, Ric, is the advisor for the John Carroll Chapter of the Beta Theta Pi Fraternity. Eickhoff received a bachelor of arts degree from Ohio Wesleyan University in 2000 and a master of education in higher education administration from William & Mary in 2007.
JCU: What are your plans for the alumni chapter program?
EE: To develop an interesting program that engages alumni. While the program will be based on five core components – service, leadership/professional development, learning/ educational development, social events, and alumni in admission – each chapter will have its own identity. Each chapter presents new and different opportunities to engage alumni.
JCU: Why should alumni become involved with chapters?
EE: Once you become a member of the Carroll community, you're a member for life. Becoming involved with your local chapter offers numerous opportunities for personal and professional development. It can allow you to rekindle old friendships and develop new ones. It can put you in touch with people who can mentor you professionally or open doors for you.
JCU: What did you learn in your most recent position at William & Mary that will benefit you at JCU?
EE: W&M and JCU are similar. They're wonderful institutions of higher education that provide solid liberal arts education for their students, developing them into well-rounded individuals. Campus memories and community relationships are important, and if we can tap into feelings related to those, people are likely to participate more.
JCU: What about Carroll made this position intriguing?
EE: The purpose, people, and location of JCU. Growing up in Pepper Pike, Ohio, I always knew Carroll was an institution that prides itself on core values and beliefs, living its mission daily. As a result of this commitment, JCU has been able to attract outstanding people to attend as students and work as faculty and staff. This opportunity has allowed me and my family to move back home.
To become more involved in your area, contact Eickhoff at eeickoff@jcu.edu.
Upcoming events
Visit jcu.edu/alumni for updates.
Jan. 27
Boler School of Business Reception
The Metropolitan Club Chicago
Feb. 10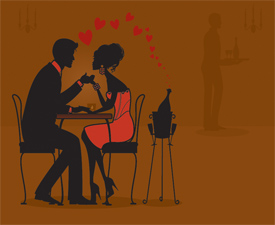 First Annual Couples Night Out
Are you married or engaged to a JCU graduate? Enjoy an evening back on campus in the Dolan Science Center at the First Annual JCU Alumni Couples Night Out. The event, which last from 6:00 to 8:00, includes cocktails, hors d'oeuvres, music, and fun surprises. The cost is $20 per couple. Complimentary day care will be provided by JCU students for children six years old and up. For more information, call 800-736-2586 or visit jcu.edu/alumni.
Feb. 18
Chicago Alumni Chapter Night with the Chicago Wolves
Allstate Arena Rosemont, Ill.
Feb. 21
SAA presents "Backpacks to Briefcases" Speed Networking
Cleveland
Feb. 28
Columbus Alumni reception
Ohio Statehouse
March 4
Alumni Reception featuring Dean Jeanne Colleran '76
Long Island, N.Y.
Hosted by Drs. Joseph '87 and Mary Bonafede
March 2012
Alumni Reception
Naples (Fla.)
New HOF inductees
---
Leave a Reply