Alumni apply principles taught at Carroll in the U.S. military
By John C. Bruening '86
In the hours before D-Day June 1944 – one of the most precarious moments of the 20th century – Gen. Dwight D. Eisenhower called on tens of thousands of American and Allied soldiers to summon the courage and mental fortitude to serve a greater good.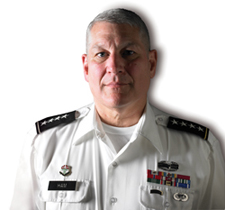 Service, the act of surrendering to a cause that outweighs the needs of self, is central to the John Carroll experience. While service comes in many forms, many JCU alumni have taken that principle to war rooms and battlefields, and in doing so, have led meaningful and exemplary careers in the U.S. military.
Perhaps the most well known is Gen. Carter Ham '76, head of the U.S. Africa Command who stepped into an international spotlight earlier this year when he was appointed to oversee U.S. military operations in Libya. It was just the latest chapter in a 38-year career that includes previous command positions in Europe and Northern Iraq. One of only 11 four-star generals in the U.S. Army (and the only Carroll alum to hold the rank), Ham also oversaw the investigation of the Fort Hood shooting in November 2009 and, more recently, was appointed by former Secretary of Defense Robert Gates to investigate the "Don't Ask, Don't Tell" policy for gays and lesbians serving in the military.
Maj. Gen. Robert Stall '77, commanding general of the 108th Training Command, is responsible for initial military training for active and reserve soldiers for the U.S. Army. He was a battalion commander deployed as part of NATO forces who served as peace enforcers between the Albanians and Serbs during the Kosovo conflict during the late '90s. Following 9/11, Stall led the 358th Civil Affairs Brigade – first in Pennsylvania and later in Kuwait on the eve of the Iraq War that began in March 2003. His civilian role is as assistant to the president of the Cleveland Clinic Regional Hospitals and president of the 118-bed Medina Hospital, the newest of the nine regional hospitals in the Cleveland Clinic system.
Col. Kurt Klausner '80 was a career Air Force man who retired from active duty in January 2011. For three decades, Klausner served in a range of communications- and electronics-related disciplines, including positions in engineering installation, combat communications, airborne command post operations, and computer systems operations. The later years of his career – from 2005 until his retirement – included special operations in Iraq and Afghanistan. For Klausner, retirement has proven to be a misnomer. Less than six months after his departure from military service in the spring of 2011, he accepted a senior executive position at the Defense Intelligence Agency, which is within the U.S. Department of Defense.
Ask anyone to guess where leaders of this caliber would've spent some of their formative years, and a modest-size, Jesuit liberal arts university in the Midwest might not be their first answer. But all three maintain the wide range of curricular and extracurricular activity at Carroll was – and is – what shapes a well-rounded soldier with a comprehensive world view.
Training and perspective
In 1973, Ham enlisted in the Army and was granted a two-year ROTC scholarship from active duty in 1974. By the time he graduated in 1976 with a degree in political science, he'd been commissioned as a second lieutenant. This accelerated program early in his military career – still new in the mid-'70s, but one that's evolved into the Army's Green to Gold program – makes Ham part of a rare breed of generals who started as an enlisted soldier.
"I was a marginal student, frankly," Ham says. "I chose political science not because I had a burning desire to work for the government, but because I knew I was going to be an officer. I thought that might be a useful degree."
Training future leaders
In the year and a half since Lt. Col. Donald Hazelwood became a professor in John Carroll's Department of Military Science, he quickly recognized – and reinforces – the natural connection between the mission of the ROTC program and mission of the University – inspiring individuals to excel in learning, leadership, and service in the region and world.
It's the same connection that helped shape Army leaders such as Gen. Carter Ham '76 and Maj. Gen. Robert Stall '77, and Air Force Col. Kurt Klausner '80 – each of whom spent a portion of their Carroll years in the ROTC program.
"One of the Army values is selfless service," says Hazelwood, a graduate of West Point Military Academy who served in four deployments in Afghanistan between 2006 and 2009. "The others are duty and integrity. All those go hand in hand with the values John Carroll teaches. We teach our cadets to embrace those values, and they do."
Carroll is the host school for ROTC throughout Northeast Ohio, with seven other four-year schools under its jurisdiction. Cleveland State University is the partnership school, along with six other affiliate schools: Case Western Reserve University, Notre Dame College, Ursuline College, Baldwin-Wallace College, Hiram College, and Oberlin College.
At the end of the 2011 spring semester, there were 82 cadets in the John Carroll program, which celebrated its 60th anniversary in 2010. (Visit jcu.edu/magazine to read an article about the anniversary.) Of the 82 cadets, 45 were contracted to Army service. Through a curriculum that includes physical and leadership training and small-unit tactics, Hazelwood and his staff of five full-time instructors teach cadets how to face challenges in any context.
"It's not just the military life you can apply those skills toward," he says. "Whether you enter the military for four years and then enter the active reserves to fulfill the rest of your commitment, or stay on for 20 years, you still apply the lessons you learned to the rubric of the rest of the world."
Hazelwood's primary job is to help ROTC cadets transition from being regular college students to future leaders in the U.S. Army. He admits a West Point pedigree like his needn't be a prerequisite for such an outcome.
"The potential for leadership is more about the caliber of students who come to Carroll," he says. "Not everyone who applies here is accepted. So, already, you have a higher caliber of student. What we do ties directly to the mission of the University. It's an easy step from the idea of service for others to service for the nation."
Is there a Gen. Ham somewhere among the current crop of cadets? Hazelwood thinks so.
"I have awesome cadets, and if any of them were commissioned right now, I'd want them as my junior officers," he says. "They're smart, resilient, adaptive, and they meet every challenge head-on. If I give them a task, I don't have to worry about them because I know they're going to accomplish the task. Do I have future leaders here? It's early to say, but these kids have great potential."
Years after graduation, Ham found himself in circumstances in which the principles he learned in coursework at Carroll were applicable, particularly when he served with the United Nations in the Balkans.
"Having knowledge of international law and the principles of international relations was helpful," he says.
Likewise, Ham's studies of various world religions helped him understand the fundamental cultural differences he's encountered. He has served in positions in which the military was operating inside another culture, often a non- Christian one, and a broader understanding of world religions has been helpful, says Ham, who was introduced to Catholicism while attending Carroll and eventually entered the faith by the time he graduated.
Stall, who graduated with a BSBA in marketing, remembers the same core curriculum courses in comparative religions. In his career, Stall has seen many different sides of numerous cultures, and the array of conflicts that can emerge when those cultures clash. For example, he had the chance to understand the confrontation in Bosnia and Kosovo that led to the ethnic cleansing.
A few years after Bosnia, in May of 2003, Stall watched a team of Marines dig up a mass grave in Hallah Iraq where Saddam Hussein's regime had buried more than 1,400 bodies.
"The hands on each one of the bodies were tied with piano wire, and the heads each had a small hole in the back of them," he says. "Somehow, horrible as it is when you see it, you're able to have perspective about it because the Jesuits provided you with an academic view of different religions and how they can be twisted to justify certain behaviors. They gave you a foundation to help you understand."
For Klausner, a Chicago native who majored in business administration (BSBA in marketing), the early lessons in cross-cultural understanding had less to do with the study of comparative religions or longstanding ethnic conflicts and more getting to know the student who was seated next to him or living at the other end of the residence hall.
"There's a mix of backgrounds, experiences, and views," says Klausner about Carroll students. "This tends to open your mind, and you become more aware of what other people are thinking. Eventually, you're able to look at the world with a broader perspective."
Difficult assignments, decisions
A broader perspective is a critical ingredient when making difficult decisions in training, strategic planning, or on the battlefield. As a second lieutenant stationed in Germany in the late '70s, Stall dealt with enlistees with various drug habits and behavioral problems. Many were coming directly out of the court system in the States, where judges had given them the choice of entering the military or going to jail.
"I had derelicts," Stall says. "I tried to mold those folks into a platoon of six tanks that were going to fight the East Germans and Czechs who were planning to come across the border. In a situation like that, you learn how to stick to your values because you had to try to inculcate those same values into those kids. And we're still doing that to this day."
In his current role, Stall oversees the training of 2,400 drill sergeants, slightly less than half of all the drill sergeants serving in the Army. Drill sergeants provide the reception and initial entry training for all the incoming 18-, 19-, or 20-year-olds as they step off the bus.
"It's a lot of responsibility, but that's the point where we start building their values," he says. "In my mind, it's obvious the values that were instilled in me at John Carroll have followed me all the way through my career – on the military and civilian sides."
Perhaps the most challenging mission – and the one with most visibility and highest level of scrutiny – was the one assigned to Ham in March 2011, when President Obama and then-Secretary of Defense Robert Gates put him in charge of U.S. military operations in Libya, a country that continues to be one of the more challenging flashpoints in the wave of civilian unrest that has swept throughout the Middle East the past year.
"There's been a lot of controversy about this mission, but I felt comfortable with it," Ham says. "The mission that was assigned by the president and the defense secretary to me and to our command was to protect civilians. It was readily apparent that, had we and others who allied with us not taken military action, the Libyan regime would've gotten into Benghazi – a city of 700,000 people – and who knows how many they would've killed. But they would've killed thousands. There's no doubt about that in my mind. They said that was exactly what they were going to do."
Ham recalls Michael Walzer's 1977 book, "Just and Unjust Wars," from a course he took at Carroll.
"That's a useful guide," he says. "When you're a commander and give the order to begin a mission, you know people are going to be killed. It's very sobering. You fall back on the values that were part of your upbringing and are still part of who you are. You ask yourself, 'Is this the right thing to do? Is this justified?' The education – academic and ethical – I received at John Carroll helped prepare me for those kinds of decisions."
Ham was asked to oversee the Pentagon's study about how the repeal of "Don't Ask, Don't Tell" will affect the troops was a completely different challenge. But like his mission in Libya, it forced him to weigh variables and find a workable middle ground. There will be those at one end of the spectrum who are strong advocates of gay rights and those at the other end who will be very much opposed to the change in the law and the policy.
"Those are small populations, but neither end of that spectrum will be satisfied," Ham says. "But overwhelmingly, the U.S. military will handle this change effectively and be able to do what we always do. The bond of trust with the nation that we can't break is that we'll deliver the military power the nation requires, when and where needed. We'll be able to do that, even with this law and policy change."
For Klausner, the most important missions of his Air Force career were the ones he wasn't at liberty to talk about – and still isn't. During the last five or six years before his retirement from active duty, his involvement in special operations included communications and IT work in Iraq and Afghanistan. He was assigned to a unit that included our nation's best warriors.
"A lot of the things we do are attributed to other folks, and we like it that way," he says. "It's a world in which humility is part of the deal."
But Klausner is convinced there's still much to be done on domestic soil to keep America safe and improve national security. In his new position within the Defense Intelligence Agency, he applies his specialized IT skills and other technical expertise to help develop battlefield strategies for military operations in the Middle East.
The road less traveled
Klausner, who once planned on nothing more than a four-year commitment to the military, admits his career track has been a surprise, but a fulfilling one, nonetheless.
"If you have a direction in mind, there are paths to that goal that are straighter than others," he says. "For a kid like me, who didn't know what he wanted to do, an education from John Carroll opens your mind to what's possible. By not going into a heavy science, engineering, or technical discipline, you're going into this broad education where you get exposed to philosophy, business, music, military science – all these different things are available and can help you establish a path."
Ham looks to Carroll as the place where he found his faith, professional calling, and wife of more than 30 years (Christi is a 1975 graduate) – all of which are much more than he could've ever hoped to receive at West Point or any other prestigious military training school.
"Your background, circumstances, where you were educated, how much money you or your family have – none of that's relevant," he says. "What's relevant are your capabilities, sense of commitment and dedication, and potential. So a kid coming out of a Jesuit college in Cleveland has just as much chance of achieving a high-level position as someone from a large state university or military academy. We're not going to judge you on where you came from. We're going to judge you on what you're able to do once you're here."
And what about the young faces Ham sees when he returns to campus and addresses a room full of ROTC cadets? What does he leave them with, and what does he take away? He talks to them about the special profession they're choosing, which includes significant responsibilities. They'll be charged with leading young American men and women in difficult circumstances.
"They have to do all they can – at John Carroll and throughout their training – to make sure they're as well prepared as they can be for that leadership role," he says. "But it's comforting to see how good they are, and I'm convinced the future of our Army and nation is in good hands." JCU
For information about John Carroll's Veterans Program, including the JCU Patriot Award, contact Lt. Col. (retired) Eric Patterson, director of veterans affairs, at 216-397-4947 or epatterson@jcu.edu, or visit http://sites.jcu.edu/veterans/.
To read about how the Northeast Ohio Foundation for Patriotism supports local military personnel and their families click here. Mike Swallow '98, along with the help of four other classmates, founded NEOPAT in 2010.
---
Leave a Reply