In this third (of four) installment of the magazine's special 125th anniversary section, we publish some Carroll stories you've shared with us online. These are just a few of the countless examples of how the University has transformed the lives of thousands of Jesuit-educated men and women. If you want to share your story, visit jcu.edu/125. To read the other part of this third installment, click here. To read the second part of the 125th series, click here, and to read the first, click here.
The best decision
As a senior at a Marianist high school on Long Island in New York in 1959, I was puzzled about a college to attend. In those days, it wasn't common to visit a host of schools like students do now. I knew my choices were limited by cost and distance. I'd heard about the Jesuits and investigated Fordham, but I didn't want to endure the daily train and subway commute.
At about the time I decided I'd consider schools within a one-hour plane ride, I received a mailer from JCU, which had the Jesuit cachet, a nice-looking campus, and a reasonable cost. So, sight unseen, I enrolled.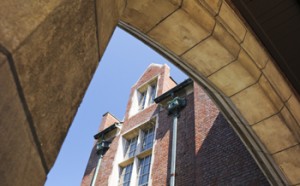 On my first day, I ran into fellow freshman Peter Hoffman '63, whom I hadn't seen since the first grade in Rockville Centre, N.Y. That day, I also met my first Jesuit, Fr. Nick Predovich, S.J., a wonderful man who was the head prefect in Dolan Hall. Fr. Nick asked me what extracurriculars with which I'd become involved. I told him I'd work on the newspaper and join the sodality. I had great experiences with both. I also became sports information director, traveling with the varsity teams to help publicize them.
Friends are incredulous when I tell them my favorite college courses were Latin and Greek, along with English literature. The professors I had for those subjects were superb and included Joe Schork, Ph.D., Dick Spath '44, Ph.D., and Don Poduska, Ph.D., for Latin; Fr. Charles Castellano, S.J., for Greek; and Joe Cotter and Art Trace, Ph.D., for literature.
While at Carroll, I met my future wife, Mary Kay, an Ursuline girl. We're celebrating 47 years of marriage this year.
I liked JCU so much I returned to work there as director of public relations in 1969 and stayed 30 years – the final 18 as vice president for development. I met many truly wonderful students, Jesuits, administrators, faculty, staff, and alumni throughout
the years. I'm proud two of my sons and a daughter-in-law are JCU grads. Deciding to go to Carroll turned out to be the best decision I ever made.
– Paul Kantz Jr. '63
A winding path
In the fall of 1999, I entered my freshman year at Carroll. I was optimistic as I turned a new page in my young life. Like many, I welcomed the change, despite fear of the unknown.
The product of an inner-city school system, I looked forward to a departure from the norm. The thought of immersing myself in a sea of diversity and culture helped fuel my desire and abate the guilt of leaving home. My younger brother, who, six years my junior, was extremely impressionable at the time and tugged at my heart.
In retrospect, I realize the decision I made epitomized what it meant to lead by example and provide a blueprint for my brother to follow. Yet, I'd soon find the person at the helm of this journey was terribly misguided.
I'd always done well in school, therefore, it was expected I attend college. Though it was a natural progression for me, I made the mistake of going about my plan under the guise of other people's expectations. I chose to attend Carroll for several reasons that were my own, yet, overwhelmingly because it fit the mold of other people's ideal image of me.
Whereas most students are proactive in their college search, my experience was comparably less vested. Instead, my enthusiasm came from the reactions of those who learned I was attending such a prestigious university. It was this type of blind euphoria that drove me down a path I'd soon regret.
Barely a week into the fall semester, hardened by feeling misplaced and uninspired, I dropped out. Gone was the green 17 year old who yearned for exploration. I re-enrolled soon after, yet my focus was elsewhere, and I dropped out twice more in 2000 and again in 2001.
I returned to campus in the spring of 2003 during what would've been my last semester before graduation. Though bittersweet, it motivated me to stay the course. I knew what I wanted this time around, which allowed me to flourish.
With a schedule that peaked at 41 credit hours during my senior year, I had a single goal in sight. The routine brought out the best in me, as well as dean's list honors. Then, on May 22, 2005, six years after first arriving on Carroll's campus, I left a graduate that afternoon.
In the spring of 2011, I celebrated a professional accomplishment – my first novel, "The Broken Road" was published.
Though my path wasn't ideal, it has prepared me in ways no other could have. As for my younger brother, whose well-being was a significant factor during my growing pains, he's also a college graduate and professional football player in the NFL.
My story is a testament to the way in which life happens, and the importance of people who cultivate our experience. I'm grateful to have found this while attending John Carroll.
– Rafeale Gibson '05
A positive role
I thank the teachers, administration, military science department, my parents and fellow classmates for changing my life. John Carroll wasn't just four years of schooling. It's a university that welcomed me into a new family and allowed me to forge lifelong friendships, which have given me a better perception about life and made me a better person.
In 1997, I graduated from Mount Carmel High School in Chicago. I didn't want to move away from Chicago and was planning to attend Moraine Valley Community College or UCLA as we called it (University Closest to LaGrange Avenue). I wanted to attend Moraine until I figured out what I wanted to do with my life. My parents pushed me daily to attend Carroll because they knew about Jesuit education and the quality of people at JCU would have a positive impression on my life.
It wasn't until August 1997, about a week before school started, I decided to attend Carroll. After a long summer in Chicago, I agreed with my parents it probably would be in my best interest to do so.
During my time at Carroll, I gained a new appreciation for academics and life. I received a scholarship through the ROTC program and met some of the most genuine and amazing people in my life. Most importantly, I was fortunate to meet my wife, Brandy Banks '03, while at Carroll.
To JCU teachers, administration, and fellow alumni, I thank you for having a positive role in my life and helping me get to where I am today.
– Brendan Hotchkiss '01
A focus on service
I just finished serving a two-year stint in Punta Gorda, Belize, with the Jesuit Volunteer Corps. My decision to commit to two years of international service is a direct correlation to the Jesuit education I received at Carroll. The combination of my time on retreats with the campus ministry team, service-learning experiences while an undergrad, and the justice- based political science classes I took made moving abroad to accompany the marginalized a logical next step.
I also had the honor of being JCU's first mascot, Lobo. You better believe that's still on my resume.
– Matt Wooters '09
A positive experience
In 1992, at the age of 54, I finally earned my B.A. The entire experience of being a nontraditional student and faculty wife (husband Wilhelm Bartsch was an instructor of German) was positive. I met many brilliant people, including Fr. Thomas O'Malley, S.J., who called my husband his colleague and taught one or two of his classes for fun. Fr. O'Malley and my husband have passed, but I can't help thinking they're trading stories in heaven. Both of them were truly men for others.
– Nancy Bartsch '92
---
Leave a Reply