Native Chicagoan spends career at Carroll
By John Walsh
Even at 80 years old, he still swims a minimum of 2,200 yards – that's 88 lengths of the pool – a week. Fr. William Bichl, S.J., is more fit than most people his age. Fr. Bichl, who learned to swim from a young Jesuit while studying at Saint Louis University in 1957, has been swimming since. During the past 30 years, he has swum 5,000 miles in the William H. Johnson Natatorium. A familiar face on campus, Fr. Bichl has been teaching and advising at Carroll continuously since 1970.
After growing up in Chicago in the 1930s and '40s, Fr. Bichl entered the Society of Jesus in 1954. The first time he came to Carroll was in August of 1963 as a Jesuit scholastic assigned to teach logic and gain teaching experience (he'd never taught before). He had a choice to gain that experience at the University of Detroit (now the University of Detroit Mercy) or John Carroll. Because he had a brother, Ken, and sister-in-law, Betty, in Cleveland, he told the provincial of the Detroit Province he preferred Carroll, so that's where the provincial sent him.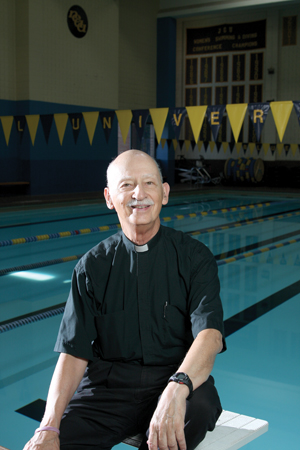 Driving from Chicago, Fr. Bichl dropped off a fellow Jesuit in downtown Cleveland and continued on to Carroll. Without much direction, he eventually found campus and wandered onto the quad. He ran into a Jesuit scholastic who showed him Rodman Hall, the Jesuit residence at the time. His bedroom was right above the arch facing the quad.
After teaching logic for a year, Fr. Bichl moved on to the Bellarmine School of Theology, a seminary formerly in North Aurora, Ill., 15 miles from where he grew up. After being ordained at the Colombiere Center in Clarkston, Mich., he went back to Bellarmine for a fourth year of theology study. Then he returned to St. Louis University for three semesters to try and earn a doctorate in philosophy. It was then – January 1970 – that Fr. Walter Farrell, S.J., the provincial of the Detroit Province at the time, reassigned Fr. Bichl to JCU partly because he taught at Carroll before.
"I know the Lord would rather have a sane, dumb Jesuit than a crazy, smart one," Fr. Bichl says in jest, acknowledging he didn't finish his doctoral studies but earned an undergraduate degree in philosophy and two master's degrees, one in philosophy and one in theology.
Fr. Bichl, who had studied Latin for 11 years, taught philosophy, Greek philosophy, and contemporary moral problems from 1970 to 1981. One of his students, James Bauer '76, is now the assistant VP of enrollment management and executive director of the office of financial assistance services at the University of Miami in Florida.
"He was very approachable," says Bauer, who visited Fr. Bichl the last time he was in Cleveland two years ago. "It was like having a member of your family in the community. He was always available. You could go into the ground floor of Rodman Hall and call him, and he would come down and talk or go for a walk. He was always ready for conversation. He made me think about how I treat people."
In 1982, Fr. Bichl became acting assistant dean of the College of Arts and Sciences focusing on freshmen. After a year of being an acting dean, the "acting" was dropped from his title, and he retained that position until 2006 when he was 75.
"I spent a lot of time talking to and getting to know the students throughout the years," he says. "I liked them a lot and developed a nice rapport with them. I tried my best to treat everyone the same. My dad, who was a jeweler in downtown Chicago, taught me to always treat people equitably."
In working with freshmen throughout the years, Fr. Bichl wrote letters of dismissal to students because of poor academic performance, yet he wrote readmission contracts for some of them.
"I encouraged those students to go to Tri-C (Cuyahoga Community College) and learn what they didn't in high school and come back to Carroll," he says. "Some did this. Some students are worth the risk. If you give kids responsibility, they're pleased an adult trusts them. I've received letters from college graduates, some of whom came back to Carroll to earn their degrees, thanking me for waking them up."
Carroll memories
One vivid memory for Fr. Bichl was when Fr. Joseph Schell, S.J., was president of the University (1967 to 1970). Students came to him after the Kent State shootings (in early May 1970) concerned about what happened, and Fr. Schell decided to make finals optional.
"If you were satisfied with your grade, you were allowed to go home," Fr. Bichl says. "I spent 3.5 hours in the Kulas Auditorium listening to students voice their various opinions about the Kent State shootings and the effect it had on them."
Fr. Bichl has fond memories of former president Fr. Thomas O'Malley, S.J. (1980 to 1988), a Boston native who came to Carroll from Boston College.
"He was a breath of fresh air," Fr. Bichl says. "His time here was a whirlwind. He visited staff and administrators in their offices and got to know them. People loved him."
He also remembers well Fr. Michael Lavelle, S.J., who followed Fr. O'Malley as president. Fr. Lavelle was a native Clevelander, a graduate of St. Ignatius High School, and an all-state football star there. Woody Hayes, the legendary football coach at The Ohio State University, recruited Lavelle for his team. Lavelle thanked him for the offer but told Hayes he was joining the Jesuits that summer. Hayes responded: "You're joining the better team."
As for student memories, Fr. Bichl recalls Paul Kissane '86, who's presently a Midwest director at Bloomberg in Chicago. Fr. Bichl was advising Kissane, who was president of the centennial class. At the beginning of Kissane's senior year, he needed to take 43 credit hours to graduate on time. He persuaded Fr. Bichl to let him take 22 hours the first semester and 21 hours the second, even though he was earning a 2.3 grade point average.
"But during his senior year, when he took that heavy load, he got the best grades while he was here," Fr. Bichl says.
Kissane, a Chicagoan like Fr. Bichl, says the Jesuit always took the Chicago contingency at Carroll under his wing and was keenly interested in them.
"He has an incredible memory and knew many students by their first names," Kissane says. "He knew who was in trouble academically and those who weren't. He was always there for support."
Wonderful moments
Throughout the past 40 years, Fr. Bichl has enjoyed wonderful moments when he sees students realize they needed to get their act in gear and study hard to graduate.
"We care about these kids, and it shows," he says. "When alums come back, they're so delighted to see the faculty, staff, and administrators who've meant a lot to them. Generally, our grads are helping people by donating their time, so we're doing something right."
Looking back at his career at Carroll, Fr. Bichl never thought he'd be here this long.
"I always thought that if I liked this place and the people, I'd stay here," he says. "Now, as long as I'm healthy, I'd like to stay at Carroll. I've enjoyed my time here."
"Fr. Bichl embodies what JCU is all about because he treated everybody as a person with a background, not just a social security number," Kissane adds. "He had a genuine interest in people and where they were going. He was proud of students' accomplishments. He is one of the people who make JCU unique and special." JCU
---
Leave a Reply