Three women in our community share their stories.
By John Walsh
You know someone who has battled it, or even succumbed to it. You wear the bracelets and post the ribbons. You're aware. And you pray. In its various forms, it affects millions of people. It's cancer.
The estimated number of men and women who died from cancer in 2010 is 569,490, according to the American Cancer Society (ACS). Lung cancer is the most common fatal cancer in men (29 percent), followed by prostate (11 percent) and colon and rectum (9 percent). In women, lung (26 percent), breast (15 percent), and colon and rectum (9 percent) are the leading areas of cancer death.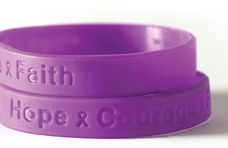 The estimated number of new cancer cases in 2010 among men and women is more than 1.5 million, according to the ACS. Cancers of the prostate and breast are the most frequently diagnosed cancers in men and women, respectively, followed by lung and colorectal cancers in men and in women.
Events such as Relay For Life and networks such as Susan G. Komen for the Cure raise funds and awareness for cancer research. Specific to the John Carroll community, Susan Gregg, acquisitions associate in the Grasselli Library; Maryclaire Moroney, Ph.D., associate professor in the English department; and Katie (Matia) Gibbons '00, a fourth- grade Title 1 reading teacher in Maple Heights (Ohio) City Schools, are examples of overcoming adversity when faced with the disease. For Moroney, it's Hodgkin's lymphoma; Gregg, breast cancer; and Gibbons, brain cancer.
Finding out
After a routine mammogram, the doctor saw something he didn't like, so he requested Gregg return for more images. After that, the doctor still didn't like what he saw, so he ordered a biopsy. It was late morning Feb. 28, 2009, when Gregg got the call.
"The day I was diagnosed, everyone in the tech services department knew because I couldn't contain myself," she says.
Gregg's doctor found a lump in her left breast the size of a pencil tip. It was the early stages of breast cancer.
"I had just gotten a physical in late December 2008 and felt perfectly fine," she says.
In Moroney's case, she discovered a lump just above her collarbone in October 2008. She also had a persistent, itchy rash. A month's worth of antibiotics wasn't effective, so Moroney's general practitioner referred her to a head-and- neck specialist.
"I had all the cancer symptoms, such as extreme fatigue and night sweats," she says. "By the end of November, I knew I had cancer."
One of Moroney's colleagues accompanied her on a return trip to the doctor, who said the lump looked like Hodgkin's lymphoma. The results, which came back New Year's Eve, confirmed the doctor's belief.
"The nurse was great," she says. "She wouldn't leave until I was set up with an oncologist."
Moroney wanted to make sure the cancer, which was at stage three, was curable. Luckily, it hadn't reached her bone marrow. She was scheduled to start chemotherapy the following week.
Unlike Gregg and Moroney, Gibbons' diagnosis took longer. In 2007, she was experiencing headaches and thought they were stress related. They started occurring right after she met her soon-to-be husband, Dan Gibbons. That summer, after having a drink, she'd have horrible headaches. She thought it was the alcohol, not a brain tumor.
"I couldn't get out of bed until 5:00 the next day," she says.
Gibbons was getting headaches, losing weight, and randomly becoming tired. She wanted to take a nap right before her 30th birthday party because she anticipated a headache later in the evening. She wasn't too worried about these symptoms until spring 2008 when the headaches became more frequent and severe.
The week after Easter, Gibbons saw her primary care physician who diagnosed the headaches as migraines because she had the symptoms. The doctor also put Gibbons on an antibiotic, thinking she could have a sinus infection. She returned to the doctor a week later feeling exactly the same. She was ordered to get a CAT scan Friday, April 18.
"I didn't think it would show anything and thought it was just a precaution," she says.
When Gibbons returned to her primary care physician after the scan, the doctor told her she detected an abnormality and instructed her to make an appointment with a neurosurgeon. After informing her parents about the results of the scan, Gibbons' mom shared the news with the primary care physician for whom she works. He was able to schedule an MRI for her Monday morning.
By looking at the CAT scan films, a doctor from Gibbons' primary care physician's office said it was large enough to cause a seizure, and there was debate about whether she should be admitted to the emergency room on Friday evening. She ended up staying at home and was put on antiseizure medication.
"That Saturday, my family had tickets to Michael Bublé, who's my favorite musician," she says. "I had big plans but couldn't go. It was a difficult weekend."
Gibbons had the MRI first thing Monday at Fairview Hospital in Cleveland, and the neurosurgeon could tell by looking at her eyes there was a tumor pressing on her left one.
"He said, 'I don't like the looks of this – can you come in Thursday and get a haircut so we can get that tumor out of there?'" Gibbons says.
Gibbons' father wanted a second opinion, so the neurologist immediately dragged in another doctor, who said, "Yeah, that has to come out." The doctor prescribed her antisiezure medicine and steroids to reduce swelling.
At this point, there was no talk about cancer – just moving on with life. Gibbons received a gift bag with scarves and hats from a close friend.
"She was realistic, but I didn't want to think about that," she says. "My hair is important to me, and it was difficult knowing it was going to be cut off the next day."
The night before surgery, friends and family visited Gibbons' home bearing gifts. A priest – a family friend who was battling throat cancer – also visited to talk about his experience and lead a prayer service.
Under the knife
After her diagnosis, Gregg had a lumpectomy March 5, 2009. The surgeon removed the tumor and performed a lymph-node biopsy. Before the outpatient procedure, the surgeon told Gregg she would need radiation, too.
The final pathology report came back a week later. There was good news and bad. The good – the cancer was caught early, and the bad – it's an aggressive type (HER2 positive) that would require radiation, chemo, and the biological drug Herceptin. That's when the surgeon told Gregg cancer is like a roller-coaster.
Like Gregg's, Moroney's surgery was an outpatient procedure. The excision biopsy took place at University Hospitals Dec. 22, 2008.
On April 24, 2008, during Gibbons' six-hour surgery to remove the large tumor, all her mom's family (there's 13 siblings) were there in addition to her dad's and boyfriend's families.
"They took up a whole area of the hospital," she says.
When Gibbons awoke from surgery, she was alert and able to eat and drink. She remained in the hospital for six days, a few of which were spent in bed. She had a black eye, looked battered and fatigued, and was on a high dose of steroids and pain medication.
"I formed a closer relationship with God in that hospital bed," she says.
In limbo
While Gibbons was in the hospital after surgery, she didn't receive any information about the tumor, only that the neurosurgeon was able to remove it entirely.
"I felt confident I was going to recover and get back to my life," she says.
When Gibbons went home, she went straight to bed but wasn't able to sleep.
"It was frustrating knowing I needed to sleep to recover," she says. "The steroids kept me up all night and made me hungry."
While recovering, Gibbons received many visitors who brought dinners, sweets, and flowers. "At this point, I still didn't think it was cancer," she says. "I wasn't ready to know. Two weeks after I got home, though, I really wanted to know. The results were the first thing on my mind."
Meanwhile, the brain tumor board at the Cleveland Clinic was analyzing the tumor and determining appropriate treatment. It had to generate a protocol, which took several weeks.
"By this time, I was going crazy," Gibbons says. "I needed to know."
Finally, a month after surgery, Gibbons received the results – she had a grade-four glioblastoma multiforme (GBM), which is the most aggressive form of brain cancer.
"Statistics show it's not good," she says. "I broke down. It was devastating hearing the results."
Getting better
Gregg's treatment plan for breast cancer was five-fold:
• Surgery.
• Chemotherapy.
• Radiation.
• Taking Herceptin for a year.
• Hormone therapy for five years.
"I said, 'Gee, maybe I should just have a mastectomy instead," she says. "But the oncologist drew me a diagram and said the results would be the same if I chose the five-step plan or mastectomy."
Gregg took drugs three days before the start of each chemo treatment to prepare her body.
"They had me all jacked up," she says. "I didn't like the feeling."
Gregg underwent outpatient surgery for insertion of a port in early April, preparing for her first chemo treatment on the 14th. Carboplatin, Taxotere, and Herceptin were administered one after the other. The treatments, which were on three week cycles, lasted 18 weeks and finished in August. She continued going to Hillcrest Hospital in Mayfield Heights, Ohio, every three weeks for Herceptin, which is administered the same way as chemo, through March 2010.
As the treatments progressed, Gregg became more fatigued.
"The first and second treatments weren't bad, but the last two were rough," she says. "Still, I thought, 'I can do this.' Luckily, I only missed work the days I had treatment."
Gregg started the next phase of her treatment, radiation, right after Labor Day in September. Radiation – there were 35 treatments – was scheduled Monday through Friday before work.
"I was amazed at how much math is involved in the radiation prep to make sure the beam is plotted out precisely," she says.
Gregg applied cream to her skin several times a day to help combat irritation, which is a side effect. She also drank a lot of water and walked daily.
Moroney's treatment started Jan. 17, 2009. To kill the cancer cells, she had to prepare her body with a one-week prechemo treatment. Doctors checked her pulmonary and heart function before administering chemo.
"I passed out with the nuclear medicine test, so they did a noninvasive heart check," she says.
Moroney underwent a PET scan – more radioactive material is directed at the tumor cells – so doctors could see how many tumors existed. There were more than a dozen small ones in her spleen, neck, esophagus, and chest area.
"The test was worth it to determine the cancer wasn't in my bone marrow," she says.
The treatment included six months of chemotherapy, which ended in June. Radiation wasn't an option because Moroney had dozens of tumors throughout her lungs and esophagus.
"I was so focused on treatment and getting better I didn't think about how I got the cancer," she says. "I didn't want to know much more."
Moroney's treatment for Hodgkin's consisted of four drugs: Adriamycin, vincristine, bleomycin, and dacarbazine.
"The bleomycin is scary because it's incredibly dangerous, and the nurse administers it in a hazmat suit, carefully dropping the drug into the port in my chest," she says. "It can burn your veins."
Moroney took chemo every other Friday. But in the middle of the treatment, she had the flu, so she skipped a dose and rescheduled it. Although the chemo is finished, treatment isn't complete. Moroney will continue seeing her doctor for a CAT scan every six months for three years until the five-year mark, which is in 2014.
In Gibbons' case, she was discouraged by her neurosurgeon from reading about GBMs because the information wasn't hopeful.
"My mom was the best advocate I had," she says. "She had a wonderful way of getting the facts and what I needed to do, as well as communicating that to our family. She was the best caregiver anyone could ask for."
Treatment consisted of taking chemo (Temedar) orally daily and radiation Monday through Friday. Doctors took weekly blood tests to ensure Gibbons' immune system was handling the treatment. She took chemo until March 2009.
"Despite side effects from treatment, I was able to get through it because of Dan, my family, and friends," she says. "Dan stepped up. If we had plans but I couldn't handle it, we didn't go. I couldn't enjoy some things, but I tried to make the most of it."
But there was good news for Gibbons. She became engaged to Dan after they returned from a boat trip in August 2008. Then the scan readings after radiation continued showing no signs of cancer. She was able to return to teaching that fall, and support from other teachers and the administration made the transition a smooth one.
"Teaching while finishing chemo kept me going," she says.
Dealing with the effects
During Gregg's treatment, the chemo, which had a cumulative effect, changed how food tasted, but that didn't last long. The other common side effect was hair loss.
"It goes quickly, and it's quite a shock," she says. "I bought a wig but didn't like wearing it every day, so I wore scarves and hats. Losing my hair was the hardest part."
Throughout the treatment, Gregg never felt sick; she just felt like something happened she had to take care of. Her routine didn't change much.
In Moroney's case, her family and friends came from all over the country to stay with her a week at a time during her treatment. During this time, her teenage children, after having slowly absorbed what was going on with their mother, continued on with their lives as normal. Friends and family conducted research about Hodgkin's.
"I, the research scholar, didn't want to know all that could go wrong," she says. "But, for example, I read about the four drugs I was taking. The oncologists explained in a clear way why the chemo works so effectively for this cancer. Also, there are many nurses in my family that knew about the treatment."
Moroney became weak and ill after chemo. She would gain energy back, then become sick again.
"It was difficult to keep up with my children," she says. "But I was able to reassure them I was going to be OK. They trusted me."
Living with cancer
For Gregg, there's a chance the breast cancer could come back. Doctors can't tell her she's 100-percent cured. The hormone therapy – a pill she takes once a day for five years (she has three years left) – is supposed to keep the disease in check. She continues with her yearly mammograms and additional follow-up doctor visits. Side effects of the medication, Anastrozole, are muscle and bone pain, hot flashes, night sweats, and bone loss. To combat that loss, Gregg is infused with Zometa, a drug that builds bone mass, twice a year.
Gregg remains active with an exercise group on campus twice a week and added relaxation yoga to her routine. On the spiritual side, she's part of a group that prays the rosary once a week in Rodman Chapel.
Additionally, she belongs to a breast cancer support group at Gesu parish that prays, cooks, and socializes. She discovered the group toward the end of her chemo treatment.
"They are wonderful group of women who I wouldn't have met if not for this disease," she says. "I'm blessed to have developed close relationships with them."
Gregg's coworkers also have been supportive.
"If there was anything I couldn't do, they picked up the slack," she says. "They sent me cards, baked, had little celebrations along the way; they prayed. As I went from one stage to the next, we addressed the days or times I couldn't work. They were accommodating and took care of things for me while I was out."
Like Gregg, Moroney's colleagues were instrumental in her recovery. In fall of 2009, Moroney started teaching again. Even though she wanted a low profile when she returned, the English department threw her a little celebration.
Gibbons is glad she's part of a support group, which meets once a month. Some people in the group have gone through a lot worse. For example, there are survivors who have to depend on others for the rest of their lives.
"It's a blessing to have," she says. "We don't give advice, just support. I couldn't have gotten through it without my family, but they aren't cancer survivors. This group knows what I'm going through. Some people don't have options. I got married. I have my hair. I give people who are just starting treatment hope."
Looking back and reflecting
Gregg's approach to dealing with breast cancer was a practical one based on advice from a Jesuit friend, who told her to be positive, confident, and prayerful.
"That's what I tried to do," she says. "I didn't want it to take over my life, yet I didn't bury my head in the sand. I tried to strike a balance. Working helped because when I was at work, I didn't think about cancer."
Gregg also received tremendous support from her sister- in-law, who had lymphoma two years previously. They could relate to each other even though they had different cancers.
"Laura showed me courage and strength," she says. "She set the tone."
While going through her treatment, Moroney believed it was a moment to slow down and prioritize her life. About 10 years ago, she felt a strong call to adopt her two children, who were ages six and eight at the time.
"I have faith and confidence I wouldn't have been given these two children if I couldn't raise them," she says.
Even after Moroney's treatment, she still feels her neck at times, and when she feels age-related pain, thinks the cancer is back.
Gibbons' doctors will keep a close eye on her for the rest of her life, yet she doesn't want cancer to be the determining factor for every choice she makes.
"I need to live life to the fullest," she says. JCU
---
2 Comments
---
Leave a Reply