Service. It's at the heart of what we do; it's central to the Jesuit mission; it's an essential part of our learning experiences; and it's ingrained in the fabric of the John Carroll community. Whether it's the Cleveland Neighborhood Project, an immersion experience in Central America, or any one of the many other Center for Service and Social Action programs, members of the JCU community are engaged locally and abroad.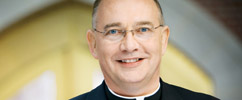 One form of service, highlighted in this issue, is the U.S. military. From humanitarian efforts in Haiti, to missions in Afghanistan, to operations that help deter terrorism, the men and women serving our country sacrifice much. Gen. Carter Ham '76, Col. Kurt Klausner '80, Maj. Gen. Robert Stall '77, and countless others are outstanding examples of alumni who've combined leadership, service and decisive decision-making to lead extraordinary military careers. To this day, their John Carroll education has helped them serve others well throughout the world. (Turn to page 12 to read more about these three men.)
Service isn't the only thing creating excitement in the Carroll community. The campus is always changing, but this summer I saw firsthand how having more than $8 million in infrastructure improvements created excitement with our prospective students, parents, and alumni. As you might know, the Bohannon Center was razed to create more surface parking with rain gardens and a bioretention basin, all designed to meet environmental and ecological standards. As part of the project, the Hamlin Quad is being regraded and improved to allow the space to support a natural-grass playing field for student recreational use. Additionally, we replaced the Zajac Track and Wasmer Field turf at Shula Stadium, which is a significant asset for athletics, recreation, and personal fitness. All of these investments will improve the student experience at Carroll and be a source of pride for alumni.
I would also like to congratulate our dean, Jeanne Colleran, Ph.D., and the College of Arts & Sciences for receiving a $236,000 award from the McGregor Fund for the project "Engaging the World: Educating for Contemporary Global Citizenship," which will develop a contemporary, integrated, and interdisciplinary curriculum about globalization.
In all, this has been an event-filled 125th anniversary year. Our most recent event, the Mass of the Holy Spirit and 125th anniversary of the first day of classes Sept. 6, was a historical start to the academic year. It was great to see our campus community come together to enjoy the festivities. (Turn to page 1 to see the human 125 photo.)
It's been wonderful celebrating 125 years of our distinguished history. As we reflect on all we have to celebrate, let us be thankful for God's many blessings.
Yours in Christ,
Robert L. Niehoff, S.J.
---
Leave a Reply