(This is the second part of a four-part, 125th anniversary series. For part one, click here to read about Archbishop John Carroll and here to read about the University's move from the West Side of Cleveland to the East Side.)
As the community continues celebrating the 125th anniversary of the University, it's appropriate to highlight what makes it different than the vast majority of institutions of higher learning in the U.S. – the Jesuits.
The Society of Jesus, founded in 1540, forms one of the largest religious order of priests and brothers in the Catholic Church. Jesuits serve in 112 nations on six continents, with the largest number in India and the U.S. The Society is divided into 91 provinces with 12 dependent regions: three in Africa, four in the Americas, and five in Asia and Oceania. Led by Superior General Fr. Adolfo Nicolas, S.J., its motto is Ad majorem Dei gloriam, which is Latin meaning to the greater glory of God.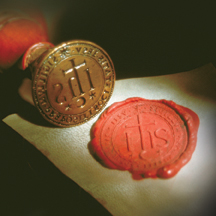 The Society is characterized by its ministries in the fields of missionary work, human rights, social justice and, most notably, higher education. It operates colleges and universities in various countries throughout the world and maintains more than 50 colleges, universities and high schools in the U.S.
More specifically to John Carroll, all of the University's 24 presidents, from Fr. John Neustich, S.J. (1886 – 1888) to Robert L. Niehoff, S.J. (2005 – present), have been Jesuits. In the late 1800s, Fr. Henry Behrens, S.J., the Superior of the Buffalo Mission of the Jesuits and rector of Canisius College, sent Fr. Neustich to Cleveland to help establish a Catholic college in Cleveland. Frs. Herman Kerckhoff, S.J., Joseph Gaechter, S.J., and John Devlin, S.J., along with Fr. Neustich, were the first faculty of St. Ignatius College.
In the early 1960s, the Jesuit community established a Jesuit Fellowship to enhance the Jesuit presence on campus. Presently, names such as Rodman, Schell, and O'Malley adorn buildings on campus in memory of popular Jesuits who've served the University.
For generations, the presence of Jesuits on campus has been the living link to the 450-year-old traditions of spirituality and education that are the hallmark of the Society of Jesus. Jesuits serving as teachers, chaplains, hall moderators, and advisors communicated that tradition to students in a deeply personal way. Although the number of Jesuits on campus has declined recently, their presence still is vital to the University's mission and identity.
At commencement this year, the Very Reverend Timothy Kesicki, S.J., '84 reminded the class of 2011 that, although Jesuit institutions are part of a distinguished brand, they're not part of a franchise.
"A Jesuit education isn't something you have, rather, it's reflected in the way you think and the choices you make in life," he says. "We see Jesuit education in the way you live your life, leading you toward work and passions that contribute to a good greater than yourself. Let your Jesuit education help you find your purpose in life for which God created you."
Reflecting on the impact of the Jesuits at Carroll, we profile them in this and subsequent issues of the magazine. We start with two: Cyril Pinchak, S.J., '06, who's in the beginning stages of his journey, and Fr. Thomas Schubeck, S.J., who's transitioning from decades of teaching to focusing more on writing. Their stories are vivid reminders of the Jesuit influence on the Carroll community.
It's been a lifetime of watching, learning, and applying for Fr. Thomas Schubeck, S.J., one of John Carroll's beloved professors. He says what originally attracted him to the Jesuits was a sense of community and their belief in integrating theory and practice. Working and learning from parents, teachers, coaches, Jesuits, and students, he gained much guidance and knowledge that prepared him for diverse experiences and ministries. These experiences included teaching high school and college students, community organizing, spiritual direction, prison ministry, and scholarly writing. He puts the practices he learned years ago into play today. Now others can watch and learn from him.
Hard work
Fr. Schubeck lights up when he talks about his family. He recalls his parents, Joseph and Margaret, raising their 10 children – he falls seventh in line – in Saint Ignatius of Antioch Parish on Cleveland's West Side and demonstrating their strong faith to their children. His father worked for a railroad company, and his mother stayed home with the kids, which was no easy chore.
"I don't know how she did it," Fr. Schubeck says.
When you talk to Fr. Schubeck and listen to all he has done – from advising students, teaching, chairing a department, working as a chaplain, and publishing books and essays – you can't help but ask the same question: How does he do it all?
Fr. Schubeck was born in Bellevue, Ohio – about 70 miles west of Cleveland – but the family moved to Cleveland after his father's job, with the Nickel Plate Railroad, was transferred. He noticed how well his hard-working father managed money with so many kids and a modest income. While in third grade, the nine- year-old realized that if he wanted spending money, he'd have to find a job. This led him to take on a paper route, delivering The Cleveland News on West 88th Street.
That was his first job, one that taught him about responsibility and hard work. He'd read all he could about World War II knowing his older brother, Larry, was stationed on a ship in Southeast Asia.
The importance of delivering newspapers pales in comparison to the work Fr. Schubeck has done since, helping young people better their lives in various ways. He's been teaching since 1962, first at Loyola Academy in Chicago, then in Berkeley, Calif., and finally as a faculty member at John Carroll since 1989. He served as chairman of the Department of Theology and Religious Studies from 1995 to 1999 and continues to teach in the department, leading basic classes about moral decision making and Christian social justice during the 2010-11 academic year.
Additionally, Fr. Schubeck serves as a faculty advisor, helping students navigate their way through their college years. Add that to writing and serving on committees, and you can tell he's busy – and that's only counting his work as a faculty member at John Carroll.
Pass it on
Fr. Schubeck has learned to be faithful and serve God and others, and now he passes on
that faith to those who want it.
"As a little kid, I was aware of the strong faith my parents had," he says. "With my brother serving in the military, we used to gather as a family almost every night to pray the rosary for my brother's well-being."
As if having a son overseas wasn't difficult enough, the Schubecks were raising their younger kids during a burdensome economic time. The family used to receive ration stamps for scarce goods such as gasoline and sugar. They received more stamps than the neighbors because the family was larger.
"I remember my mother giving some away," he says. "We always had what we needed, but she looked after people to make sure everyone else was OK. She was a selfless person."
Fr. Schubeck also was close with his parish priest, Fr. John Ciolek, someone he called a great counselor during his childhood.
Realizing how fortunate he was to have role models in his life, Fr. Schubeck tries to reciprocate the favor by serving as a volunteer chaplain at the Ohio Department of Rehabilitation and Correction Northeast Pre-release Center on East 30th Street in Cleveland. He has done so since 2003.
Working with the incarcerated is something he started doing in 1984 at San Quentin State Prison in California and continued to do part-time through 1986. Working with the Northeast Pre-release Center, however, is different because it's an all-female prison.
Working with inmates is just one example of the diverse experiences that originally attracted Fr. Schubeck to join the Society of Jesus. During his junior year at John Carroll, he was convinced he was going to be a priest, but he'd never put much thought into becoming a Jesuit. Their advertisement of community was appealing, and he liked the idea of taking what he learned in the classroom out into the real world.
"What impressed me most about him as a priest was his authenticity," Fr. Howard Gray, S.J., says. "He's a man for all seasons and has pastoral versatility. I've watched him deal with men and women, old and young, and he's so good at dealing with people in different situations."
Set the world aflame
In textbooks, Fr. Schubeck read Saint Ignatius of Loyola's message to go out and set the world aflame. He took the world part to heart with a strong interest in Christian social ethics related to social, political, and economic issues. He's interested in liberation ethics and theology in Latin America because of his time spent in foreign countries.
He spent the summer of 1978 helping a parish in Jocotan, Guatemala, and has helped organized immersion trips for John Carroll students. That summer, Fr. Schubeck worked in a poor parish celebrating Mass and counseling others.
Fr. Gray, special assistant to the president at Georgetown University, has worked with Fr. Schubeck as his provincial and at Carroll as his rector. Forgetting those titles, Fr. Gray says he's most proud to call Fr. Schubeck a friend. The two have traveled together throughout
the world, and Gray laughs when he recalls their vacations.
"He plans so extensively in whatever he does, and he's one of the most meticulous people I've ever met," Fr. Gray says.
The value of education
After graduating from St. Edward High School in Lakewood, Ohio, in 1954 – just the second graduating class in the school's history – Fr. Schubeck enrolled at St. Edward's University, a Catholic liberal arts school in Austin, Texas, with the hope of becoming a doctor. After one year there, he decided to transfer closer to home and enrolled at John Carroll, where he spent the next two years.
With one year of college left, Fr. Schubeck left for the seminary in 1957 in small-town Milford, Ohio. He took a few classes from Loyola University Chicago and Xavier University, and was awarded a bachelor's degree in Latin from Loyola in 1961.
With a degree in Latin, something he had little interest in, he earned a master's degree in biology from the University of Detroit (now the University of Detroit Mercy). He earned a second master's degree two years later in theology from Loyola.
Fr. Schubeck earned a fourth degree in 1975, a Ph.D. from the University of Southern California School of Religion by focusing on social ethics. He stayed in California immediately after and taught Christian social ethics at the Jesuit School of Theology in Berkeley, Calif. He returned West for a second stint from 1984 to 1987.
He took his passion for social ethics and developed it into a book, "Liberation Ethics: Sources, Models, and Norms," which was published in 1993. A second book, "Love That Does Justice," was published in 2007.
"Fr. Schubeck is a terrific scholar," Fr. Gray says. "When you look at his works, he does a terrific job of making social justice intelligible. Liberation theology is something he makes
available to people who need to be informed."
Fr. Schubeck has written dozens of articles and reviews that have been published in scholarly journals. He's also received numerous research grants to work on ethics-related projects. His students, undoubtedly, reap the benefits of that hard work.
"Fr. Schubeck is the most well-prepared teacher I've had at Carroll," says Michael Babinski '11. "He comes to class and you can tell he has done his homework. It's easier as a student to do your work when you know the professor is putting in the time."
Changing lives
It's come full circle for Fr. Schubeck, from Northeast Ohio to California and foreign countries back to Cleveland. He's encountered numerous people along the way who've helped shape him into the person he is today, but the legacy he has left with others will carry on much longer.
He still plans to teach for another year at least, although he admits he's anxious to write. He has the respect of colleagues and students, which was evident when he won the Distinguished Faculty Award in 2001. The award is given for excellence in classroom teaching, scholarship, advisement, and leadership. Looking at that criterion, it's clear Fr. Schubeck embodies all a professor should be.
That's why his co-worker, Paul Lauritzen, Ph.D., nominated him.
"I've nominated a number of people throughout the years," Lauritzen says. "He embodies the ideal the award seeks to honor. He's deeply committed to students, is a productive scholar, and serves the University community selflessly. I was surprised no one nominated him sooner."
"It was an honor to receive that award," Fr. Schubeck says. "I love teaching and being here. I enjoy working with my colleagues and enjoy the excitement of my students and their willingness to learn. It keeps me going, and I'm grateful for that."
-Tim Ertle '11
Cyril Pinchak's Carroll experience was unexpected. Yet it was that unplanned experience that helped lead him into the Society of Jesus.
A Byzantine Catholic who grew up in Gesu parish and attended Gilmour Academy just east of Cleveland, Pinchak didn't have John Carroll on his radar. And considering many Jesuits who hail from Cleveland attended St. Ignatius High School, Pinchak's route was different.
He chose Gilmour mainly because he wanted to join his twin sister to attend the school run by the Brothers of Holy Cross. During his senior year, Pinchak looked at several universities to attend. Then he received a call from JCU's track and field and cross country coach, Richard Mann, who asked him to attend John Carroll and run on the track team. Pinchak initially said no because the school was too close to home. But when he visited the other schools, they didn't seem to be a fit.
"One of my teachers knew someone in the administration and told me to try JCU for a year," he says. "I loved it."
John Carroll was a fit for Pinchak not just because of the track and cross country team, but also the caring teachers, professors, and general support staff. He made great friends on the track and cross country team and received a lot of support from coach Mann and the upperclassmen.
"I learned a lot about myself and the world," he says.
Pinchak, who majored in English and minored in psychology, completed his undergraduate coursework in four years, graduating in '06. While at JCU, Pinchak briefly thought about entering the seminary, but he didn't let the possibility of entering the priesthood prevent him from enjoying college life. He dated, joined Rhapsody Blue (the all-male a cappella group), and became involved in campus ministry.
"If someone came along, and I wanted to get married, I kept that option open," he says.
Pinchak didn't keep the fact he was thinking about becoming a priest private.
"My friends and teammates knew, but they didn't treat me any differently," he says. "The running team always made jokes about me thinking about becoming a priest, but they were always good-natured."
Start of something bigger
At Carroll, Pinchak knew a fair number of Jesuits because of his involvement with campus ministry. The first Jesuit who had a big influence on him was Fr. Joseph Schell, S.J., a former president of the University who encouraged him to partake in an eight-day silent retreat.
"He was helpful," Pinchak says. "I recall a time during my freshman year when we were scheduled to meet at 9 in the morning, and I slept through it. I awoke to the sound of the phone ringing at 9:03 – it was Fr. Schell calling me to reschedule for the following morning at 9."
Pinchak came to know Fr. Howard Gray, S.J., who's now the special assistant to the president at Georgetown University, well enough for Fr. Gray to become his spiritual director. While at JCU (2001 to 2007), Gray was the rector for the Jesuits and assistant to the president for mission and identity. He also taught theology and Ignatian spirituality.
Fr. Gray met Pinchak when he made his eight-day retreat. Fr. Gray saw him every day for an hour during the retreat. Afterwards, Pinchak continued to meet with Fr. Gray.
"I let him take the initiative," Fr. Gray says. "He came to see me and stopped in to talk once a month for about an hour."
Those discussions were primarily about how Pinchak was growing spiritually, the quality of his prayer, and what running meant to him, which was more than exercise. It was a time to pray and reflect as well. They also discussed areas of Pinchak's life in which his faith was growing and when he was experiencing skepticism and doubts.
Pinchak was developing a sense of how God was calling him. For example, he questioned whether he wanted to marry and have children. If he chose to commit to a religious vocation, he wanted to be involved in the Byzantine Rite as well as the Roman Catholic one.
"It was a dimension of his life to be more reflective and deepen what it means to be a Christian," Fr. Gray says. "He has a deep reverence for the Byzantine Rite and a devotion to his own Eastern Church tradition."
Yet Pinchak wasn't afraid to tell Fr. Gray something wasn't working in his prayer life.
"Cyril wasn't always trying to please me," Gray says. "He was authentic and grew in an autonomy you want a young person to have. You don't always have to be in agreement to be a spiritual advisor."
Pinchak's relationship with Fr. Gray continues, and, although not as close as they were when at Carroll, they still meet for dinner when they're in the same town and send each other notes and letters regularly.
"I keep in good touch," says Fr. Gray. "When Cyril took his vows, I gave the homily for his class. He's one of those guys who, if you didn't see for years and then saw him, it would be like you saw him a few days ago."
Onward on
After graduating from JCU, Pinchak applied to the Notre Dame Alliance for Catholic Education, a two-year teaching/service, post- graduate program, which allows one to teach in an inner-city Catholic school and earn a master's degree in two years.
"I was all set to go to a school in Jacksonville, Fla., and then I met and talked to Br. Jim Boynton, S.J., who was vocation director for the Chicago-Detroit Province," he says. "I wanted to teach English and realized preparation is built into the formation of Jesuits, as well as travel, teaching, and forming community. I liked these."
Pinchak entered the novitiate, which is the first stage of Jesuit formation, in August 2006 in Berkley, Mich. The novitiate is dedicated to experiencing prayer and service while living in a Jesuit community. During this time, as well as at the end of formation, one makes a silent, 30-day retreat.
"I learned the general tools of how to pray," he says. "I learned about my weaknesses, what kind of prayer works better for me, and how to trust my spiritual director. Gradually, I got better at seeing hints of how God is working in my life."
Fr. Gray was delighted with Pinchak when he decided to enter the Society of Jesus. When one decides to go through formation, he has to talk to a group of Jesuits who probe to see if that person's calling is authentic and not forced.
"You're applying for a life, not a friendship," Fr. Gray says.
Upon entering formation, a psychological evaluation is conducted to check for one's aptitude to a healthy life as a Jesuit.
"There were a lot of voices that supplemented mine to Cyril," Fr. Gray says about Pinchak's entering the Society.
On the ministry side of formation, Pinchak worked as a chaplain in the Oakland County jail. In doing so, he learned about the depth of the mystery of evil in the world.
"I learned how the inmates are both the perpetrators and the victims of evil in the world," he says. "I, too, share in that same reality. Bringing communion to a man on trial for murder, I realized that, no matter our history, people still long for God, and God still longs for us.
"Sometime I want to fix the world, but it already has a savior," he adds. "I need to come to grips with my own limitations through sharing others' stories of limitations."
Pinchak also worked in a nursing home and Jesuit retirement home called Colombiere in Clarkston, Mich., where Fr. Schell was at the time. Fr. Schell passed away April 25, 2008.
Pinchak could've applied to any province within the Jesuit community, but it made sense to join the Chicago-Detroit one because of its proximity to where he's from originally. Many guys stay close to their home province, Pinchak says.
During first studies, the second stage of formation, most Jesuits-to-be earn a master's in philosophy and study one year of theology. Pinchak will earn his master's in English, and his goal is to teach the subject at a Jesuit high school.
Regency is the third stage of formation, during which Jesuit scholastics work in ministries, often teaching in high schools and universities while living in a community. The Very Reverend Timothy Kesicki, S.J., '84, the superior of the Chicago-Detroit Province has the final say about where Pinchak will go.
Fr. Ray Guiao, S.J., the formation assistant, helps Kesicki determine where to mission men. Most likely, Pinchak will be assigned in the Chicago-Detroit or Wisconsin provinces, which are in the process of merging together. It's also a possibility to work and train overseas – East Africa, for example.
Additionally, Pinchak has been enjoying his summers through travel. During his second year of formation, he traveled to Lima, Peru; two summers ago, he went to Cochabamba, Bolivia; and last summer, he went to Poland to teach English to Jesuits who speak it as a second language. This summer, Pinchak is taking a crash course to prepare for regency.
Most recently, Pinchak has been assigned to University of Detroit Jesuit High School and Academy. He'll be teaching English and assisting with the track and cross-country teams.
The bigger picture
At John Carroll, the availability of campus ministry, the opportunity for retreats and liturgy – the whole reflective life – leads people to where God is calling them. When students contemplate their reflective life, priests can suggest appropriately to those who come to them thinking about a religious vocation, Fr. Gray says. It's not something they tell students to do. Fr. Gray asks students questions such as: What do you feel passionately about? What are you good at? What do people tell you you're good at?
"Many students think and come away with wanting to teach and be an active lay person in the church," he says. "We talk about how they're attracted to service and addressing social justice.
"You have to be careful not to manipulate service to God out of guilt or power," Fr. Gray adds. "I'm not telling students what to do. I'm allowing them to study about how to follow a vocation."
As a priest in the future – and even today as a Jesuit with vows of poverty, chastity, obedience – Pinchak says he can do anything other people do, as long as he avoids sin and lives within the vows he's taken.
"I don't have to change as a person, but I'm growing in the identity of becoming a Jesuit," he says. "I don't have to quit being myself. God wants me as I am now, not some time in the future. If I have to wait until I'm perfect to give myself to God, it'll never happen.
"Jesuit formation is about learning how to grow in a freedom that allows me to give away what I've been given – talent, education, and love. I love being a Jesuit and can't imagine growing, developing, and learning like I have. It fits me."
Fr. Gray believes Pinchak will do good work as a Jesuit.
"I'm glad about the time I spent with Cyril," he says. "I'm thrilled when people take responsibility for the future of the Society." JCU
– John Walsh
---
Leave a Reply