There are people who sit around and talk about accomplishing goals, and there are people who pursue them vigorously. Tom Reilley '99, manager of purchasing and auxiliary services, falls into the latter group.
Case in point: Reilley woke up on his 36th birthday and didn't feel like he was in good shape. He was far removed from his days of playing baseball, football, and hockey as a young man at St. Edward High School in Lakewood, Ohio, and Cleveland State University. On that morning in 1993, he decided he was going to run three miles to get back in shape. After one mile, he couldn't run any farther, so he walked the last two.
Reilley reached the point where three miles was doable, but he wasn't satisfied. Eventually, running five to six miles became a daily routine, but that still wasn't enough. With the encouragement of friends, he signed up to run the Cleveland Marathon in 1999. After completing the 26.2-mile race, the feeling of satisfaction became addicting.
That's why Reilley has run 58 marathons, including three 31-mile races and the JFK 50-mile race in Hagerstown, Md., twice. He's completed marathons at Disney World and even traveled to Dublin with friends in 2005 to run.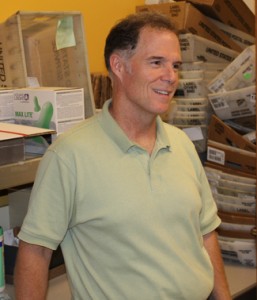 "When I finished the first one, I couldn't believe I was able to do it," he says. "I like setting a goal and pushing myself to meet it. That feeling never gets old."
Despite suffering from plantar fasciitis in 2000 and a strained tendon last year, Reilley continues to run during his lunch break when he can. He competed in another Cleveland Marathon this past May.
Reilley uses Carroll's indoor facilities when weather prevents him from running outside. Regardless of the conditions, he likes to run with others. Reilley joins co-workers Mike Roeder '93 (manager of facilities services), Garry Homany (manager of regulatory affairs and risk management), and Tracy Blasius (head women's soccer coach) for five- to six-mile runs throughout University Heights.
Friends and co-workers from the University have become a large part of Reilley's life, but they might never have been introduced had he not
been in the right place at the right time.
While a student at Cleveland State, Reilley started a landscaping business that serviced only the West Side of Cleveland. During the winters, he tended bar at the Tam O'Shanter in Lakewood for additional income. Tom Gannon, then serving as John Carroll's director of physical planning, came in to the bar one afternoon upset the landscaping crew the University was contracting didn't show. Gannon was impressed with Reilley and, remembering he owned a landscaping company, told him to arrive with his crew at 8 a.m. the next morning.
Once they began working on campus, that same approach of seeing jobs through and performing them well earned Reilley and his company the opportunity to work on the property from 1985 to 1990. Because of the size of campus, Reilley was required to bring his entire crew – which included Chris Kane and Ken Majewski '01, both of whom still work in the University's facilities department – to work on campus for a week or two at a time.
So impressed with the work Reilley was doing, the University offered him a full-time job in 1990. He managed the grounds crew from 1990 until June of 1993 before switching to the mail center, marking the first time he worked indoors full time. Reilley still has responsibilities in the mail center but has an office in Rodman Hall where he works in the purchasing department, too.
Aside from holding various positions during his two decades at Carroll, Reilley became involved with the Center for Service and Social Action. His friend Ted Steiner '93, program coordinator, encouraged him to participate in an immersion trip. As a result of the trip, Reilley and his wife, Barb, have led two groups of students to New Orleans to help with the city's revival after the devastation of Hurricane Katrina. Reilley has been on trips in 2009, 2010, and 2011.
"That's a part of my life that has been a moving experience," he says. "Ted Steiner came in my office and encouraged me to get involved. It's been rewarding on many levels."
Graduating from college – which Reilley did in 1999 after taking classes part time while working – also was rewarding. Aside from raising his daughter, Carolyn, who's working toward her master's degree at DePaul University, it's the achievement of which he's most proud.
It took him 24 years to earn his degree, but one should've known he was going to finish because Tom Reilley isn't a person who talks about accomplishing things. He does them. JCU
– Tim Ertle '11
---
Leave a Reply