This institution's mission resonates with me: As a Jesuit Catholic university, John Carroll inspires individuals to excel in learning, leadership, and service in the region and in the world. Becoming informed individuals who affect positive change for others is a noble aspiration.
Recently, faculty and administration discussed how to develop the leadership capacity of our students intentionally – not just those in elected positions, but all students, hoping to make a difference in their peer group, family, school, and community. Leadership is exemplified in many forms and often from individuals without formal authority who impact the world. Think about the heritage of our Jesuit institution.
So how does the University develop leaders better? Can leadership be taught? Are leaders born or made? The common understanding among leadership scholars is they're born. Another answer to the born/ made question is yes. Some people have natural attributes that serve society well. Perhaps you connect easily with others or always have had a knack for influencing others to see your view. Each is an attribute of effective leaders. However, each of us brings a unique combination of traits, skills, knowledge, and abilities that serve us well in different contexts. Each of us has areas we need to grow and develop.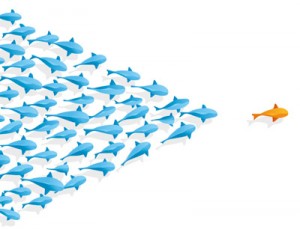 Some may assume leadership is only for business majors who plan to work in industry. Perhaps what intrigues me most about leadership is the multitude of lenses through which one can examine the topic: philosophy, education, communication, history, sociology, psychology, biology, political science, social justice, and religion. The list goes on.
The topic permeates our existence, which makes for wonderful dialogue depending on your vantage point. Whether it's a minister leading a congregation, a teacher leading a classroom, or a scientist leading his team in the lab, leadership is (or isn't) present. Thus, formal courses, student organizations, athletics, and immersion trips serve as wonderful opportunities for undergraduates to practice leadership. The collegiate environment is a fantastic practice field for students to explore their strengths, weaknesses, aspirations, and purpose.
There are several professors who've teamed up to investigate some of the aforementioned assertions. For example, I've partnered with Beth Martin, Ph.D., (psychology and associate dean of the College of Arts and Sciences) and Rosanna Miguel, Ph.D., (management) to assess and evaluate the University's new leadership minor. Additionally, Nathan Hartman, Ph.D., (management) and I were featured in an edited volume about leadership development for our work about sources of learning in leadership development. Along with research, Martin, Kathleen Dean, Ph.D., (student affairs), and I have been working with a dozen faculty, staff, and administrators from the Boler School of Business, the College of Arts and Sciences, and the student affairs department to coordinate our efforts better, identify opportunities to connect with high school students, and provide cutting-edge educational opportunities for emerging leaders in the business world.
The University's approach to developing leaders isn't that different from developing other skills and abilities. Leading scholars (see the work of K. Anders Ericsson, Ph.D.) suggest it takes about 10 years or 10,000 hours of deliberate practice to develop mastery. Most of what you're good at likely is a result of years of deliberate practice. Others may be better than you or have natural talent that's difficult for you to compete with, but each of us can grow and develop wherever we focus our energy.
One innovation is a model called know, see, plan, do. Think about a world-class surgeon. It's likely he's spent years studying his trade (know) and based on his knowledge can diagnose (see) the majority of cases that come across his desk quickly. Once a level of expertise is attained, he can identify options for treatment (plan) quickly. It's likely he can perform the intervention and provide treatment (do). I'd argue other experts (e.g., world-class chefs, politicians, athletes, and auto mechanics) go through a similar process.
This is an oversimplification, but people overcomplicate what's not an overly complicated process. Developing leaders is a similar one. The aforementioned process – which is linked to solid coaching/mentoring, deliberate practice, feedback opportunities, and reflection – yields development and growth. Think about a budding athlete, musician, or artist. Similar ingredients are needed likely.
Developing leaders is a core component of the University's mission. Imagine the year is 2031 and returning young alumni are speaking about JCU as the experience that set the stage for their development and growth as a leader in their chosen arena: family, nonprofit, the lab, the classroom, business. Carroll has provided them with four years of deliberate practice and played a critical role helping them identify their passions and purpose.
This is happening already, but imagine if it happened for many more students because we changed our approach to developing men and women for others. That sounds like we'd be living our mission on a grand scale, and that's exciting. JCU
Scott J. Allen, Ph.D., is assistant professor of management in the Boler School of Business.
---
Leave a Reply