From the tower
• U.S. News & World Report's 2012 edition of Best Colleges ranked John Carroll University No. 7 among universities in the Midwest offering master's programs. This marks the 23rd consecutive year Carroll has been named as one of the top 10 regional institutions. JCU is ranked No. 4 in the Great Schools, Great Prices category and is ranked No. 1 in the Strong Commitment to Undergraduate Teaching category. For more information, visit www.usnews.com/sections/rankings.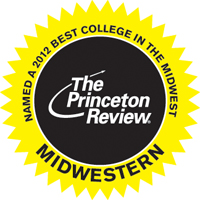 • John Carroll is one of 153 colleges The Princeton Review chose for its Best in the Midwest section of its website feature, "2012 Best Colleges: Region by Region." From hundreds of institutions it reviewed in each region, it selected the colleges and universities primarily for their excellent academic programs. It also took into account what students attending the schools reported about their campus experiences. For more information, visit www.princetonreview.com.
• The University is hosting the Ignatian Solidarity Network (ISN), and Chris Kerr '00, former coordinator of social justice and immersion experience programs in campus ministry, is its executive director. The ISN promotes leadership and advocacy among students, alumni, and other emerging leaders from Jesuit schools, parishes, and ministries by educating its members about social justice issues, mobilizing a national network to address these issues, and encouraging a lifelong commitment to the service of faith and the promotion of justice. ISN's operations moved to Carroll from the University of San Francisco. For more information, visit www.ignatiansolidarity.net/.
• For the fourth consecutive year, JCU has been named to the President's Higher Education Community Service Honor Roll, the highest federal recognition a college or university can receive for its commitment to volunteering, service learning, and civic engagement. The majority of John Carroll students, more than 2,000, perform more than 36,000 hours of community service annually. The Center for Service and Social Action is dedicated to meeting community needs through outreach efforts and has developed or guided many successful projects. Among the JCU programs recognized by the honor roll this year are the Hough Neighborhood Partnership, JCU Homeless Initiative, and We the People.
• After a rigorous, year-long application and selection process, 57 Woodrow Wilson Ohio Teaching Fellows were named. The fellows, 20 of whom are doing their master's work at Carroll, will be ready to teach students in fall 2012. The fellows are high- quality math and science teacher candidates for high-need Ohio schools. To view profiles of the fellows in the 2011 class, visit www.uso.edu/woodrow2011.
• The Center for Service and Social Action created a civic engagement position, the coordinator for school-based programs, who will be responsible for the successful implementation and growth of service-learning and service programs – We the People, Carroll Reads, OGT Tutoring, Cultivating Community, and the Cleveland Neighborhood Project. The coordinator, Elizabeth Deegan, also will provide support to faculty implementing service learning in their courses, supervise work-study students, and maintain relationships with the school-based sites.
• In collaboration with the Center for Service and Social Action, Campus Ministry accepted the largest number of applications immersion experiences on record for the January time period. Seventy students applied for two international and two domestic experiences.
Events
• On Sept. 6, the JCU community commemorated the arrival of the University's first students 125 years ago as it welcomed incoming freshmen to Carroll and upperclassmen back to campus for the fall semester. As part of a long-standing Jesuit tradition, the University held its annual Mass of the Holy Spirit in Gesu Church. Following Mass, the campus community had the opportunity to be a part of a human 125 photo on the quad and enjoy dinner, birthday cake, refreshments, and entertainment, including a photo booth sponsored by the Student Alumni Association.
• In celebration of the University's 125th anniversary, John Carroll recognized alumni who've never officially graduated from Carroll but who've earned a professional degree in medicine or law and continued on to a distinguished career, or who never had a chance to finish their degree because of being drafted or enlisting in military service during World War II or the Korean War. Long connected to classmates and friends, they are valued members of the JCU community. The University conferred the honorary degree at a special event Oct. 2 during homecoming weekend. A bachelor of science in humane letters was awarded to 51 alumni in recognition of their professional achievements and status as Gold Streaks of 50 or more years. The degree is a recognition and thank you for their service. The awarding of the degree comes with strong support and approval from the University's Board of Directors.
• On Oct. 6 at 7 p.m. in the Donahue Auditorium in the Dolan Center for Science and Technology, the 11th Margaret F. Grace Lecture series will present author and lecturer Fr. Timothy Radcliffe, O.P., and his talk "Where do I find hope?" Fr. Radcliffe is a Dominican priest who has taught scripture at Blackfriars Hall, Oxford University. The event, which is free and open to all, is sponsored by the Cardinal Suenens Center.
• The University hosted more than 500 student athletes from 13 different countries during the Continental Cup International Youth Sports Festival June 30 through July 3. Participants competed in soccer, baseball, basketball, and lacrosse in local venues throughout Northeast Ohio. Opening ceremonies consisted of a cultural festival with a parade of athletes, live music from international artists, inflatables, and prizes.
• JCU hosted an exhibition, which ran through Aug. 15, of the top projects from the 2011 eXpressions Math program created by regional high school students who participated in the Cleveland Clinic program. eXpressions Math uses project- based, peer-to-peer learning to engage high school students in an interdisciplinary exploration of mathematics, science, art, and literature.
Deserved recognition
• Linda M. Gojak, director of the Center of Mathematics and Science Education, Teaching, and Technology, began her term as president-elect of the National Council of Teachers of Mathematics at the conclusion of the council's annual meeting April 16. She's working alongside president J. Michael Shaughnessy until assuming the presidency in April 2012 for a two-year term. Gojak and four new board members fill out the 14-member board that serves as the chief policymaking body for the world's largest professional organization dedicated to the teaching and learning of mathematics.
• Head men's basketball coach Mike Moran was inducted into his second hall of fame in as many years July 11. Moran was enshrined in the Lake County Captains Crow's Nest Hall of Fame at Mike Moran Night at Classic Park in Eastlake, Ohio. The hall of fame was launched this year to honor long-time coaches and administrators who have impacted the sports scene in Northeast Ohio.
• Joan Nuth, Ph.D., director of the Ignatian Spirituality Institute, was honored by the Jesuit Retreat House board of directors with the Ignatian Spirituality Award. The award acknowledges a person who has lived the Spiritual Exercises and devoted oneself to the promotion of the exercises and core mission of the theology, spirituality, and charism of St. Ignatius Loyola in daily life and direction of others. Rev. Howard Gray, S.J., a member of John Carroll's Board of Directors, spoke at the event.
• Lisa Brown was named director of residence life this past June. Most recently, Brown served as associate director of residence life at Xavier University.
• Danielle Carter was named director of the center for student diversity and inclusion. She's working with historically underrepresented students, including minorities and first-generation students.
Fresh faces on the board
Eight people joined the University's Board of Directors recently. They are:
Rev. Gerald Cavanagh, S.J., the Charles T. Fisher III chair of business ethics and professor of management at the College of Business Administration of the University of Detroit Mercy;
Rev. Martin Schreiber III, S.J., who's completing a doctorate degree of education in administration and supervision at Loyola University Chicago;
William Donnelly '83, CFO of Mettler-Toldeo International, a provider of precision instruments and services for professional use;
Joan Crockett '72, retired senior VP of human resources for Allstate Insurance Co.;
Thomas Lewis, Ph.D., '60, retired president and CEO of Chiral Technologies, which provides technical support, services, and chromatography products for the analysis and separation of racemic compounds;
Harold Hawk Jr. '81, president and CEO of Crown Battery, a manufacturing company;
Michael Petras Jr. '89, CEO of HGI Global Holdings, a provider of specialty medical products to patients with chronic diseases; and
Terrence Fergus, principal at FSM Capital Management, a financial services firm.
---
Leave a Reply