Get involved with the Alumni Association
Alumni involvement at Carroll is an essential part of helping support the mission and advancement of the University. Here are a few of the many ways you can give back to your alma mater and become more involved: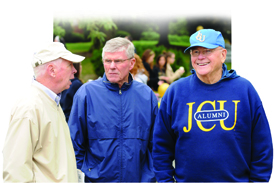 1. Recruit future alumni. The Alumni-in-Admissions Program promotes alumni engagement with prospective students on various levels. Volunteers can refer a prospective student, contact students via phone or email, represent JCU at a college fair in their area, or host a Carroll reception at their home.
2. Mentor and career networking. Students and alumni always are looking for opportunities to connect with fellow Blue Streaks. Whether it's joining the Carroll Contacts LinkedIn group, attending a regional speed networking event, meeting with the Muldoon partners, participating in a mentoring program like the Chicago Mentoring Program, attending the annual Career Fair, or taking advantage of Career Center services, now's the time to get involved, mentor, and network with fellow alumni and students.
3. Alumni chapter programs. Alumni chapters connect Blue Streaks near and far to their alma mater. In June of 2011, we relaunched the Chicago and Pittsburgh alumni chapters. We're also planning to expand the chapter network to other cities. Do you want to become involved? We want to hear from you.
4. National alumni board. The alumni board is composed of nine to 12 alumni volunteers who represent John Carroll alumni worldwide. As an advisory board, it provides support with key initiatives, programs, planning, and focuses the efforts of the Alumni Association through committee work and outreach.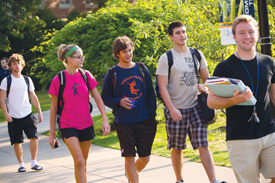 5. Student outreach. The Student Alumni Association (SAA), established in 2008, strengthens the bond between students and alumni through social, networking, spiritual, and philanthropic events. The SAA works closely with the alumni relations staff to facilitate the transition from students to alumni, while building a lifelong bond with the University. We're looking for alumni who want to be involved by hosting a "Dinner with 12 Blue Streaks," inviting students to your place of employment for a hands-on experience, or taking part in service projects or immersion trips with students.
6. Attend an event. See the list of upcoming events on the opposite page. Contact Theresa Spada at 216-397-3014 to sponsor one in your area.
To learn more about the exciting new developments and view the menu of opportunities to engage with the Alumni Association, visit jcu.edu/alumni.
New president heads Blue Golf Club
In May 2011, Rebecca Misencik '01, '08G assumed the role of Blue Gold Club president. Since 1982, the club's mission has been to promote, recognize, and support varsity athletics at the University. Misencik, who received a BSBA in finance, was a soccer Blue Streak student athlete. She also earned an M.B.A. with a concentration in international business from Carroll. Misencik, who received JCU's Northern Ohio Live Rainmaker of Tomorrow Award in 2006, is an account executive officer of commercial surety for Travelers Insurance. We sat down with Rebecca to ask her why she decided to become more involved.
JCU: How did you become involved with the club?
RM: During my M.B.A. program, I spent weekends at JCU working on group projects. When I'd take breaks from coursework, I'd watch various sporting events on campus. Admission was free for me because I was a member of the Blue Gold Club. I'd often see the athletic director, Laurie Massa, and she encouraged me to participate in the Blue Gold Club in greater ways.
JCU: You have the option of choosing many volunteer organizations. Why did you choose the club?
RM: It's important to give back to the community, and the JCU community always has been good to me. Each person I've worked with at JCU – from academics to administration to athletics – has supported me in all my endeavors. I can't think of a better place to dedicate my extra time and energy.
JCU: What are your plans as the new president?
RM: Athletics is such an important part of campus life at Carroll. I want to help enrich the experience for athletes, parents, students, and alumni. I hope to raise awareness of the club, increase our percentage of alumni donors, and grow our fund balance so we're able to continue our work supporting Blue Streaks teams.
JCU: Why should alumni, parents, or fans donate to the club?
RM: Many people appreciate knowing how their donation or gift will be used. Because Carroll has such a rich tradition of athletics, a gift or membership to the club directly supports our teams. Our coaches have finite budgets for their basic operating expenses, and funds from the club supplement their needs. Because I'm involved in the process, I know how well the funds are managed and distributed for specific enhancement requests. I also know how much the support means to our student athletes and coaches.
To learn more about the Blue Gold Club or submit online membership, visit www.jcusports.com.
Become an Alumni-in-Admissions volunteer
Alumni volunteers are vital to recruiting and enrolling new students at Carroll. Your stories and success are excellent measures of the quality of a John Carroll education. With your help, the University will continue to enroll talented students who will carry on the traditions that played such a significant part in your life. There are many important ways, with varying degrees of time commitment, you can help. They include:
• Refer prospective students to the admission office.
• Represent John Carroll at a college fair in your city.
• Contact prospective students by phone, letter, or email.
• Host or attend recruitment receptions in your city.
For more information or to become a volunteer, contact Tom Fanning at 216-397-4246 or tfanning@jcu.edu, or visit jcu.edu/alumni.
Upcoming events
Tuesday, Oct. 11
Chicago Presidential Alumni Reception
University Club of Chicago
Thursday, Oct. 13
Boston Presidential Alumni Reception
Boston College Club
Friday – Sunday, Oct. 28-30
Pershing Rifle Reunion
Cleveland
Wednesday, Nov. 2
Pittsburgh Presidential Alumni Reception
The Duquesne Club
Friday, Dec. 2
The John Carroll University Gala
The InterContinental Hotel (Cleveland)
Sunday, Dec. 11
Breakfast with Santa (Cleveland)
John Carroll University
Breakfast with Santa (Chicago)
Loyola University Chicago
---
Leave a Reply