A burst of color – including a plush, red leather couch and two bright, orange upholstered chairs – greets visitors in the waiting room of Dr. John Conomy's office in Woodmere, Ohio. Personal photographs from throughout the world – Chile, India, Italy, and France – adorn the walls, and thick scrapbooks from a recent trip to China sit on an ornate table in the hallway leading to a corner kitchen. Tucked in the back – almost unnoticeable in the warm, homey office – is an exam room. Conomy '60 explains why there are four chairs, including a leather recliner, and a dancing teddy bear that sings "That's Amore."
"I don't like doctors' offices, and I don't particularly like doctors," says Conomy, an internationally renowned neurologist. "Their offices are cold, noisy, impersonal, intimidating, and not private or comforting."
The chairs are a way to invite family and friends into the exam room with Conomy's patients, half of whom are unable to walk.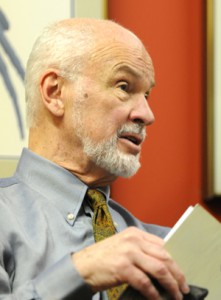 "If people want to bring the Ringling Brothers and Barnum & Bailey Circus with them, that's OK with me," he says. "I want them to feel at home."
Conomy, the former head of the Cleveland Clinic's neurology department, believes strongly in a warm bedside manner and listening to patients. His particular passion is those afflicted with multiple sclerosis. He helped found and run the Consortium of Multiple Sclerosis Centers, a professional group aimed at improving research and care for MS patients, 25 years ago. Presently, there more than 200 member centers worldwide.
Conomy's interest in MS took root more than 40 years ago when the first patient he saw had the disease. She was a 33-year-old mother of three who was paralyzed from the waist down. Her husband left her, and she had a pile of mounting bills.
"All I could do was treat her for a bladder infection," he says. "I remember how helpless I felt. After that, MS became a passion for me."
Decades later, at 73, Conomy still is passionate about his patients, who come from throughout the world and range in age from 3 to 103. They suffer from some type of brain injury or disease, including strokes, epilepsy, Alzheimer's disease, and brain trauma.
But Conomy isn't only a doctor. He's also an attorney who advocates for the sick in the complicated world of health law. Recently, he worked on a case arguing whether an Alzheimer's patient should be able to initiate a divorce. Conomy declined to say what he advocated. It's rare for a doctor to be a lawyer, too, but Conomy says it's a natural fit.
"It's not enough to have your health if you can't use it to exert control over your rights and property,'' he says.
The son of a machinist and telephone operator, Conomy grew up in Cleveland's Collinwood neighborhood and attended St. Joseph High School where he discovered his love of medicine. His girlfriend's father worked at the Cleveland Clinic and helped him land a job as a clerk in the records room. Later, as a student at John Carroll, he became an assistant to a neurosurgeon. The doctor liked him, and soon, the teenager was wearing a white lab coat and making rounds with the residents.
"I don't know what I would have done if I didn't become a doctor," he says. "That's all I wanted to be."
A pre-med major minoring in philosophy, Conomy cherishes his experience at Carroll.
"I owe them everything," he says.
That's why Conomy recently offered to mentor students in James Lissemore's biology classes. Conomy bumped into Lissemore, chair of the biology department, when he was roaming around the department during alumni weekend.
"He was warm and interested in John Carroll," Lissemore says. "He wanted to share some of his experiences with students."
So the two talked and arranged for Lissemore's class to visit Conomy in his office. Megan Muhar, a senior biology major from Pittsburgh, was amazed at how welcoming his office felt.
"It didn't feel like a doctor's office at all – it was a lot more comfortable," she says.
The visit helped Muhar realize she wanted to be a lab researcher in a medical setting.
"I can't see myself being as comfortable as Dr. Conomy is with patients," she says, adding she learned how important it is to listen when someone's talking to you and hear what they're telling you. "That applies to everything." JCU
– Sue Valerian
---
Leave a Reply