By Marcia Aghajanian
Fifty years ago, when Joe Miller started teaching at John Carroll, freshmen still wore beanies and the only women permitted to attend classes were daughters of faculty or members of a religious order. Since then, campus has grown and changed for the better.
"The University is much stronger," Miller says. "The faculty is better; the resources are better; and the quality of service provided to the students and faculty is better. Also, the admission of women in 1968 changed the student body dramatically for the better. Those were gutsy women!"
Born and raised in Chicago, Miller is the son of native Clevelanders. In fact, his father, Joseph, graduated from JCU in 1934. Miller has one sister who's a nun with Green Bay Sisters of St. Joseph. He graduated from Saint Ignatius College Prep in Chicago and enrolled at John Carroll in 1955.
He received his bachelor's in philosophy from JCU in 1959, his master's from Ohio University in 1961, and his Ph.D. in communications at Case Western Reserve University in 1974. He served as an ROTC reserve officer during the 1960s.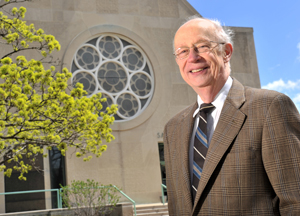 Miller, who started working at JCU in 1961, says of all the people he's encountered at the University throughout the years, Vincent Klein, Ph.D., stands out as his mentor and, later, as a treasured colleague and friend. Klein established JCU's communications department in 1946, ran the debate program, and hired Miller.
From the mid-'60s to the mid-'90s, Miller was the principal lecturer of Carroll's required speech communications core course. During this time, he was named communications department chair. In the mid-'70s, Miller was selected for the Executive Interchange Program of the President's Commission on Personnel Exchange in Washington. He was one of 40 fellows in the yearlong program, which included a special project for what's now the Department of Education.
Upon his return to JCU and throughout 19 years subsequent years, Miller held several administrative posts, including assistant and associate dean of Arts and Sciences, dean of the Graduate School, coordinator of research, and acting chair of physics and philosophy. In 2006, he returned to teaching full time and has served as director of John Carroll's summer program since.
As one would expect, Miller's teaching methods have evolved over time.
"Technology has changed everything," he says. "Students have come to learn visually. They learn by application, from things like service, internships, and dialogue, rather than from the sage on the stage. There's still some of that but not as much."
Miller has received many awards and accolades, including the 1983 Distinguished Faculty Award and induction into The Military Science Hall of Fame: Wolfpack Battalion in 1994. Another career highlight is his work with the Higher Education Learning Commission. He chairs one of 100 teams that review colleges throughout the Midwest.
"As rewarding as teaching is, this is a different kind of reward," he says. "We assess the quality of institutions and assure they're meeting certain criteria."
In his spare time, Miller likes to garden.
"The tomatoes think I'm brilliant, and they don't talk back," he says.
Miller and his wife, Helen, celebrate 51 years of marriage this summer. They have five children (the oldest and youngest of whom are JCU alumni): Chris '83 in New Orleans; Judy in San Diego; Pat in Twinsburg, Ohio; Joe in Nashville; and John '91 in Macomb, Ill.; and seven grandchildren. JCU
This article originally appeared in the Magis newsletter.
---
Leave a Reply