How JCU helps families afford a private-school education
By John Walsh
The University has set out to break down financial barriers that prevent bright high-school students from considering John Carroll because of affordability. That goal flows from its mission as a Jesuit school and desire to be aware of those who face significant challenges.
Financial barriers to attend college among lower-income families are considerable. Costs impact the types of schools students will consider and create the need to work full-time during school – which generally impedes academic performance and lowers retention and graduation rates.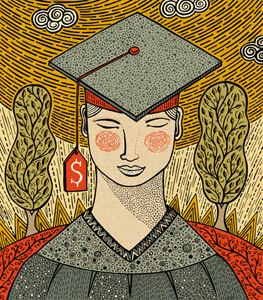 At the federal government level, the focus on lower-income student achievement and the appropriate use of dollars – through the Pell Grant, the largest funded grant program for higher education – is under increased scrutiny. Nationally, less than 15 percent of Pell recipients attend private colleges, and the graduation rates among those students lag behind their non-Pell recipient counterparts.
This used to be true at John Carroll. However, during the past six years, the focus on affordability for all students has helped the University address the issue directly. Robust academic and merit scholarships and need-based aid (along with the Pell Grant) make Carroll more affordable than many lower-income families may realize.
"We want to break down financial and social barriers for students so they can succeed," says Brian Williams, vice president for enrollment. "We don't want a student to say, 'I can't afford Carroll, so I'm not going to even apply for admission.' There are federal, state, and institutional resources we try to bring together for every student who applies for admission to ensure cost isn't the sole factor when choosing or ruling out the University."
Program evolution
In 2006, JCU's Cleveland Opportunity Scholarship allowed 30 academically excellent students from a Cleveland public high school or any Catholic high school in Cuyahoga County to enroll on a full-tuition scholarship. That program evolved into the Ohio Access Initiative (OAI) in which 100 academically excellent students from lower-income families in Ohio received significant financial aid for tuition.
Rates of success
Regardless of their socioeconomic backgrounds, students are excelling at Carroll. Consider the following:
• Before 2005, the freshman-to-sophomore retention rate and four-year student graduation rate among lower-income and first-generation students from Ohio was 74 percent and 58 percent, respectively.
• As a result of the University's access programs and support, the freshman-to-sophomore retention rate of the first cohort of Ohio Access Initiative students was 93 percent.
• The difference between non-Pell Grant and Pell Grant graduates from JCU is only 2 percent.
Starting this fall, Carroll will expand the reach of its access initiative to all Pell Grant recipients admitted to the institution regardless of their home state. To reflect this, the OAI program was renamed the John Carroll Access Initiative.
At the federal level, Pell Grants have been a focus of budget debates. Funding was retained in the continuing resolution that funds the federal government for the rest of this year at $5,550. Retaining Pell Grants in the fiscal year 2012 budget will be more difficult to defend. That debate is under way. The Association of Jesuit Colleges and Universities and John Carroll are working to retain Pell Grants at current levels.
In addition to providing financial aid, JCU's enrollment division helps access initiative recipients acclimate to campus life – about 13 percent are first-generation college students this year. Through programmatic support, Carroll is reducing the number of Pell Grant recipients from lower-income families who leave college because of financial concerns after their freshman and sophomore years.
"In the past, we saw students leaving the University for financial reasons and wanted to address that," Williams says. "We want to keep students here and see them graduate with a Carroll degree. We have a 90-percent retention rate among this group of students. It works because we've dramatically reduced their financial pressure."
The University's access initiatives are designed to alleviate the financial strains students and their families may feel so they can focus on academics and social and community engagement, which allow them to grow closer to the University's mission than they might otherwise be able to do. If students aren't financially or socially engaged at the University, they're usually not equipped to succeed academically. To that end, students will be encouraged to enroll in a one-credit course – led by faculty, staff, and peers – that will anchor them as they transition to collegiate life and provide access to resources and information that should assist them in a successful undergraduate experience.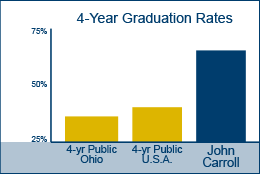 "Invariably, when a student is struggling in the classroom, there's something outside the classroom contributing to it," Williams says. "Whether it's normal concerns of homesickness, health, pressure, working too much, or something deeper, we know these pressures are magnified among students from lower-income backgrounds."
The first cohort from the access initiative graduated this year. Billy Clark, Alexandra Audi, and Nathalia Vega are extremely grateful for the opportunities afforded to them – and they're making the most of it.
Finding his way
During his senior year at Archbishop Hoban High School in Akron, Ohio, Clark's grandfather introduced him to the University.
"I fell in love with Carroll," he says. "I took the tour and walked around campus. It felt a bit like my high school."
Clark also considered two public universities, visiting those schools before JCU, which was his last stop.
After JCU accepted Clark, his aunt called the enrollment division to figure out how he could afford the tuition. That's when she found out about the access initiative.
As part of the cohort, Clark attended meetings about service and charity throughout his freshman year. During his sophomore, junior, and senior years, he became involved in various service-oriented internships, which he reflected on through writings and group discussions.
"The point is to better your perception of yourself and those you're serving," he says. "You learn a lot about yourself when doing service."
As an upperclassman, Clark mentored other access-initiative students, primarily freshmen and sophomores, and answered questions ranging from service projects to college life.
"As a freshman, you have a lot of questions," he says. "For example, I didn't know how to handle certain situations while serving, such as when kids act up in a classroom or when nurses where I volunteered weren't particularly helpful. If students didn't like their service project, I told them how they could change their experience. I helped them get the most out of the projects. It's good to help other students knowing you've been in similar situations."
After not knowing what to major in at first, Clark took core curriculum classes, attended social science conferences, and participated in the We the People program (teaching elementary school children in urban areas about the U.S. Constitution). He discovered he wanted to be a high school math teacher his sophomore year.
"It just clicked," says the math major.
But before he earns a master's degree, Clark will devote himself to at least one year of service at Saint Martin de Porres High School in Cleveland. That's not surprising considering We the People and the access initiative are service oriented.
Galvanized to help others
When Audi, who hails from North Canton, Ohio, was attending St. Thomas Aquinas High School in Louisville, Ohio, her teachers suggested she look at John Carroll; and when she did, like Clark, she fell in love with it.
Audi applied to other universities but decided John Carroll was the best fit for her.
"If a problem arose, my parents could be here quickly," she says. "I liked the atmosphere of campus and being a bus ride from downtown Cleveland. I also knew I'd get to know the professors well and they'd prepare me to become a woman for others."
After a joyous moment after being accepted to Carroll, Audi thought about how to pay for the education. She developed a close relationship with the admissions department to understand loans and scholarships. She didn't know about the access initiative until she received her financial aid package.
"I received a lot of aid but didn't know how or why," she says. "I was excited. Once I came to campus, they explained the access initiative and the service component."
Like Clark, Audi became involved with the We the People program. She also tutored elementary school students and worked with youths in a disability program. Her interest in social justice stemmed from the service she was involved with in high school working at the Hartville (Ohio) Migrant Center.
The double major – political science and philosophy – chose them because they complement each other and assist with enhancing her education and becoming a well-rounded individual.
"Philosophy opened my mind to look at polysci and serve differently," she says. "I liked how philosophy made me think and feel."
Like Clark, Audi mentored students, answering general questions from underclassmen about school and service projects.
"You immerse yourself in the community to educate yourself and have the people in that community teach you," she says. "They have as much to teach you as you do them. I enjoyed being able to share these experiences with the new students coming to Carroll."
Audi, who wants to be a lawyer, enrolled at Cleveland-Marshall College of Law. Previously, she got a taste of the legal profession when she worked as a nonlegal intern at the Canton City Prosecutor's Office conducting phone interviews for domestic violence cases and volunteered at a domestic violence shelter.
"It was difficult to hear the stories, but I felt galvanized to make this my career," she says. "I want to be a domestic violence prosecutor."
Touching lives
While at John Marshall High School in Cleveland, Vega's high-school advisor suggested she look at John Carroll. Even though she was accepted to other universities, Vega liked Carroll more because it's a liberal arts school with a service aspect offering many study-abroad opportunities. She also liked the communications department and the fact it was close to home.
"When I was accepted to JCU, that's when I knew I got the access initiative aid," she says. "The Cleveland Scholarship also helped, but the access initiative finalized my decision."
During her sophomore year, Vega took more English classes than required and noted her professors said she was a good writer. As a result, she became an English major. And, like Audi, she's a double major – English and communication. Her interests lie in the creative aspects of the communication and media fields. She's not sure if she'll attend graduate school and is leaning toward joining the Peace Corps.
While at Carroll, Vega tutored elementary school children and worked with disabled kids to help them build self-confidence.
"It's been nice to build relationships with children," she says. "It's nice to know you've touched their lives in a positive way." JCU
---
Leave a Reply