"Go forth and set the world on fire."
– Saint Ignatius of Loyola
These words from Saint Ignatius are especially meaningful for me this year as I reflect on our combined commencement and reunion that took place in May. The weekend – which teemed with enthusiasm, excitement, and promise – created a wonderful opportunity for alumni to reconnect with fellow Blue Streaks and congratulate the class of 2011. As I reflect on the many stories I heard from alumni, graduates, and parents, I feel a great sense of shared pride in the Carroll community. For 125 years, we have sent generations of talented people forth, and indeed, they have set the world on fire by making countless contributions to society. (Turn to page 6 to view some of the photos from Commencement & Reunion Weekend, one of the signature events of our 125th Anniversary year.)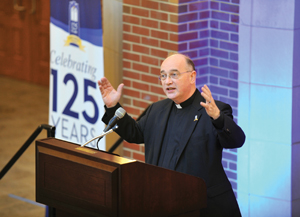 I'm particularly pleased our first cohort from the Ohio Access Initiative, now called the John Carroll Access Initiative, is included in the class of 2011. We are all aware of the financial barriers many families face related to education. This initiative is an excellent example of how we're helping break down those barriers that prevent talented high school students from considering John Carroll. It also exemplifies our mission as a Jesuit school and our desire to be keenly aware of those who face significant challenges and take action. (Turn to page 14 to read more about the amazing success of the access initiative.)
It also was my pleasure to present fellow Jesuits the Very Reverend Timothy Kesicki, S.J., '84, provincial of the Chicago-Detroit province, and Rev. Charles Currie, S.J., president of the Association of Jesuit Colleges and Universities, with honorary degrees. These distinguished leaders in Jesuit education and ministry articulately explain what it means to be men and women with and for others, and Fr. Kesicki's words for our recent graduates are compelling and inspiring. (To listen to his address, visit www.jcu.edu/125.)
Like my fellow Jesuits, I believe in celebrating the richness and fullness of life, to seek to find God in all things, and understand God is with us – especially in times of need. The surviving cancer feature on page 8 highlights how three women in the Carroll community called upon their faith and confidence in God and others to live their lives to the fullest in their time of need. It is a very powerful story about courage and perseverance.
As we look ahead to the 125th anniversary events this fall, I encourage you to return to Carroll for homecoming Sept. 29 through Oct. 2, and, especially, to attend the John Carroll University Gala Dec. 2 at the InterContinental Hotel in downtown Cleveland. The gala will be a fund-raiser for student scholarships, and I hope to see you there.
God has blessed us throughout these 125 years. Let the celebration continue. May you have a peaceful and restful summer.
Blessings,
Robert L. Niehoff, S.J.
---
Leave a Reply