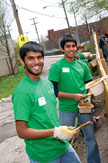 FROM THE TOWER
• The University partnered with St. Ignatius High School in Cleveland to serve the Ohio City neighborhood for the annual Cultivating Community Day, a 125th anniversary event. On April 30, more than 450 people from both communities participated, including city councilman Joe Cimperman '92, who's an alumnus of both schools.
• The University signed a memorandum of understanding with Ursuline College that guarantees two spots to JCU students in each of the cohorts of its accelerated Bachelor of Science in Nursing program. Students would complete their B.S. or B.A. at Carroll and could apply for the Ursuline program during their junior year. Students would have to complete preclinical courses before beginning their Board of Registered Nursing program.
• Louise Barmann, secretary in the sociology and criminology department, is the recipient of the inaugural John Carroll University Staff and Administrator Service Award for 2011. The award recognizes an individual for outstanding service to the community in representing a faith that does justice.
• Thirteen cadets from the ROTC program represented the University at the Mountain Man Memorial March, which is comprised of civilian and military categories for the half marathon and full marathon in the Smoky Mountains of East Tennessee. In the Military Heavy Half Marathon category (full uniform with boots and 35 pound pack), the team of cadets Ryan McCullough, Mark Taylor, Brendan Sinchak, Ryan Lukanich, and Tyler Medved earned second place with a time of 3 hours, 16 minutes. In the Military Heavy Full Marathon category, the team of cadets Tom Krakowiak, Austin Ashwill, Kevin Comiskey, Pat Cotner, and Chris White earned second place with a time of 6 hours, 30 minutes.
STUDENT SPOTLIGHT
• Roberto Santosdiaz Jr. '11, a double major in East Asian studies and economics, won a 2011-2012 Fulbright Award to teach English for a year in South Korea starting in July. The Carol Stream, Ill., native also received achievement awards in both his majors, including the Joseph and Nina Bombelles Award in economics (2010 and 2011); the Michael J. Lavelle, S.J., Scholarship in Economics (2010); and a Hispanic Scholarship Fund award through the MassMutual Program for future business leaders.
• Andrew Vogel '11, a cell and molecular biology major with a Spanish minor, is the Beaudry Award winner. Vogel has been an active member of the Beta Theta Pi fraternity, serving as scholarship chairman and organizing the application process for the Men of Principle Scholarship, and serving as a risk manager helping the fraternity maintain the goals of being gentlemen, leaders, and scholars on campus. He served as the president for Alpha Sigma Nu, the Jesuit honor society on campus, and as president of Alpha Omega. Vogel has been involved with the Roman Catholic Devotions group and was a student coordinator for the 2010 Ecuador immersion experience. He also served as a Christian Life Community and First Year Retreat leader.
• The Carroll News was voted Best Non-Daily College Newspaper by the Ohio Society of Professional Journalists. The newspaper won 10 awards this year, including Overall Excellence in Print for a weekly or less frequently published paper. Individual winners are: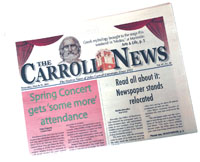 • Katie Sheridan '11 and Emily Gaffney '12, second place in Front Page Design. Katie
also won first place in Breaking/Hard News.
• Dan Cooney '13, first place in News Page.
• Sean Webster '11, first place in Feature
Page and third place in Columns/Commentary.
• Jennifer Holton '12, third place in Feature Page.
• Nicole Green '13, second place in News Stories.
• Tim Ertle '11, first place in Sports Columns.
• Zach Mentz '14, honorable mention in Sports Features.
Additionally, Webster won first place for General Column Writing in the Society of Professional Journalists (SPJ) 2010 Region 4 Mark of Excellence Awards. He's now in competition with other regional winners for The Best College General Column Writer in the Country, an award given at the national SPJ conference in late summer.
• At the 65th Annual Eastern Colleges Science Conference, Heidi Benson '11 received a first place award for a research paper about physiology. Benson, a neuroscience student, was one of 300 participants from more than 20 colleges and universities at the conference.
• Catherine Distelrath is one of 13 winners of The Charles J. Ping Student Community Service Award, which recognizes and honors undergraduate students' outstanding leadership and contributions to community service. Ohio Campus Compact, a nonprofit membership organization of 47 Ohio colleges and universities, received funding from State Farm Insurance, which provided legacy grants of $500 for outstanding college student service leaders to award to their community partners.
• The John Carroll S.I.F.E. (Students in Free Enterprise) team gave its presentation in the Regional S.I.F.E. competition at the Renaissance Cleveland Hotel. The presentation reviewed four of its 2010-2011 projects: African Children Ministries, Hope for Honduran Children Foundation, Elevate Your Future, and Sam's Club Environmental Sustainability Challenge. The team competed in the nationals in May in Minneapolis.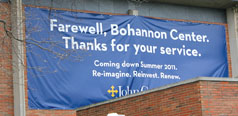 EVENTS
• The Bohannon Center is being demolished this summer. Interior materials were removed and some were salvaged and sold for scrap, diverting much of the material from local landfills. Following the removal of the building, the Bohannon site, which will be transformed to include rain gardens and surface parking, will be designed to meet environmental and ecological standards to reduce storm-water runoff. Grading and sloping of the Hamlin Quad, improved drainage, and an irrigation system will allow the quad to support a natural-turf, regulation-size playing field for soccer and lacrosse.
• The University hosted the 4th Annual Government Career Day in March. Representatives from the federal, state, and local levels of government agencies attended. The event gives participants a chance to learn about the missions of different government agencies and how to become better job candidates. The keynote speaker was Kim Ainsworth, executive director of the Greater Boston Federal Executive Board on behalf of the Partnership for Public Service. There were workshops about the federal hiring process and information sessions with the Peace Corps, FBI, U.S. Department of Veterans Affairs, and U.S. Secret Service.
• The English department presented award-winning poet Dave Lucas '02, the recipient of a Henry Hoyns Fellowship from the University of Virginia and a Discovery/ The Nation Prize, May 2. His poems have appeared in many journals including Paris Review, Poetry, and Slate. Lucas is a Ph.D. candidate in English language and literature at the University of Michigan. The lecture was part of John Carroll's Visiting Writer Series.
FACULTY FOCUS
• Edward Hahnenberg, Ph.D., former associate professor of theology at Xavier University, is the inaugural Jack '56 and Mary Jane Breen '91, '94G Chair in Catholic Systematic Theology in the Department of Theology and Religious Studies. The establishment of the chair supports Catholic intellectual life and enhances the mission and identity of the University as well as academic excellence. Hahnenberg, an author of three books and numerous articles in academic and pastoral journals, will continue to sustain connections with theological communities regionally and worldwide. He holds a B.A. and Ph.D. in theology from the University of Notre Dame.
• Michael Nichols, Ph.D., associate professor of chemistry, is the 2011 recipient of the Lucrezia Culicchia Award for Teaching Excellence in the College of Arts and Sciences. Nichols helps realize the University's deep commitment to student learning and teaching excellence.
• Karen Schuele, Ph.D., professor of accountancy, was appointed dean of the Boler School of Business. Previously, she served as interim dean of the Boler School. A published scholar with more than a dozen articles in professional journals and electronic publications, Schuele increasingly will be involved in strengthening ties between the Boler School and the regional business community, alumni relations, and fund-raising for the Boler School and the University.
• John McBratney, Ph.D., professor of English, is the 2011 Distinguished Faculty Award winner. The award is presented each year to a faculty member selected by a committee of faculty, students, administrators, and alumni for excellence in classroom teaching, scholarship, advisement, and leadership of students, together with participation in civic and community affairs.
---
Leave a Reply