By Tim Ertle '11
All Billy Donato, class of '86, needs to hear is something can't be done.
Tell him that, and you better believe he'll prove you wrong. Donato, who grew up in Bedford Heights, Ohio, and started his career with modest means, has reached the pinnacle of entertainment. Starting from productions in the Marinello Little Theatre and Kulas Auditorium, Donato reached his goal of seeing his name in lights in Las Vegas.
When his father, a math professor, practiced his drumming and singing in the family's home, the younger Donato caught the entertainment bug. However, he chose athletics as the outlet to perform. After earning varsity letters in baseball and football at Bedford High School, where he's a member of the school's Distinguished Alumni Hall of Fame, he signed a contract to play in the Philadelphia Phillies organization. But after playing in the minor leagues in Clearwater, Fla., Donato hung up the spikes in 1980.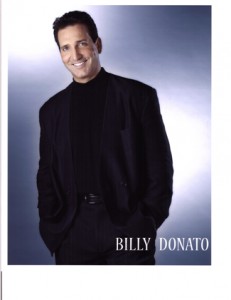 The following year, he modeled and danced for American Commodore Tuxedo, which led to appearances on the television show "The Morning Exchange" in Cleveland. The appearances captured his dancing ability – which he attributes to his experience as an athlete – as well as his charisma and personality.
One job led to another, and Donato eventually acted in commercials for the Spitzer auto dealerships in Northeast Ohio and in local spots for the Mr. Hero and Wendy's fast food chains. Then he caught the eye of regional talent agency David & Lee.
While Donato wanted to be an entertainer at this stage in his life, he also knew an education was important. He enrolled at John Carroll in 1983 and took classes year-round, which put him on track to graduate after three calendar years. However, just before his last semester started, Donato received an opportunity he couldn't pass up.
His mentor, David Morgenstern, had given him enough dancing instruction and confidence to take his act nationally. He danced with Morgenstern's wife, Shirley, and the pair performed on the nationally syndicated television show "Dance Fever" in Hollywood, Calif. Long before the days of online classes, Donato commuted to Carroll and had a choice to make: finish what he started and earn his degree, or follow his dream of being an entertainment star. He wanted both – no matter how impossible it seemed.
Donato contacted the dean of the College of Arts and Sciences and explained his situation. He said he'd have to miss the first two months of his final semester, but pledged to complete the work done when he returned. But he was told it couldn't be done.
"I went to California and came back after missing the first two months of classes," he says. "I went to the bookstore to get my textbooks, and they were no longer in stock. Now I was two months behind with no books. All I had was my determination."
After talking with his professors and explaining the situation, he asked for the work his classmates had completed earlier in the semester. After asking classmates to borrow their textbooks when they weren't using them and pulling dozens of all-nighters, Donato earned a "C" or better in every class of his full course load needed to graduate from the University.
He earned a Bachelor of Arts in Communications with a minor in business administration in 1986 in just three years – 11 years after graduating from high school and pursuing other interests.
Donato received a big break in 1991 when he played Sky Masterson in "Guys and Dolls" at Cain Park Amphitheater in Cleveland Heights. After making a name for himself in the area – including playing Henry in "The Time of Your Life" and Felix in "The Odd Couple" while at Carroll – he was recruited to play the Masterson part. In a cast that included professionals, Donato negotiated his own contract to receive his full equity card and admission into the Actors' Equity Association, a union for professional theatre actors.
He worked to improve his vocals with Gary Darrow of Baldwin-Wallace College and put together a one-man act that captivated audiences on international cruise ships and resorts across the country.
In 1997, he moved to Las Vegas full time and performed his one-man, song-and-dance routine – which includes musical comedy – at Caesars Palace, the Orleans Hotel & Casino, and the famous Cloud Nine Lounge at the Maxim Hotel/Casino. Finally, the dream of seeing his name in lights became reality at the Tropicana Hotel & Casino – the 40 foot marquee read "Billy Donato."
Even when he was living in Las Vegas, Donato visited home regularly.
"I loved having my name in lights, but the people I care most about were in Cleveland," he says. "I tried to come home as often as I could to perform around Cleveland so my family and friends could see my show. It wasn't easy for them to go to Las Vegas."
Donato never charged for his shows in Cleveland when he returned from Las Vegas and continues that practice now that he's moved back to what he calls his home base in Cleveland.
While continuing to perform, Donato also is helping care for his mother, Frances, who was diagnosed with stage IV pancreatic cancer and given just four months to live in January 2010. It's been 16 months since his mother, who he calls the most inspiring, loving survivor, was diagnosed.
"My family is the most important part of my life, and I'll support my mom in every way possible as she has gone against all odds and continues to win this difficult battle," he says.
Performing his show has been therapeutic for Donato, and he hopes his audience walks away feeling the same way.
"Whether it's for 30 seconds, five minutes, or an hour, I hope people come to my show and have such a wonderful time that their mental and physical pain goes away," he says. "I hope I can give them that gift. I have a passion for what I do, but as much as I feel like I'm helping other people, the audience does more for me. Every show is something different. I look out in the audience and see the crowd, and I feel like it's a family reunion in the living room of my home. Mom will always be in the front row." JCU
---
3 Comments
---
Leave a Reply