Carroll debaters introduce the power of persuasion to local high schools
By John C. Bruening '86
Brent Brossmann, Ph.D., wants to start an argument with teenagers all over the city.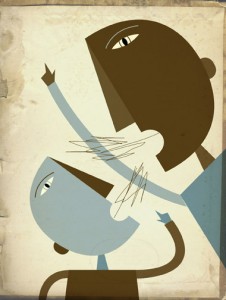 As associate professor of communication and director of debate, Brossmann has been teaching argumentation and debate, rhetorical criticism, professional speaking, and related subjects at John Carroll for more than a decade. In all, he has devoted 35 years of his life to the art and science of debate because he's convinced debate changes lives.
With the help of student volunteers from the Tim Russert Department of Communication and Theatre Arts – including members of his debate team – Brossmann is putting those convictions on the line this spring as he launches a Cleveland Urban Debate League.
For the uninitiated, an Urban Debate League (UDL) is a group of policy debate teams consisting of students from urban high schools throughout the United States. UDLs work primarily with minority students and are active in 17 cities besides Cleveland, including Detroit, Chicago, Boston, Atlanta, Los Angeles, Baltimore, and the District of Columbia.
Like any skilled debater, Brossmann has statistics to justify his program.
Argument for corrections
In addition to developing an Urban Debate League among high school and junior high students in the Cleveland Metropolitan School District, Brent Brossmann, Ph.D., is bringing debate into Northeast Ohio's juvenile corrections system.
Every semester since the fall of 2009, the associate professor of communication and director of debate and a few of his student volunteers have been making weekly trips to the Cuyahoga Hills Juvenile Correctional Facility in Highlands Hills, Ohio, a few miles from the JCU campus. They've been teaching argumentation techniques and strategies to residents there – most of whom are between the ages of 15 and 20 – and organizing tournaments to debate a broad range of topics, anything from the smoking policy within the facility to the legality of gay marriage nationwide.
Brossmann admits the program came together on the fly. He initially raised the idea to Stanley Miller, executive director of the Cleveland NAACP, during an informal lunch meeting less than two years ago. He was making a pitch about the high school program when Miller suggested they also do it at the correctional facility.
"We're working on conflict resolution," says Brossmann, who notes the procedural rules for debate tournaments at the facility are more flexible than the standard rules of debate followed in more formal settings. "We're working on improving speaking skills and developing more confidence. We're encouraging kids to stand up and present their claims and reasons for them. We're teaching them how to defend their arguments in a rational, organized manner."
While the Cuyahoga Hills facility includes an accredited junior high school and high school, the weekly JCU debate program enhances the residents' educational experience in ways that extend beyond the classroom, says Clifford Smith, administrator at the Office of Community Partnerships at the Columbus- based Ohio Department of Youth Services.
"It teaches research skills, it enhances their communication skills, and it helps them in every aspect of their daily lives," Smith says. "There are so many situations in which they can learn the skills they use in the program. When they apply and interview for jobs, when they get a job, when they're on the job and trying to research issues or gather information to enable them to do the work that needs to be done – all of these skills are valuable to them."
Psychology major Steven Palmieri is a Carroll freshman from Fairlawn, Ohio. Throughout the fall 2010 semester, he made weekly trips with Brossmann to Cuyahoga Hills and witnessed firsthand what Brossmann calls the transformational power that comes with learning debate skills and putting them to use – in a tournament setting and daily life.
"At our first meeting, we were talking about who the best pro basketball player is, and it devolved into a shouting match," Palmieri says. "But by the end of the semester, everybody was standing up straight, looking poised and giving articulate presentations for and against the need for a statewide smoking ban in public buildings. It was incredible to see the change that took place in a semester."
Brossmann is in discussions with the administration at The Ohio State University, which is developing a similar program at the Scioto Juvenile Correctional Facility in Delaware, Ohio. The plan is to hold tournaments between debate teams at each facility. Long-term, Brossmann and Smith envision similar programs at all seven of the juvenile correctional facilities throughout the state.
Brossmann draws inspiration for the program from one of the most controversial figures in 20th century American rhetoric.
"Malcolm X learned how to debate in the Norfolk Prison Colony," he says. "But he was given the opportunity to debate against Ivy League programs and win debates against Ivy League students. Prison debate leagues have existed before, and I knew it was something that was possible here. It wasn't something I considered doing before, but I'm glad we did it. It's been a very positive experience."
"The high school graduation rate in inner-city schools hovers around 53 percent," he says. "College matriculation for students who've been on high school debate teams in those 17 other cities is between 71 and 95 percent, depending on the city. Wouldn't it be great to see more high school kids in Cleveland going to college as opposed to dropping out of high school? I can't think of a better reason to do what we're doing."
The program started in the fall of 2010, when Brossmann and his team began meeting with teachers from nine high schools and junior high schools in the Cleveland Metropolitan School District every month. The meetings, held on the JCU campus and the city schools, were designed to train teachers in the art and mechanics of organized debate, so they could coach their students – a total of 75 from all nine schools.
All training and preparation sets the stage for a series of four monthly tournaments at the University that began in February and will run through the end of the spring semester. Beginning in the fall of 2011, Carroll will host eight monthly tournaments throughout the academic year.
The learning curve within the program – especially in this first year, when students, coaches, and Brossmann are just feeling their way – is two pronged and steep. In addition to understanding the mechanics of the debate process, students are required to do the necessary research to become fluent in the debate topic: continued military presence in Afghanistan or Iraq. Throughout the series of tournaments, all teams are required to argue the affirmative and negative positions.
"What we're trying to do is get students to see both sides – or multiple sides – of an issue," Brossmann says. "We want them to be able to defend what they believe; question what they believe; and be better thinkers, advocates, and citizens."
Debra Quarles, library media specialist at John F. Kennedy High School, is among the debate coaches at the high school level. Her involvement in the program started when students began looking to her for direction in developing a debate program at the school. She approached Brossmann a little later in the progression of the program compared to other high schools, but he was impressed with her students' enthusiasm enough to bring them onboard.
Researching and debating topics of global significance can help expand students' horizons in ways no other curriculum can, Quarles says.
"One of the challenges we, as educators, face is finding ways to make our kids' world bigger," she says. "I see no better way to do that than delve into something they could very well ignore if we didn't put it in front of them. We need to challenge them to argue about issues that are more important than just the school dress code or which night we're holding a dance. We need to challenge them to think about things that are relevant, not only to them and this program, but the broader scope of what's happening in the world."
Introducing high school students to the power of reason and the ways to harness it has been especially satisfying for Emily Stolfer, a JCU freshman from Ashtabula, Ohio, and one of Brossmann's volunteer coaches.
"When they make an effective argument or handle a cross-examination well, they're controlling the entire situation," Stolfer says. "They start to feel confident about themselves, and you can see they're using the knowledge they've acquired through debate and applying it to the process. Not only can they use that knowledge in this program, they can use it when they're participating in a classroom discussion or writing papers. They know how to make sound arguments and support them in any context."
Brossmann's efforts to develop the UDL and similar initiatives around the greater Cleveland community (see sidebar on opposite page) haven't gone unnoticed. In early February, JCU honored him with the 2011 Curtis W. Miles Faculty Award for Community Service. While he appreciates the award, he admits he wasn't aware of it when he started thinking about developing a local UDL about 10 years ago.
"I do it because I believe in the transformational power of debate," he says. "We live in a country where less than 1 percent of citizens study and engage in debates, but 40 percent of our past 20 presidents did, and 44 percent of our current Supreme Court justices do. I don't think these kids will ever do anything that will have as significant an impact on their ability to control their own future, understand the world, make better decisions, think more critically, and advocate more persuasively – in essence, to empower themselves more fully – than what they'll do in the process of becoming effective debaters." JCU
---
Leave a Reply