FROM THE TOWER
• The University is among 115 U.S. colleges and universities selected by The Carnegie Foundation for the Advancement of Teaching for its 2010 Community Engagement Classification. To be selected, colleges and universities have to provide descriptions and examples of institutionalized practices of community engagement that showed alignment among mission, culture, leadership, resources, and practices. A listing of the institutions can be found on the Carnegie website: www.carnegiefoundation.org.
• The Clare Boothe Luce Program, which is part of the prestigious Henry Luce Foundation, awarded the University $160,880 to support two scholarships for two years for six women undergraduates majoring in the sciences. The program is a significant source of private support for women in science, mathematics, and engineering.
• JCU is one of two universities to teach the first-ever courses about crisis mapping, live mapping focused on powering effective early warnings for rapid response to crises. Two simultaneous courses, Crisis Mapping, Politics and New Media at JCU, and another at Tufts University, center on this new field. The course is taught by Jen Ziemke, Ph.D., assistant professor of political science. Ziemke is a co-founder of the International Network of Crisis Mappers and the co-organizer of the International Conference on Crisis Mapping series.
Recognition
• Kathleen Lis Dean, Ph.D., assistant vice president for student development and assessment, was presented with the Donald A Gatzke Dissertation award for her work – "At the Base of the Bridge: A Case Study of Boundary Spanning by Members of a Presidential Leadership Team" (2008) – which was completed at the University of Maryland. The awards committee was impressed by the depth of Dean's qualitative study of a president and the team around him.
• The Ohio Center for Law-Related Education presented Shirley Seaton, Ph.D., liaison for community affairs, with its highest honor, the Founders' Award. Seaton's commitment to law-related education began three decades ago when she served as principal at a Cleveland elementary school. She was alarmed by students who had a poor image of law enforcement and believed police officers intended only to harm them. She wanted to change attitudes and behavior.
• The Society of Professional Journalists honored University professor Richard Hendrickson, Ph.D., with the Distinguished Teaching in Journalism Award. After almost 40 years as a reporter and editor, Hendrickson became an associate professor and journalism instructor in the Tim Russert Department of Communication and Theatre Arts. Hendrickson was recognized Oct. 4, 2010, during a luncheon at the 2010 SPJ Convention & National Journalism Conference in Las Vegas.
The Faculty Notes newsletter is now online. Visit http://sites.jcu.edu/facultynotes to learn more about faculty teaching, research, and service.
• During November, 872 titles were added to the Grasselli collections, including 696 e-books and e-journals. The list has links to call number classifications and new reference material, audio-visual items, and curriculum collection material, as well as online resources. Visit http://library.jcu.edu/ftlist to browse the selection. Additionally, the library is launching a new service in which users will be able to text questions to the reference desk from their mobile phones, and the librarian at the desk will be able to text back an answer.
• Students Catherine Distelrath, Jillian Dunn, and Jeffrey Hatgas were honored with the George B. Sweeney Endowed Campion Award for Service. The award recognizes students who are committed to becoming leaders in social action through the lens of faith. The winners were honored at halftime of the men's basketball game Feb 3. The award includes a one-year, $1,000 gift to educate promising student leaders in social policy analysis in a faith perspective. The Center for Service and Social Action also administers as much as $500 in additional funds to each Campion Award recipient for an approved, campus-based service project proposal.
EVENTS
• The Arrupe Scholars Program led a donation drive of baked goods for its Publicity Blitz Day Dec. 1, which kicked off World AIDS Awareness Week. Participants of the program passed out baked goods and hot chocolate, along with AIDS Awareness Ribbons and information sheets, to students, faculty, staff, and administrators. Additionally, 150 members of the JCU community created a living red ribbon on the basketball court during half-time of the men's basketball game Dec. 8.
• The "Peace in Sudan" panel discussion and candlelight processional about the political crisis between the North and South took place Dec. 5 in the Donahue Auditorium. The panel served as an educational information session for the community and a brainstorming session to generate action steps and ideas for promoting peace in Sudan. For more information about the Sudan crisis, visit peaceinsudan.crs.org.
• On Dec. 2 in the Grasselli Library, John Ropar, director of university counseling services, facilitated a discussion about leadership and spiritual development based on excerpts from books by author and educator Parker J. Palmer. The Vocation Coordinating Committee hosted the event. The readings are available at http://lib.jcu.edu/page/15379.
• The Pre-Law Society hosted Tom Mester '66, a senior partner at Nurenburg Paris, a Cleveland-based law firm, Nov. 30 in Dolan Center for Science and Technology. Mester, who's specialty is litigation, is one of the leading attorneys in catastrophic injury and medical malpractice.
• The Cardinal Suenens Center in theology and church life hosted journalist John Allen, Vatican correspondent for the National Catholic Reporter, Oct. 2 to discuss his latest book, "The Future Church." Allen reviewed and analyzed 10 trends he has identified in the Roman Catholic Church.
• Jan. 8 marked the 276th birthday of Archbishop John Carroll, namesake of the University. In preparation for the 125th anniversary of the founding of the University, the Office of Mission and Identity hosted a birthday celebration Jan. 10 in the Kulas Atrium of the Administration Building.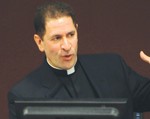 • As part of the University's 125th anniversary celebration and special Commencement & Reunion Weekend, the Very Reverend Timothy Kesicki, S.J., '84 will be this year's commencement speaker. As both an alumnus and Jesuit, Fr. Kesicki is uniquely qualified to address this year's graduates. Additionally, Fr. Charles Currie, S.J., president of the Association of Jesuit Colleges and Universities, will received an honorary degree.
---
Leave a Reply