Alumni award recipients named
Congratulations to the following alumni who will be honored at the 2011 Alumni Awards Dinner Friday, May 20, 2011.
2011 Alumni Medalists
• Charles A. Byrne '50
• James M. MacKey '71
• John W. Magnotto '60
• Patti Rosenfeld '87
• Robert A. Valente '69
2011 Campion Shield
• Col. Michael F. Campbell USMC '83
• Michael A. Henry '00
2011 Silver Quill Award
• Paul Hulseman '82
New alumni website launched
The new and improved alumni website was launched in December 2010. The site is one of the first created within the University's new content management system, WordPress. Check out the new site at www.jcu.edu/alumni to register for upcoming alumni events, update your information, and stay connected to your alma mater.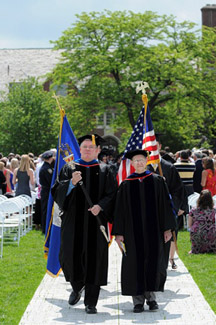 Parade of classes
Be a part of the 125th anniversary celebration and join fellow alumni in leading the class of 2011 to Rodman terrace for graduation. The Office of Alumni Relations is seeking an alumni volunteer from each class (1936 to 2010) to represent their class in the Parade of Classes as part of this year's commencement ceremony Sunday, May 22, 2011. If you'd like to serve as your class representative, visit www.jcu.edu/alumni and complete the interest form or call Carla Gall '05 at 216-397-1592.
Save the dates
Sept. 30 – Oct. 2 – Plan to join us for Homecoming 2011 as part of the 125th Anniversary. In addition to our annual street fair and Carroll Clambake, this year's festivities will include the 10-year anniversary of the National Greek system at JCU. To become involved with the National Greek Alumni Reunion, contact Carla Gall '05 at 216-397-1592 or cgall@jcu.edu.
Saturday, Sept. 16 – Nick Conyngham '82 and his alumni foursome from the East Coast have thrown down the challenge to alumni teams throughout the country to compete in a golf match in Cleveland. The event, all in good fun, will help raise funds for scholarships. Look for updates about the JCU National Alumni Golf Challenge at www.jcu.edu.
Upcoming events
Thursday, March 31
Columbus Alumni Reception
(in conjunction with Independent College Day at the Statehouse)
Capital Club
Saturday, April 2
Class of 2015 Celebration – Legacy Breakfast
JCU campus
Wednesday, April 13
Gold Streaks Luncheon
O'Connell Reading Room
JCU campus
Saturday, April 30
Cultivating Community Day
St. Ignatius High School Cleveland
Saturday, April 30
Chicago Day of Service
Our Lady of Tepeyac Elementary & High School
Tuesday, May 17
Senior Week Casino Night
Sponsored by the Office of Alumni Relations
JCU campus
Friday, May 20
Alumni Awards Dinner
Dolan Center for Science & Technology
JCU campus
May 20-22
Commencement & Reunion Weekend
JCU campus
Alumni Golf Classic
Monday, June 20, 2011 Fowler's Mill Golf Course Chesterland, Ohio
Mark your calendar to join us for a great day on the links in support of the Fr. Lavelle Cleveland Club Scholarship. Visit www.jcu.edu/alumni for more information and to register. For sponsorship opportunities, call Michelle Feinberg '08G at 216-397-4663.
Alumni immersion trip postponed
Since the printing of the winter edition of John Carroll magazine, we've learned our partner organization in Haiti is unable to host us this spring because of the health and political concerns in the country. We're exploring other sites for an alumni immersion trip this fall. If you're interested in participating in an alumni immersion experience, contact Theresa Spada '04 at tspada@jcu.edu or 216-397-3014.
Out and about
The Office of Alumni Relations, along with JCU's president, Robert L. Niehoff, S.J., hosted several receptions the past few months in Cleveland, Atlanta, Los Angeles, and Miami. Here's a look.
---
Leave a Reply