High school exchange program brings Kenyan to Cleveland and, eventually, Carroll

By John Walsh
(Paths to Carroll. There are thousands of interesting stories about how students became part of the JCU community. Some made last-minute decisions; others knew well in advance because they were legacies. We look at how several students came to University Heights, from as close as Parma, Ohio, to as far away as Naivasha, Kenya. This story is one of four – the others are "Head east," "Opening doors," and "Follow you, follow me" – that draws attention to the many different roads students travel to come to Carroll.)
Wycliffe Odhiambo is a long way from home. The John Carroll sophomore, who's double majoring in economics and accounting, is from Naivasha, Kenya, which is about 16,000 miles away from John Carroll University.
While in high school at Starehe Boys' Centre and School, Odhiambo thought about becoming a lawyer, which would've taken him five years to accomplish in Africa. But, as with many teenagers, his plans changed. When he traveled to Scotland for a leadership conference called Round Square (schools from throughout the world send students to the conference – Deerfield Academy in Massachusetts is one), he got an inkling to explore the world.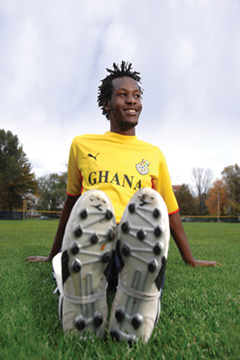 Exploring the world can be easier when you speak several languages. Odhiambo's first language is Luo, which is one of the languages spoken by 42 tribes in Kenya (President Obama's father spoke this language); Swahili is his second language; and English is his third.
"And if I had to save my life, I could speak Arabic," he says.
In Kenya, after graduating from high school, students take a two-year break before entering college to figure out what they want to do in life. After Odhiambo graduated from Starehe in November 2007 with 214 of his classmates, he worked in a refugee camp to help his fellow countrymen get back on their feet after post- presidential-election turbulence in 2008.
Study abroad
While Odhiambo was working in the refugee camp, the director of Starehe called him to ask if he wanted to partake in an exchange program with University School in Hunting Valley, Ohio. Odhiambo said yes, but that required him to complete another senior year of high school at US. The additional school year helps international students better prepare for college life in the States. Odhiambo took five classes: American civilization; English; calculus; strategy, diplomacy and war; and introduction to law.
"My experience in the States was good until November when it started to snow," he says, acknowledging it was the first time he experienced snow. (He saw it for the first time a few years ago in Germany, but he was leaving the country.) "I'm not getting used to the snow."
Odhiambo's three host families in Northeastern Ohio have helped make his transition to the States pleasant. While at US, he stayed with each family for three months.
"I've met some wonderful people," he says. "I'm still in touch with them."
While finishing the school year at US, Odhiambo was thinking about going back to Kenya for college until a student strike occurred. When that happens, which is about once a year, students go home for a period of time, and their education is cut short. So Odhiambo started applying to universities in the States, looking at as many as 29, mostly small liberal arts institutions. His decision came down to Amherst College in Massachusetts and John Carroll.
"Surprisingly, I didn't look for schools in good weather," he says.
One of the several reasons Odhiambo chose John Carroll was it offered a more attractive financial aid package.
"John Carroll wanted me to come here more," he says. "Location was also a determining factor. Because I'm 16,000 miles away from home, I wanted to remain close to my three host families."
Odhiambo, who's been on his own since he was 12 years old, made most of the decisions himself with the help of his host families, which offered to have Odhiambo live with them if he couldn't afford room and board at Carroll. Additionally, Tom Tormey, a board member at US, offered to pay the difference between what Odhiambo received from financial aid and the actual cost of his John Carroll education.
"He's my sponsor, but I think of him more as a parent or friend," he says.
Odhiambo returns to Kenya every year for a few weeks, but this past year, he stayed a bit longer – two months – because South Africa hosted the World Cup. (Hence, the Ghana shirt he's wearing in the photo above.)
Currently, Odhiambo isn't thinking too much about law school because he's focused on graduating from Carroll. However, he has given thought to a future practicing law. Because Kenya was colonized by England, their legal systems are alike, so he's thinking of attending law school in England.
On the field
Last year as a freshman, Odhiambo started three games on the varsity soccer team. This year, he's started most games. That might be a bit surprising considering he didn't play soccer for two years after he finished high school.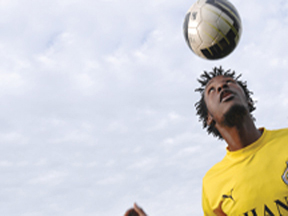 "I had some catching up to do," he says.
Since being in the States, Odhiambo has noticed differences between how the sport is played in Kenya compared to the U.S. In Kenya, soccer, or football as it's known throughout the world, is less about skill and more about desire and the team. The game is more physical. In contrast, there's more finesse to the game in the States even though the players are bigger.
Aside from how soccer is played, Odhiambo has noticed another difference between the States and Kenya: College students are a little more carefree in the U.S.
"Playing video games late into the night before a test is common in the States, whereas in Kenya, students would be studying late into the night and then play video games after the test," he says.
It's another reminder he's a long way from home. Nonetheless, Carroll is Odhiambo's home away from home. JCU
As part of JCU's 125th Anniversary celebration, we'd like to hear your road-to-Carroll stories. Please visit www.jcu.edu/125 and click on the "Share Your Story" box.
---
Leave a Reply