Jesuit priest provides Honduran an opportunity of a lifetime
By John Walsh
(Paths to Carroll. There are thousands of interesting stories about how students became part of the JCU community. Some made last-minute decisions; others knew well in advance because they were legacies. We look at how several students came to University Heights, from as close as Parma, Ohio, to as far away as Naivasha, Kenya. This story is one of four – the others are "Half way 'round the world," "Head east," and "Follow you, follow me" – that draws attention to the many different roads students travel to come to Carroll.)
As a little boy growing up in rural Honduras, Dany Diaz Mejia never heard of the Jesuits. Yet, little did he know, a priest from the order would change his life.
As a boy, Diaz Mejia always wanted to read and enjoyed listening to his older brother read to him. He developed a voracious reading habit, and over time, ran out of material to read; so he started reading his mother's English books. A short time later, he took a crash course in English.
As as result, at the age of 12, Diaz Mejia became a translator for the groups from the States traveling throughout the country on medical missions helping the poor.
"I knew we were poor, but I didn't know how poor the country was," he says.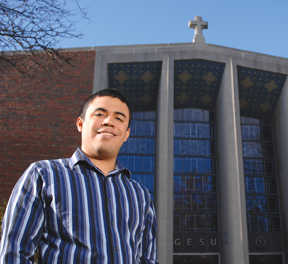 One of the missionary groups who traveled to Honduras regularly was from Church of the Gesu led by Fr. Lorn Snow, S.J., '90G.
"I've known Fr. Snow since I was 10 years old," Diaz Mejia says. "Before I met him, I had visions of it snowing or some kind of iceman when he came because of the translation of his last name."
When Diaz Mejia was 14, a missionary doctor sponsored him to attend a secular, private high school, Elvel School, in Tegucigalpa, the capital of Honduras. The bilingual school is one of the best schools in the country, where all the graduates continue on to college. Other people sponsored Diaz Mejia's schooling at Elvel from his sophomore through senior years. During his freshman year, he traveled two hours each way to school from his home. Sophomore year through senior year, he lived with one of the teachers who taught at the school so he didn't have to travel so far every day. On the weekends, he went home to see his family – mother; one older brother, one younger brother, and one sister.
Diaz Mejia wasn't performing so well academically his freshman year at Elvel. But a teacher, Mr. Morales, became his mentor and helped him. By the second semester freshman year, he was in the honors group.
Throughout high school, Diaz Mejia continued to work with missionary groups that came to Honduras from the States. And college was always in his plans.
"I knew I wanted to go to college and was aware of the opportunities I had because I was going to this prestigious high school," he says. "But I didn't want to stay in Honduras. I wanted to go abroad because I loved languages and liked to travel."
So Diaz Mejia looked at schools in Taiwan, the Czech Republic, Switzerland, and Italy but never applied to any of them.
"I was scared I wouldn't find what I wanted, and my family wasn't in a financial situation to pay for my tuition," he says.
During his senior year, Fr. Snow and Fr. Mike Ausperk, a diocesan priest from Cleveland, talked to Diaz Mejia about John Carroll. There was a possibility Diaz Mejia could attend JCU for free because of a grant.
"I was hesitant at first," Diaz Mejia says. "I didn't know."
Another group – from Lancaster, Ohio – talked to him about attending Ohio University.
"I wasn't sure if that was the best thing for me," he says.
Diaz Mejia continued talking to people about the possibility of coming to Carroll, took the SATs, and sent his transcripts. Finally, he wrote the essay that's part of the enrollment application. Ultimately the Jesuits were the determining factor.
Then Fr. Snow contacted Robert L. Niehoff, S.J., the president of JCU about the Presidential Scholarship grant. That, and the American Values Scholarship, covered Diaz Mejia's tuition. Gesu Church covered his living expenses.
Diaz Mejia came to Carroll campus unseen, but he knew several families from Gesu, which helped him acclimate.
"Fr. Mike picked me up at the airport and drove me to the Koehler's house," he says. "I got sick with Dengue fever shortly after I arrived, but the Koehlers treated me so well that week, which brought me closer to them."
The Koehler family – Mike, his wife, Michelle, and their four children who live in Shaker Heights and belong to Gesu parish – was Diaz Mejia's host family, living with them his first year at Carroll.
"They became my mentors and understood it was difficult for me to be away from my family," he says. "They helped me develop a sense of family and deep personal relationships."
The summer after his freshman year Diaz Mejia participated in a service project, took classes at Georgetown University, and completed an internship in Washington. The summer after his sophomore year Diaz Mejia completed the Poverty and Solidarity internship program at JCU and interned at the public defender's office in Cuyahoga County. After his junior year, he completed the Public Policy and International Affairs fellowship at Princeton University.
"I need to make the most of my education here, so I was open to summer internships instead of returning home each summer," he says, acknowledging his interest in nonprofit, legal, and public policy work.
Even though those were Diaz Mejia's interests, he didn't know what he wanted to major in.
"When I sat down with Dr. [Lauren] Bowen, who's my academic advisor, she informed me I only needed six more classes to be a political science major," he says. "So that became my major, kind of as a default."
Diaz Mejia, who also will earn minors in economics and English, is interested in working for an international company or volunteer work.
"I love to travel and love languages and thinking about issues," he says. "I want to do something meaningful."
Diaz Mejia, who's the first person in his immediate family to attend college, says he never imagined all the opportunities he's had.
"I've visited the rooms of St. Ignatius in Rome, went to L.A., Nicaragua, and Puerto Rico," he says. "I've had great opportunities to travel to Spain and study at Georgetown and Princeton. I would never have had those opportunities had I stayed in Honduras. The Jesuits are a big part of my life now and how I look at the world." JCU
As part of JCU's 125th Anniversary celebration, we'd like to hear your road-to-Carroll stories. Please visit www.jcu.edu/125 and click on the "Share Your Story" box.
---
Leave a Reply