Oregonian finds her niche athletically and academically
By John Walsh
(Paths to Carroll. There are thousands of interesting stories about how students became part of the JCU community. Some made last-minute decisions; others knew well in advance because they were legacies. We look at how several students came to University Heights, from as close as Parma, Ohio, to as far away as Naivasha, Kenya. This story is one of four – the others are "Half way 'round the world," "Opening doors," and "Follow you, follow me" – that draws attention to the many different roads students travel to come to Carroll.)
It's not often John Carroll draws students from the West Coast. But thanks to a scouting trip by Erin Brooks, the women's softball coach, there are more people in suburban Portland, Ore., who know about the Jesuit university in Cleveland.
It was the Amateur Softball Association Girls' 18-Under National Championship in Las Vegas where Brooks met Natalie Rose, a talented softball player. After Brooks approached Rose, Rose told Brooks about her friend Mackenzie Griffin because, as high school friends and teammates, Rose and Griffin wanted to attend the same university and continue to play softball together.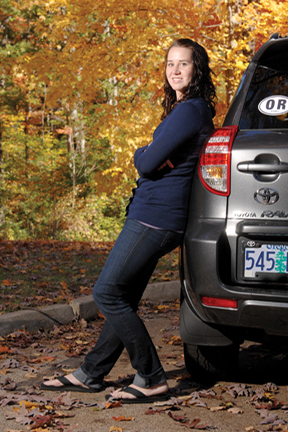 Griffin, 19, attended Lakeridge public high school in Lake Oswego, Ore., where she has lived since she was in the fourth grade after her family moved from the San Francisco Bay Area. She excelled in athletics – playing basketball, volleyball, and soccer in addition to her best sport, softball – and the classroom, averaging between a 3.5 and 4.0 grade point average while taking child development, anthropology and constitutional law classes.
During her junior year, Griffin started to think about where she wanted to go to college. She knew she wanted to play softball in college but didn't know how she was going to do that. During her senior year, she applied to the University of Oregon and Oregon State University.
"I was going to try and walk on at Oregon [where the majority of her high school classmates attend] even though the chances were slim," she says. "Even if I did make it, I knew I wouldn't play much."
At the beginning of the summer after her senior year, Griffin attended the orientation at Oregon, where she originally decided to enroll. But those plans changed. Griffin and Rose, who had played softball together since the sixth grade, started looking at community colleges in Northern California and Southern Washington because they wanted to play softball at the college level.
"Our moms drove us around, and we found two schools we liked," Griffin says.
But something else happened during that summer of 2009 that changed Griffin's future. In early August, she and Rose went to the ASA National Championship, where Brooks happened to be, too. Brooks encouraged the two girls to visit John Carroll, so, they flew to Cleveland to look at the University.
"I remember not wanting to go to school so far from home, but after I looked at the beautiful campus, I found it was a good fit," Griffin says. "And Coach Brooks was awesome. It's like we've known her forever. She answered all our questions about the school and campus life."
Another reason why Carroll felt right for Griffin is because her parents originally are from upstate New York and the houses and buildings around campus looked like where her grandmother and cousins live – in Albany and Buffalo.
"The campus is so pretty," she says. "It all clicked for me. I didn't overthink it. There was no debate [about whether to attend Carroll]. And Natalie felt the same way, but I wouldn't have felt the same way if she wasn't with me."
During their two-night visit to campus, Griffin and Rose met, and hit it off with, Julie Marlowe '10 (from Pittsburgh) and Erin Riccardi '12 (from Akron), who were both on the softball team at the time.
"They are so nice," Griffin says, acknowledging the four girls went to Pizzazz (a pizza place across from campus) and spent time by themselves to get an even more in-depth feel for campus life.
Also during the campus visit, Griffin's dad, Joseph, came out to meet Brooks.
On their plane ride back to Oregon after the campus visit, Rose and Griffin made their decision to attend Carroll.
"I'd always thought I'd go to a big school," Griffin says, referring to her applications to the two PAC-10 schools in her home state.
After deciding to come to Carroll, Griffin had thoughts about becoming homesick being so far away from her family. However, she didn't have much time to dwell on that because five days after returning home from the campus visit, she and Rose turned around and came back to Carroll the same week classes started for orientation. The girls' mothers came, too, to help them move in.
Naturally, Rose and Griffin roomed together their freshman year. One of the things Griffin had to get used to was the snow.
"It snows in Lake Oswego, but not nearly as much as it does in Cleveland; and when it does, it's a big deal," she says.
Once Griffin became settled, she started fall ball and practiced and trained throughout the year until the softball season started, which is right after spring break, when the team travels to Florida to play preseason games.
"I still felt a little homesick the first two weeks of school, but then a few girls from the team ran with Natalie and me, then we met the whole team and fall ball started," she says.
Griffin admits she wasn't as homesick as much as she thought she'd be during her freshman year. However, Rose became more homesick as the year went on.
"She has a big family and was used to seeing them all the time," Griffin says.
To help ease the homesickness, Griffin's parents came to visit her during Parents and Family Weekend, she went home for Thanksgiving and Christmas, and her parents traveled to Florida to see her play softball during spring break. Additionally, Griffin's dad came to the Ohio Athletic Conference tournament and surprised her.
This year, things are a bit different for Griffin. Rose decided not to return to Carroll for her sophomore year because she wanted to be closer to her family. For Griffin, the transition from freshman year to sophomore year was made easier because three of her friends from Carroll flew out to see her in Oregon, then they piled in Griffin's car for a seven-day road trip back to Cleveland, stopping at national parks, such as Yellowstone and Mount Rushmore, along the way.
"I kind of freaked out that I was going back to JCU alone, but I realized I had established friends here," she says. "My friends, who came out to see me, helped with the fact that Natalie wasn't coming back with me."
Griffin also is settling in academically, carrying a 3.2 grade point average. After thinking about majoring in physical education/health and then marketing, she's found her niche with a communications major and creative writing minor.
It's been a long journey, indeed, but one that's well worth it. JCU
As part of JCU's 125th Anniversary celebration, we'd like to hear your road-to-Carroll stories. Please visit www.jcu.edu/125 and click on the "Share Your Story" box.
---
Leave a Reply