Members of the John Carroll community come from all walks of life – from as close as right here in Northeast Ohio to as far away as Africa and Asia, from affluent families to those that are economically challenged. But no matter the background, all of us – students, faculty, staff, alumni and friends – come to Carroll and work diligently to help make the world a better place through learning and service.
The numerous journeys students take in joining the Carroll family tell me one thing is certain – we are attracting more students from outside the region. This year's freshman class is one of our most talented and diverse, with students from 35 states. In this issue of the magazine, we highlight a few of those interesting paths to Carroll. One of my greatest pleasures is seeing our students learn and grow in appreciation of the value of a Jesuit education. As alumni, you can also attest its value. I suspect you will relate to the stories in this issue as I did.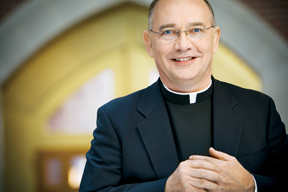 My own path to Carroll has taken me throughout the United States and the world, and several educational institutions on the West Coast, including other Jesuit universities. Since arriving at Carroll in 2005, I have worked to strengthen the University financially; develop a vision, mission, and core values that serve as a road map for the University, as well as develop initiatives central to recognizing the University as a center of learning and service. With academic excellence at our core, we are serving communities near and far. I feel truly blessed to be a part of the hard work and determination that generations of Carroll people have given to make our institution successful.
As we move through life and continue to experience meaningful journeys, sometimes we need to stop and remember our accomplishments and think about how we engage the world. The 125th Anniversary of John Carroll in 2011 is one of these important times to reflect and to celebrate – and it is time for our celebration to begin. Plans for our milestone anniversary year are highlighted on pages 22 and 23 in this issue.
As we celebrate the history of the University, please be sure to share your stories with us. What was your path to Carroll? How has the Carroll experience changed your life? Come home to Carroll in 2011 to be a part of our combined Commencement/Reunion or other anniversary events. But in the meantime, you can share your memories with us now by visiting the online guestbook and other interactive content on our recently launched 125th Anniversary website – www.jcu.edu/125.
The Carroll experience is one we all hold in high regard, knowing how it has helped shape our lives and impacted others throughout the world so positively. With God's grace, may we continue to serve Him and each other as we work to fulfill the mission of John Carroll University.
Blessings,
Robert L. Niehoff, S.J.
---
Leave a Reply