Women's athletics program celebrates 40th anniversary
By Chris Wenzler '90
For a university that enrolled only male students through its first 83 years, John Carroll University's transition to a co-educational institution in 1969 was sure to meet its pockets of resistance and moments of encumbrance.
The same could be said for its athletic department. A bastion of all-male sports since its inception in 1920, the John Carroll men's coaches and administrators would be asked – for the first time – to share its space, equipment, and time with a women's program.
Kathleen Manning '72G, Ph.D., was the person chosen to start the women's intercollegiate athletic program at John Carroll. She took the assignment knowing full well many obstacles were lying in wait, such as lack of locker rooms, transportation, and staff.
But where some people see challenges, others see opportunity. And, as 40 years of women's athletes at John Carroll can attest, Manning proved to be the latter.
Starting from scratch
Manning was hired in 1970 to teach women's physical education and formally was named the coordinator of women's athletics in 1974 by Fr. Henry Birkenhauer, S.J., who was the University's president from 1970-1980. Manning remembers a generally supportive atmosphere for her and the young women who wanted to play athletics. But she definitely had her hurdles.
"Traditionally, John Carroll athletics was an old boy's network," says Jerry Schweickert '60, a fellow coach and former standout athlete for John Carroll in the late 1950s. "She had to fight for everything she got."
But transforming an all-male university into a co-ed one is much easier said than done.
"There were plans for the academic programs and housing for women, but there was no strategic plan for women's athletics," Manning says. "This was not unusual at that time. The groundwork for women's athletics needed to be established and built with a respect for tradition, while creating new traditions."
Women's athletics timeline
1970-71 – Volleyball and basketball were initiated
1971-82 – Competed under the guise of the Association of Intercollegiate Athletics for women
1975-76 – Swimming and diving program started
1976-77 – Tennis program launched
1981 – The NCAA began sponsoring women's sports
1984 – The Presidents' Athletic Conference began sponsoring women's sports
1984 – Softball program began
1984 – Cross country program launched
1985 – Track and field program started
1989 – Soccer program instituted
1999 – Golf program began
An example at the time could be found in the structure of the well-organized men's intramural system. It was administered by the Iota Beta Gamma fraternity and had been in place for many years. Schedules were established, and teams were formed well in advance. To simply claim some type of domain would've been counterproductive, so Manning chose a more diplomatic approach.
"We practiced in the evening after intramurals that first year," Manning says. "By the second year, we had games at the same time as intramurals, and by the third year, intramurals were scheduled around women's athletic events."
It was that type of diplomacy that would win Manning more friends than enemies in those formative years of the women's program. Of course, if an opportunity arose to make change happen quicker, she was ready for that as well. Such an opportunity took place with the founding of the women's tennis team in 1974-75.
"The men's team practiced at 3:30, and the women couldn't have the courts until after the men," Manning says. "But in early spring, it was dark by 5:30, so the women practiced at 7 in the morning, indoors or out, depending on the weather. But when a new men's tennis coach came to John Carroll, I merely told him the men and women shared the courts for practice, and he agreed. So the men's and women's tennis teams each had three courts for practice on a daily basis from then on. I just waited until times were better, if that was at all possible."
The first sports
The first two women's teams, basketball and volleyball, began in 1970. It was a learning experience for everyone. The women were learning the five-player game in basketball, while volleyball had transitioned to power volleyball, so there was a huge learning curve for skill development. Additionally, the female athletes were learning about the role of the athlete in terms of commitment, responsibility, and organizing their time differently. Players would miss practice to take exams, finish term papers, and even to go on dates.
"If there was a big dance coming up, I didn't schedule anything," Manning says. "I was clear with the players that I'd continue to ask for additional resources as their commitment increased. It was a learning experience for everyone."
A primary area for growth was the development of a budget for uniforms, transportation, and food allowance. That didn't happen in the first two years, so the players wore gym suits and pinnies. Transportation often was Manning's Pontiac LeMans.
"The point of it all was to compete, and the spirit of the girls was enthusiastic," Manning says.
Anne Conway '72 – member of the JCU Alumni Board, 2009 Alumni Medal Recipient, and a member of the first women's basketball team – recalls practicing at 10 p.m. after the men were done and using the bathroom to get changed because there was no women's locker room. For games, the team wore blue T-shirts with numbers made out of masking tape. They played as badly as they looked.
"We were awful," Conway says. "I wouldn't want anyone to know the scores of those games."
The important thing was the women were competing. If they had waited for everything to be perfect, they would have had a much slower start and wouldn't be as far as they are today.
"The program was built on the determination and the spirit of females willing to practice and compete with minimal advantages," Manning says. "It was a developmental process."
Volleyball and basketball went through identical growing pains because they were the first two teams. By the time tennis was introduced in 1974-75 resources had improved, and they continued to improve throughout the development of the women's programs.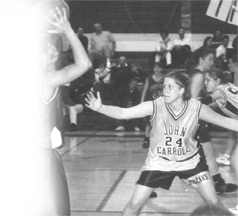 Perhaps one of the seminal moments for the development of the women's program was when one of the most established of the men's coaches stepped across the proverbial aisle.
"In the fall of 1981, I was completing my doctoral program and writing my dissertation," Manning says. "Jerry Schweickert decided he would help me out. He was the athletic director, physical education chair, and baseball coach at the time he decided to join women's volleyball. He stayed as my assistant for nine years and continued with Gretchen Weitbrecht until he retired from coaching. I'm always thankful he accepted that role."
Schweickert had limited knowledge of the game but brought other talents to the table.
"His spirit and belief about pride, tradition, commitment, not complaining, and looking for the good in yourself meshed well with my own personality," Manning says. "Jerry watched from the sidelines during the first 10 years of women's athletics, but once he made a commitment to the program, it was unwavering. The women's program is better for his willingness to give of himself and have first-hand involvement."
Competitive programs
In the spring of 1975, women's tennis began a competitive schedule, followed by women's swimming and diving in the early 1980s. Tennis was similar to volleyball and basketball in terms of the makeup of the team.
"Players responded to an announcement that we were going to have a team," Manning says. "We didn't have recruiting at that point in women's athletics."
Patrice McCauley Hulseman '80, who was one of the first members of the tennis team, recalls a laid-back atmosphere that was more about putting together a team and getting the chance to play than be subjected to tryouts.
"During my freshman year, we showed up and just started hitting balls, but I don't remember having to play a match to get on the team, which sounds kind of funny now," says Hulseman, who's married to JCU Hall of Fame swimmer Paul Hulseman '82 and parents of Michael Hulseman '12 and Sean Hulseman '13.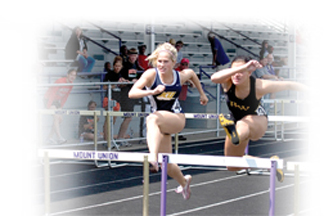 Yet there was clear evidence women's athletics was starting to be taken more seriously and making strides.
"It was the little things," Hulseman says. "We had a few perks that were a big deal back then, such as the free Tretorn tennis shoes and vouchers for meals after matches."
Manning still has a plaque on her wall from the 1978 team. It reads: "To the person who saw the skill and ability in us and developed it, who encouraged, put up, and stayed with us. But most of all believed in us and in what we could do."
Validation
In 1970, only a handful of women played in the first two women's sports that were formed – basketball and volleyball. Initially, they played an independent schedule, then moved to organized programs within the Western Reserve Athletic Conference and the Ohio Association of Intercollegiate Sports for Women. Beginning in 1984-85, the women had a conference affiliation for competition in the Presidents' Athletic Conference.
One of Manning's long-term goals was for John Carroll women to join the Ohio Athletic Conference. With Athletic Director Tony DeCarlo '66G on the same page, John Carroll filed for membership, and it was approved in time for the 1989-90 academic year. JCU has been a member of the competitive league ever since.
The women's programs in the OAC represented standards Manning used as her models while building the women's programs at John Carroll.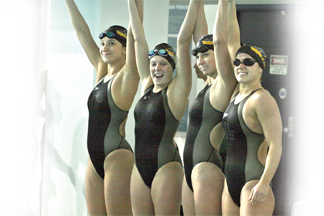 "Being the only female in John Carroll's athletic department, I had no points of comparison, so Marcie French at Baldwin-Wallace and Sheila Wallace at Ohio Northern [pioneers in intercollegiate athletics for women] became early models for our women's programs. When Fr. Lavelle [president of John Carroll from 1988-1995] announced John Carroll would join the OAC, I was very pleased."
As Manning reflected on the fact she had accomplished what she initially had set out to do, she also sensed it was time for a change.
"I competed for one year in the OAC, but at that point I knew my job was finished," she says. "It was time for someone else to take over and continue the women's program."
Looking back, Manning cherished the years she coached, despite the struggles.
"I loved working with the girls," she says. "That was my only priority: What could I do to make their world and women's athletics better. The plan was to always move forward, look good, and keep getting better. We were blessed with supportive male students, Dr. Jim Lavin, who continually supported my requests for increases in necessary resources, and Fr. Henry Birkenhauer, S.J., who was my constant support building women's athletics. I can't imagine what might have been if Fr. Birkenhauer hadn't been the president. I was fortunate."
Celebrating 40 years
Looking back at 1970 offers an interesting athletic landscape to view. What started as two programs now has increased to nine – six of the nine have captured league titles. Hundreds of student-athletes have earned all-conference recognition, almost 40 have earned All-American status, and a select few have garnered national titles.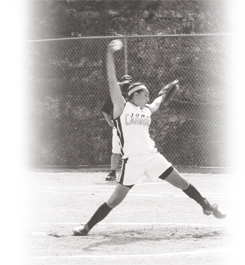 There are 21 female athletes who've been inducted into JCU's Athletic Hall of Fame. At the Hall of Fame dinner, which took place Sept. 24, the new inductees included three female athletes, and the 1993 women's volleyball team, which was the first women's team to qualify for an NCAA tournament.
Rita Braun '81, an All-American diver in the late '70s and early '80s, was one of the first five women to receive the Hall of Fame honor. She competed on the men's team for a year before a women's team was formed.
"My diving career was fantastic," says Braun, who lives in Whitefish, Mont. "I still think about it fondly."
For Braun, diving was more than just an athletic passion: It helped pave the way for her to earn an education. The men's swimming and diving coach at the time, Ron Zwierlein, and Fr. Birkenhauer helped her obtain an academic scholarship that paid for many of her expenses.
"For me, going to John Carroll was a life changer; and it wasn't being on the diving team so much as it was attending and graduating from a really great university," Braun says.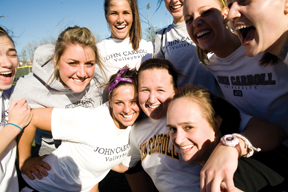 At the 40th anniversary milestone, Manning is proud of what women's athletics has accomplished, and she's confident women's athletic programs at John Carroll will continue to flourish.
"For me, the heart and spirit of women's athletics from the beginning to the present will always be the female athletes," she says. "Regardless of challenges we faced, it was always worth it. Because of the women who pioneered the programs, and the female athletes who continue the tradition currently, women's athletics at John Carroll continues to grow and prosper."
Conway, now a chief U.S. District judge in Florida, says she has fond memories of her playing days and feels proud she helped pave the way for women's sports at JCU.
"We had a good time, and I think we showed the University women belonged there," she says. "If we wanted to do it, we went and got it done."
For more information about JCU's women's athletic programs, visit www.jcusports.com.
---
Leave a Reply