JCU's ROTC program is committed to training leaders who serve the world
By Elaine Yetzer Simon
For any relationship to last decades, there must be a shared foundation and shared goals. John Carroll University and the Reserve Officers' Training Corps, who, this year, are celebrating their 60th year together, are based on service and leadership.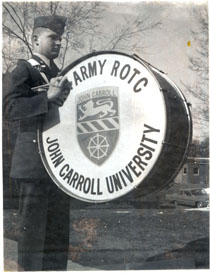 "One of the great things about John Carroll is we talk about service to others as part of the University's mission," says Lt. Col. Donald Hazelwood Jr., professor of military science, battalion commander, and leader of John Carroll's ROTC program. "If you think about the Army, it's really service to others as well. In this case, it's service to the nation. It ties closely together."
ROTC and John Carroll work hand-in-hand to train students to look outward.
"The mission of the University is to engage the world, as well as serve the common good," says Lt. Col. John J. McCluskey Jr., executive officer and assistant professor of military science. "ROTC is a service organization where it's not all about you. It's about what you can do to make the world a better place. By serving the people of the United States and our elected officials, you're doing your part to make the world a better place."
ROTC timeline
1950 – ROTC started at John Carroll University and is mandatory for all freshman and sophomore students.
1951 – Pershing Rifles started on campus.
1964 – ROTC Vitalization Act of 1964 authorized financial assistance in the form of scholarships.
1968 – JCU became a coed university.
1972 – Women were permitted to join ROTC.
1973 – U.S. Army became an all-volunteer force.
1974 – JCU made ROTC participation voluntary.
1976 – JCU commissioned its first female cadet.
1978 – After having been affiliated with the Transportation Corps, the ROTC program was redesignated as a General Military Science program
1985 – John Carroll's old Military Science building was razed and the department was relocated in a new building, which was later named the D.J. Lombardo Student Center
1986 – The Military Science unit became known officially as the Wolfpack Battalion.
1986 – A Ranger Company was established on campus, and members took part in Ranger Challenge skills competition.
ROTC is important because West Point can't produce the number of officers needed by the Army: 75 percent of Army officers are commissioned through ROTC programs.
"A Carroll graduate, and the education that a Carroll graduate receives, is extremely important for service to your country and our Army," says Rick Schmitt, a 1972 graduate of John Carroll's ROTC program who served as professor of military science from 1991 to 1994. "The emphasis on service, morality, ethics – all that's so important for a young man or woman who's going to be a leader in our Army and be responsible for other men and women."
Schmitt retired in 1994 with the rank of lieutenant colonel.
ROTC and JCU train students in the great ideas of man, says Pete Bernardo, who was commissioned out of John Carroll's ROTC program in 1967 and was professor of military science from 1983 until 1988. He retired as a lieutenant colonel in 1988 and currently is the University's director of planned giving.
"They're taught ethics here, and ethics is a keystone in the military," Bernardo says. "You need young men and women who don't consider life cheap and who understand the capabilities they're in charge of, of the power they have."
Looking back
When Fr. Frederick Welfle, S.J., president of John Carroll from 1946 to 1956, asked the Army to establish an ROTC program at the University in 1950, John Carroll was an all-male institution, and all students were required to complete the first two years of ROTC. When the University went coed in 1968, that rule had to be dropped because women weren't allowed to join ROTC until 1972. Students had the option of taking physical fitness classes instead of ROTC.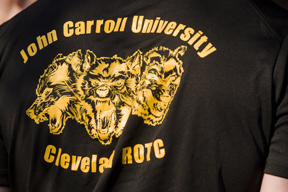 Currently, students can complete the first two years of the ROTC program without committing, or contracting, to the Army. To complete the final two years, however, cadets must commit to the active Army, the National Guard, or the Army Reserves. Cadets are commissioned as second lieutenants. There are 74 cadets in the program this year, and 41 are contracted, according to Hazelwood, who expects two more to contract this year.
John Carroll's program has one partner school, Cleveland State University, and six affiliate schools: Ursuline College, Case Western Reserve University, Notre Dame College, Oberlin College, Hiram College, and Baldwin-Wallace College.
Originally, all the officers commissioned from John Carroll entered the Transportation Corps branch of the Army, but nowadays they can serve in any branch of the Army. When women were permitted to join ROTC in 1972, they went into the Women's Army Corps when commissioned, but their opportunities have expanded, as well. During the 1980s, they could enter the regular Army except for the combat arms. During the late '80s and early '90s, they were permitted in certain combat arms. Currently, they're fully integrated in the Army. There are 12 female cadets.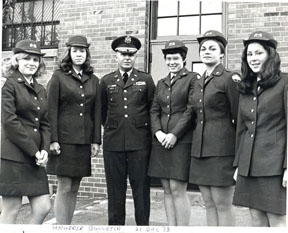 "A woman who enrolls in ROTC at John Carroll will serve just like a man," Bernardo says. "It opens a different career path for women, who have done as well as the men in the military."
The Pershing Rifles, a student group composed of top-tier ROTC cadets, was started in 1951. One of the group's jobs is to serve as color guard at various events.
The best of times
Those involved in the program cite the current setup as a high point in its history. The way ROTC is set up now and how the Army has redesigned itself results in leaders that are more impressive in many ways, says George Vourlojianis '70, who John Carroll commissioned as an officer 40 years ago. Vourlojianis completed his Army service as a first lieutenant and now teaches a class about American military history in the University's history department that junior and senior cadets are required to take. He's also the faculty advisor for the University's Pershing Rifles chapter.
"Because of smaller numbers, there's more time to devote to develop them into good leaders and ethical officers," he says. "There's more hands-on training and hands-on exposure to many things the Army just didn't have time for before. There's more sensitivity to changing society."
The notable graduates the program has commissioned are high points for McCluskey, the most notable being 1976 graduate Carter Ham, who's one of only 11 four-star generals in the Army currently. Ham is the commander of U.S. Army forces in Europe and is co-chairing a group researching the implications of changes in the "don't ask, don't tell" law. In September, he was nominated to head U.S. Africa Command.
"They go out in the Army, do their duty, and do it with distinction," McCluskey says. "They're doing the right things every day to the best of their ability."
The fact so many former professors of military science stay in touch with John Carroll proves the program and University are top-notch.
"Our kids know it's a special place, and even the cadets at our affiliates, they come here, and they know they're getting the best training we can afford," Hazelwood says.
The worst of times
During 60 years on campus, the program has had its low points. The lowest point was during the riots at Kent State University in 1970, according to Bernardo.
"We had a lot of kids on campus who were antiwar at the time," he says. "None of them were violent, like Kent State, no one was demonstrating or causing a problem. But it did boil over because of the closeness of Kent State to our campus."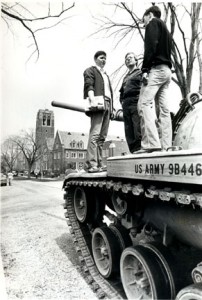 Someone threw an incendiary device into the boiler room, thinking it was the ROTC building, and cow's blood was thrown around at the time, Bernardo says.
Vourlojianis agreed the Vietnam era was a difficult time for anyone associated with the military.
"It was a reaction to the unpopularity of the war as it dragged on," he says. "That resulted in a lack of University and campus support, hard feelings – intangibles in many ways."
That didn't change completely until another violent event occurred.
"When Vietnam started, we were a very patriotic country," Vourlojianis said. "We weren't the cynics we are today. Vietnam helped start that cynicism. What really turned it around was the stun, the shock of 9/11. People tended to become more collegial after 9/11."
Schmitt's time as professor of military science was challenging, too.
"Our entire Army was downsizing after Desert Storm, and the requirement for 7,000 new officers annually was approximately cut in half," he says. "In response, the Army began closing officer-producing ROTC programs at colleges and universities across the country. There was well-founded concern the ROTC program at JCU would be one of those closures."
But with continued support from the University, hard work by an extremely small program cadre, and a superb group of high-quality junior and senior cadets, the program continued. The program commissioned 11 officers in 1994, Schmitt's last year as professor of military science.
Looking ahead
Hazelwood predicts the program will have 120 cadets in three years. He plans to do that by targeting students at the local community colleges.
"People aren't aware we have ROTC in Cleveland," he says. "Think about it. Well over a million people live in the Cleveland area. Why not come to John Carroll or one of our partner campuses? That's why we have to get the word out."
Hazelwood expects to commission 11 officers in May of 2011 and as many as 15 in May of 2012. Five were commissioned in May of 2010.
Having the ROTC at John Carroll is a nice tradition, Bernardo says.
"We tend to pride ourselves on trying to get out students to engage the world, and it's another way they can do that," he says. "It helps a bunch of students get an education they probably couldn't get any other way. And it's good to know we have John Carroll graduates in the service."
The cadets in the program are proud to be at John Carroll and in ROTC.
"They like being here, and they want to be Army officers," Hazelwood says. "That's the kind of kid we want. We're excited about the program, where it's been, and we're definitely excited about where it's going to go." JCU
---
Leave a Reply