Third down, eight yards to go. The Atlanta Falcons offensive line hunkers down, waiting for the center's snap. An eye-blink later, the ball is in motion, and so is the playing field. A swarm of invading Carolina Panthers linebackers are pushed away for precious milliseconds as the Falcons' quarterback drops back, scans the Georgia Dome playing field, and guns a corkscrew pass 20 yards into the outstretched hands of a running back, who has just enough time to pull down and hug the ball before a Panther yanks him to the ground.
First down! The home-field crowd cheers while David Caldwell '96, the Falcons' director of college scouting, watches the action with a satisfied smile. Several athletes involved in that play were once collegiate players he scouted, scrutinized, and recommended to team officials as solid draft picks. Yet Caldwell, 36, humbly refuses to take sole credit for any acquisitions.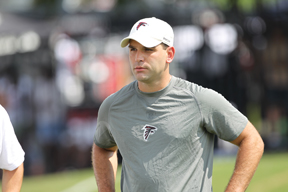 "Drafting players is a team effort," he says. "There's not a lot of patting ourselves on the back. Scouts don't keep score, like, 'I got six right this year, and you only got two right.' Besides, we never go with just one person's opinion. Several people check out the players. I tend to remember my mistakes, only because I want to learn not to make the same mistakes again."
Caldwell, who oversees an 11-person staff that includes eight scouts, spends as many as 150 days a year away from his Atlanta-area home visiting colleges, watching games, and talking to athletes, their coaches, team trainers, and academic advisers. Extensive research is part of creating a psychological evaluation of every potential draftee. While athletes' physical skills always draw attention, not every talented collegiate has the emotional maturity to adapt to the high- pressure NFL lifestyle.
"A player represents a multimillion-dollar investment for the team," Caldwell says. "The two keys I look for are his passion and perseverance. Then I ask myself, 'Is this a guy I'd like to play with?' and 'Would I want to be his teammate?'"
The biggest turn-offs are a lack of work ethic and selfishness, Caldwell says, adding that he doesn't like to see players who put personal goals above team goals.
Born in Buffalo, N.Y., Caldwell grew up a die-hard Yankees fan who loved playing football in high school. His hard-nosed style of play attracted former JCU head football coach Tony DeCarlo '66G, who recruited the linebacker for the Blue Streaks. While at Carroll, Caldwell chose to pursue a business degree.
"I felt the business school was the best in the area," he says. "I went to John Carroll knowing I'd never be a pro football player. I was average at best. But I loved the game, and Coach DeCarlo became one of my mentors, along with Frank Navratil, Ph.D."
Navratil is the former dean of the John M. and Mary Jo Boler School of Business who's currently a professor of economics in the Department of Economics and Finance.
DeCarlo, who retired from coaching in 2003 and now is JCU's director of athletic development, remembers Caldwell as a solid football player.
"He was probably not big enough to be looked at by the NFL, but he worked hard on the field and was a great competitor," DeCarlo says. "He brought a great work ethic to the team."
The two-year letterman was on the team that won the 1994 Ohio Athletic Conference title.
"That was one of the most exciting moments and greatest achievements I've ever experienced, beating Baldwin- Wallace in the last game of the season to win the title," Caldwell says. "We started the year with the goal to win the conference, and we did it."
Also on that team were Caldwell's roommate, Greg Roman '94, who's the offensive coordinator at Stanford University, and Chris Polian '93, the vice president and general manager of the Indianapolis Colts. Polian encouraged Caldwell to enter professional sports. After Caldwell graduated with a B.S. in business administration with a finance major in 1996 (Boler grads receive a BSBA, Bachelor of Science in Business Administration), Polian helped him secure a position with the Carolina Panthers as a scouting assistant. Two years later, Caldwell and Polian went to work for the Colts, where Caldwell scouted the Midwest and West Coast regions. He left in 2008 to head the Falcons' scouting department.
As the Falcons head back to the field after halftime, Caldwell collects his belongings because he's leaving to catch a flight to check out a defensive end who's leading the PAC-10 in sacks.
"I'm having a great time with this," he says. "I'm lucky to be doing what I'm doing in a wonderful organization with terrific leadership."
– Benjamin Gleisser
For a complete list of alumni who have played or worked in the NFL, visit
www.jcu.edu/umc/media.
---
Leave a Reply