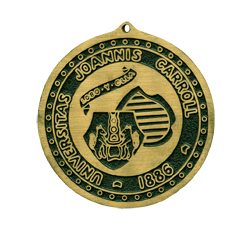 Alumni Awards
The John Carroll Alumni Association is seeking nominations for the 2011 Alumni Medal and Campion Shield. Nominations are due Friday, Feb. 4, 2011. The Alumni Medal recognizes an individual's accomplishments in her/his profession, exemplary family and personal life, contributions to her/his community, and dedicated service to the University. The Campion Shield recognizes bravery on the part of a member of the John Carroll community. To nominate a deserving alumna, visit www.jcu.edu/alumni or call the office of alumni relations (800-736-2586, ext. 4336) to receive a nomination packet by mail.

Athletic Hall of Fame
The Blue Gold Club is accepting nominations for the Athletic Hall of Fame class of 2011. Nominations can be made only online at www.jcusports.com/HOF. Candidates are classified as athletes, coaches/administrators, or honorary. Teams also can be nominated as a single entity. To qualify as an athlete, a person must have graduated at least 10 years ago. To qualify as a coach or administrator, a person must have served the University in that capacity for a minimum of 10 years. There's also an honorary category in which the person must be deemed to have made a significant impact on the athletic program in any capacity. All nominations for the 2011 Athletic Hall of Fame must be submitted by Feb. 18, 2011. Any nomination received after this date will be entered into the pool of candidates for the class of 2012.
---
Leave a Reply