Almost 50 years of teaching at John Carroll has its perks. Perspective on life, for instance. And a nice, corner office in the Dolan Center for Science and Technology. For Robert J. Kolesar, Ph.D., mathematics professor with 47 years of service to the University, it's all this and more: pride, heartbreak, joy, home.
Kolesar looks very much at home in his office. He's surrounded by his life's work – walls lined with books, shelves stacked with folders, blocks and dominoes for an elementary education math course – even all his grade books from throughout the years, which he calls a way to look back at students.
He speaks with pride about former students who were equally smitten with mathematics and became teachers. Some have even already retired. One former student, Paul Schick, has added Ph.D. to his name and is now a valued Carroll colleague.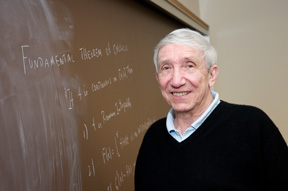 "When I find students who are good in mathematics, I encourage them to become mathematicians because someone has to replace us someday," says Kolesar, who started as a Latin and Greek major at Xavier University, where he picked up a math major on the side. The Lakewood native began his Jesuit education at Saint Ignatius High School in Cleveland.
Kolesar receives e-mails every so often from alumni. One former student, now an engineer, recently wrote to say how valuable his problem-solving course was.
"It taught him to think outside the box," the math veteran explains.
When asked to share a little-known, personal anecdote, he says he's been quite a serious bicyclist since the early 1990s. What started as a vacation activity one summer with daughter, Allison (JCU class of '94), grew into a 4,000-mile-a-year avocation with several other serious bikers at Carroll. He speaks of the heartache over losing colleague, fellow cyclist, and a best friend – biology professor Miles Coburn, Ph.D. – in a biking accident last summer.
"Miles and I created something called the 'Tour de Bob,'" he says. "We left from my house, biked across town to the MetroParks in Rocky River, then around the Emerald Necklace to the North Chagrin Reservation, and back home – about 80 miles."
Soon, the Tour may need to add a tricycle division to accommodate the grandchildren de Bob. Almost 3-year-old Joshua and 3-month-old Kaylin are the newest loves of his life. It's difficult to say who he's more proud of, the grandkids, his daughter now in grad school, or Mona, his wife of 42 years and an artist, whose sculptures adorn the walls of his office. One thing's for certain: After 47 years on campus, this long-time Carroll institution doesn't show signs of slowing down any time soon.
– Marcia Aghajanian
---
Leave a Reply