If you took French as an undergraduate at John Carroll University, perhaps you will recognize your former French professor, Hélène Sanko, Ph.D. With her professional work in France and her 48 years at JCU, she approaches 50 years of teaching French language, literature, and culture. In addition to basic courses, she developed and taught various advanced courses about art, business, Africa, and "La Francophonie" (French-speaking countries), and Franco-Italian relations. She took students to France and Martinique where they met the eminent writer Aimé Césaire. She founded the JCU chapter of the French National Honor Society, Pi Delta Phi.
Born in Paris, Sanko attended the Sorbonne and concurrently the Ecole Nationale des Langues Orientales Vivantes. She came to Cleveland as a bride and enrolled at Western Reserve University, completing a Ph.D. in 1972.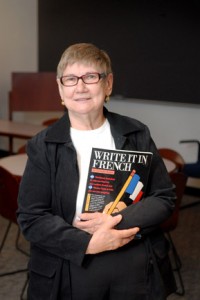 Her career at Carroll began in 1962 when the University was still all male. She became a National Endowment for the Humanities scholar and participated in summer seminars at the Lilly Library at Indiana University, Bloomington, and at the Immigration History Research Center of the University of Minnesota.
As a member of the American Association of Teachers of French (AATF), she was an invited member of the Test Development Committee of the AATF National Competition (Le Grand Concours) and elected director in 2000. About 100,000 students nationwide participate yearly.
Sanko also is a published researcher/reviewer in the AATF scholarly magazine, The French Review.
Sanko is a humanist; her two favorite centuries are 16th/Renaissance and 18th/ Enlightenment. Denis Diderot and the French Encyclopédie are at the center of her interests.
"Encyclopédie articles and plates – today accessible through the Internet – offer a bank of knowledge available to anyone," she says. "Students have direct access to centuries-old, primary research material from their own computers. Their findings find venue in the John Carroll University Celebration of Scholarship held yearly in March.
"The role of a teacher is to inspire students to be passionate about their studies," she adds. "For a French teacher, it also involves researching careers that require the use of French. Her former French students are employed in a variety of fields, including the military, as teachers and translators, editing French software, and in international banking and business. Several others work in private art galleries or museums, as well as in international travel, real estate, and law.
Sanko and her husband, Slavko, have three children, two of whom are JCU alumni: Vicky '85, Paul '86, '95G, and Nadia (University of Pennsylvania, '98). Vicky completed her M.A. in business at Loyola University and lives in Chicago with her husband, John, and their three children: Jenna (19), Lauren (17) and Devin (10). Paul lives and works in Cleveland. Nadia is in California, where she's completing a Ph.D. in Spanish and Portuguese at UCLA.
---
Leave a Reply