By John Walsh
Organizations need to adapt to the world, one that's globalizing quickly. The Society of Jesus, and specifically the institutions of higher education around the globe, are no exception. The Society is actively addressing the challenges of globalization and how it affects the future of Jesuit higher education, including John Carroll University.
This past spring, representatives from about 200 Jesuit institutions worldwide met in Mexico City at the Jesuit Universidad Iberoamericana. Robert L. Niehoff, S.J., president of John Carroll University, and John Day, Ph.D., academic vice president, represented Carroll at the conference. The theme was "Networking Jesuit Higher Education: Shaping the Future for a Humane, Just, Sustainable Globe." It was only the third such meeting in history. Previous Jesuit higher education conferences of this scale took place in 1985 and 2000.
"Fr. Paul Locatelli, S.J., was the driving force behind the conference," says Fr. Niehoff, about the secretary of higher education for the Society of Jesus in Rome who also served as the president of Santa Clara University. "He put quite a bit of time and effort into it and deserves a great deal of credit."
Fr. Locatelli, who passed away in July after a battle with pancreatic cancer, will be remembered for his visionary leadership.
Superior General of the Society of Jesus, Fr. Adolfo Nicolás, S.J., delivered the conference's keynote address titled: "The Depth, Universality and Learned Ministry: Challenges to Jesuit Higher Education Today."
The Jesuit community has an extraordinary opportunity to help shape, or redirect, the future of Jesuit institutions and the world through networking within its global system of institutions, Fr. Nicolás says.
The challenge of globalization for the mission of Jesuit higher education needs to be answered by each institution, but it also calls for a common and universal response drawn from various cultural perspectives from Jesuit higher education as an apostolic sector, Fr. Nicolás says. The three distinct challenges are:
• Rediscovering and implementing a new universality in the Jesuit higher education curriculum.
• Promoting depth of thought and imagination in learning.
• Renewing the Jesuit commitment to learned ministry.
According to Fr. Niehoff, the greatest of Fr. Nicolas' challenges to us is to rediscover the original universality in Jesuit education in a way that allows us to innovatively – and with a real global sense – deliver core curricula and majors for today's student. For example, how might we establish commonalities in core literature courses whether they're taught in Delhi, India; Guadalajara, Mexico; or Cleveland?
Words of wisdom from Fr. Adolfo Nicolás, S.J.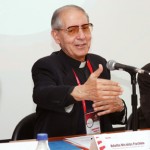 More and less
To illustrate the benefits and the danger of technology in education, Fr. Nicolás shared an anecdote from the mid-1990s, when he was serving as provincial in Japan: "A couple of Jesuit professors from Sophia University told me, 'The Internet is wonderful. You get so much information so quickly and easily.' And at the same time, each said, 'But I have to confess that now I read less, I think less, and I spend less time discerning what to do.' If professors say this, what can we say of the students?"
Why don't we meet
"I am sure you know cases like I do, of young men who connect through the wireless telephone and make friends that way. They have several friends like that around – they never meet, but they always talk on the phone. Then suddenly, one good day, one of them feels like they are not going deep enough and suggests, 'Why don't we meet?' At that instant, the other one ends their contact because meeting brings problems. Therefore, we keep relationships at the superficial level. This is a very serious flaw in our modern relationships."
Believe in something
"A professor of philosophy in the United States told me that, among his students, he prefers to have a convinced Communist, a convinced atheist, or a convinced Muslim rather than those who have no convictions, for whom everything is the same – because they cannot learn philosophy. They have nothing to protect, nothing to engage into discussion, nothing to put them on a situation of learning. Everything is equally irrelevant."
Furthermore, how might a group of 200 Jesuit institutions conduct a global project about sustainability with faculty from schools on various continents participating as a part of the larger group? This particular example was raised in Fr. Niehoff's small group discussion at the conference.
When it comes to promoting depth of thought and imagination, service can be a key ingredient.
"It's easy to get excited about service for service's sake, but almost any institution can do that," Fr. Niehoff says. "John Carroll is about reflecting on service for learning. We don't do service strictly because it's nice or because other institutions do it. It's about learning from those you serve. It's about moving from men and women for others to men and women with others."
Depth of thought and imagination needs to happen in and out of the classroom.
"Everything we do is about learning – including athletics, campus ministry, and service," Fr. Niehoff says. "I've asked our talented Carroll community to be even more imaginative when it comes to teaching and learning. We want to be creative. The core curriculum, our majors, campus ministry, housing, facilities – all aspects of the University community need to come together to make the John Carroll experience more global, interdisciplinary, and imaginative for students."
The third challenge, renewing learned ministry, especially in higher education, is a value in and of itself.
"We're doing the right things at John Carroll that fit into the global scope of Jesuit higher education, but we need to go deeper," Fr. Niehoff says. "We need to take advantage of our worldwide network more to enhance learning on all Jesuit campuses."
The University, which already sends students on immersion trips throughout the world, has been a leader in the AJCU Consortium on Study Abroad, which aims to align study abroad for students more consistently with the Jesuit mission and identity. Additionally, Dr. Day says Carroll plans to send students to Australian Catholic University to study. (Currently, students study abroad in Australia, but Australian Catholic University, which isn't a Jesuit institution, aligns with Carroll's values more closely and will provide a new study abroad option.)
Looking ahead, Fr. Nicolás encourages Jesuit higher education institutions to:
• Study the emerging cultural world of students more deeply and find creative ways to promote depth of thought and imagination – depth of reflection and learning can be transformative.
• Work toward operational international networks that will address important issues touching faith, justice, and ecology that challenge institutions across countries and continents.
• Search for creative ways to share the fruits of research with those excluded from society.
• Renew a commitment to the Jesuit tradition of learned ministry, which mediates between faith and culture.
The meeting also focused on non-Jesuit leaders of Jesuit schools. To put that into perspective, the number of Jesuits has declined from 22,850 in 1995 to about 18,250 currently. As a result, Jesuit institutions need to increase their efforts to better educate, prepare, and engage lay collaborators. For example, Carroll provides the home for the Ignatian Colleagues Program. ICP, which is directed by Ed Peck, Ph.D., is a collaborative venture of 24 Jesuit colleges and universities. More than a half dozen staff and administrators, including Dr. Day, have participated in the 18-month program, which deepens their understanding of Ignatian values through study, spiritual development and an immersion program.
"We want to work with people who can use their Jesuit education to make a difference in the world," Fr. Niehoff says. JCU
To read more about the conference and Fr. Nicolás' entire speech, visit www.uia.mx/shapingthefuture.
---
Leave a Reply