By John Walsh
John Carroll University has a solid reputation for preparing educators. And it's that reputation that influenced the Woodrow Wilson National Fellowship Foundation and the Ohio Board of Regents to award JCU a grant to participate in the prestigious Woodrow Wilson Ohio Teaching Fellowship. The Fellowship seeks to attract talented, committed individuals with backgrounds in science, technology, engineering, and math (STEM) to teach in high-need Ohio high schools.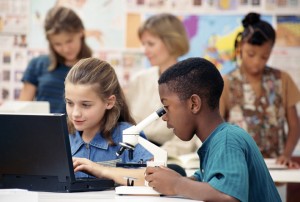 John Carroll is the only private school in the state that's part of the Ohio program and only the second private school to be part of the prestigious national program.
The Fellowship program is designed to transform teacher-preparation programs and bring new talent into classrooms to address significant shortages of math and science teachers. The objective is to educate Ohioans for STEM teaching roles in high-need urban and rural public schools. Fellows of the program receive a $30,000 stipend to help cover the cost of their education.
Here's how the Fellowship works: As part of their commitment to ensuring the success of students in these schools, Fellows teach for at least three years in an urban or rural school district. Continuing as a teacher of record is contingent on a Fellow completing a master's degree and obtaining an appropriate Ohio teaching license.
Eligibility
The fellowship is open to college seniors, graduates,
and career changers who:
Demonstrate a commitment to the program and its goals.
Have U.S. citizenship or permanent residency.
Have attended an Ohio college/university and/or resided in Ohio for at least 12 consecutive months.
Have attained, or expect to attain, a bachelor's degree from an accredited U.S. college or university by June 30, 2011.
Have majored in and/or have a strong professional background in a STEM field.
Have achieved a cumulative undergraduate GPA of 3.0 or better on a 4.0 scale (negotiable for applicants from institutions that don't employ a 4.0 GPA scale).
"We're not creating enough science teachers and students," says Brendan Foreman, Ph.D., associate professor and chair of John Carroll's Department of Education and Allied Studies, and associate professor in the Department of Mathematics & Computer Science. "Something is wrong in science education, but it's difficult to say exactly what it is. Most teacher education programs are too bland and generic."
Eligible applicants for the first cohort of Fellows include current undergraduates earning a degree by June 30, 2011, recent college graduates, mid-career professionals, and retirees who've majored in, or had careers in, STEM fields.
The Woodrow Wilson Foundation, with support of Ohio Governor Ted Strickland and Eric Fingerhut, Chancellor of the Ohio Board of Regents, administers the program, which is funded by the State of Ohio, George Gund Foundation, Cleveland Foundation, Martha Holden Jennings Foundation, GAR Foundation, The Battelle Fund at the Columbus Foundation, and Battelle Memorial Institute. Additionally, JCU has committed University matching resources to advance the success of the program.
The theory behind the Fellowship, which is the signature program of the Woodrow Wilson Foundation, is that small numbers (teachers) make big differences (impact on many students) within states. The program is in its second year in Indiana and first year in Michigan and Ohio. The Fellowship aims to build collaboration within the states with the governor, universities, school districts, elected officials, teachers, businesses leaders, unions, and philanthropists.
"We want to work with universities to transform math and science teacher education," says Arthur Levine, Ph.D., the sixth president of the Woodrow Wilson National Fellowship Foundation (2006-present). "We want to build a model program."
"The Woodrow Wilson Foundation and its president, Arthur Levine, are very well known," says Mark Storz, Ph.D., JCU's associate dean of Graduate Studies in The College of Arts and Sciences, and associate professor in The Department of Education and Allied Studies. "To be affiliated with the foundation and attract competent Fellows is important to us."
Program specifics
The clinically based program allows Fellows to leave the college classroom and spend as much time with students as possible.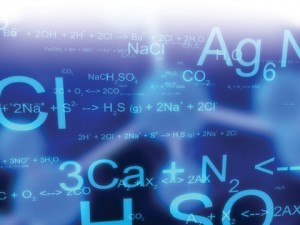 "We've already shown we can do a clinically based program," says Mark Waner, Ph.D., JCU's project director of the Woodrow Wilson Ohio Teaching Fellowship and associate professor of chemistry. "We needed to go back and think what a program like this looks like in the 21st century."
"Our school-based master's program already had that," Prof. Storz says. "This was the type of model Woodrow Wilson was looking for. Whatever work we do is meant to be cutting edge, not business as usual. This will be used as a lens to review our other three teacher-preparation programs."
Internally, the education department will work with the science departments, which allows for better communication and effectiveness. The ongoing program will be housed in the JCU Department of Education and Allied Studies.
It should take Fellows about one year to earn their teaching license and master's degree. After that, JCU will provide three years of mentoring.
"Our mentoring piece is in addition to Ohio House Bill 1, which requires districts to mentor new teachers for four years," Prof. Waner says. "And hopefully, Fellows can network together and help each other."
"This is an opportunity to prepare teachers for the realities of urban education," Prof. Storz says.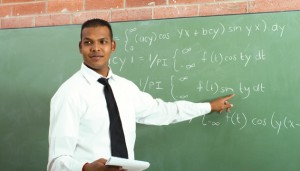 "Teachers need to know how they fit in the community, and community focus doesn't come out enough in most teacher education," Prof. Foreman says. "We want these teachers to be able to transfer the community focus elsewhere."
As project director, Prof. Waner will manage the program's development. This summer, John Carroll came up with a curriculum framework, then it will design the modules or courses.
"We're getting away from using the term 'course' because, for example, maybe there's an intense module that lasts a week or two that's worth one credit," he says. "We want to design a flexible curriculum because different schools are involved and there are different Fellows with different backgrounds."
Moving along
The application process to become one of the first cohort of the Woodrow Wilson Ohio Fellows started June 15; and of the four rounds, the decision for the first two will be made Dec. 23, and the decision for the second two will be made April 6, 2011. The Foundation determines the pool of candidates, and JCU will review them March 20, 2011. The University will confirm the Fellows and let the Foundation know by April 3. Then in May, Carroll will announce the Fellows, who will come to campus in June 2011.
"Woodrow Wilson has a good reputation for selecting top-notch people," Prof. Waner says.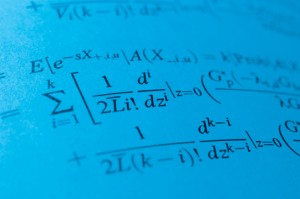 The program's effectiveness will be assessed by a third party, the Urban Institute in Washington, in four ways:
 The number of Fellows.
 How effective they are.
 Their retention as teachers.
 Persistence in growth/further expansion.
Everything about the program in Indiana is looking very good after the first year heading into the second, Dr. Levine says, acknowledging one tweak that was made in Ohio and Michigan after learning from Indiana: The school districts and universities needed to work more closely together.
The Foundation has secured funding, and the Ohio state legislature approved funding for planning this year and for 20 Fellows next year. Funding for a second and third cohort the following years is in the works.
From the beginning
The Fellowship started in Indiana a couple years ago when Dr. Levine was introduced to its governor, Mitch Daniels Jr., by the governor of South Carolina, Jim Hunt. They discussed the idea, and Gov. Daniels wanted to try it. After hearing about the program in Indiana and Michigan, Ohio invited the Woodrow Wilson Foundation to discuss the Fellowship.
The award
The Fellowship includes:
A $30,000 stipend.
Admission to a master's degree program at one of four participating Ohio universities.
Preparation in a high-need urban or rural secondary school.
Support and mentoring throughout the three-year teaching commitment.
Guidance toward teaching certification.
Lifelong membership in a national network of Woodrow Wilson Fellows who are intellectual leaders.
"Even if all 50 states wanted us, we couldn't do it because we didn't have enough funds," Dr. Levine says. "The Carnegie Foundation gave us $1 million to start, but we ran into costs we didn't anticipate."
From a national perspective, the White House selected Ohio, Michigan, and Indiana to participate in the Woodrow Wilson Teaching Fellowship as part of the "Educate to Innovate" campaign as part of President Barack Obama's priorities.
For Carroll, participating in the Fellowship process began two years ago with an invitation to submit a proposal by the Woodrow Wilson Foundation based on JCU's tradition of excellence of preparing teachers.
"We've been doing this work for a long time, and we have a solid reputation for success in the community," Prof. Storz says.
Dr. Levine was part of the team that chose the universities to partake in the program. The foundation chose Cleveland as a school district to help, so it looked at universities in the area. The criteria were:
The university's track record.
Its leadership.
Its commitment to its education program.
Its resources.
"John Carroll seems a perfect match for the Cleveland schools," Dr. Levine says. "We're eagerly looking forward to working with John Carroll."
Universities
John Carroll University
The Ohio State University
The University of Akron
The University of Cincinnati
Partners
Cleveland Metropolitan School District
Columbus City School District
Akron Public School District, Canton City Public Schools
Cincinnati Public School District
"The program strengthens our bond with the Cleveland Metropolitan School District," Prof. Foreman says. "We should be allowing them to utilize our services as much as we can."
The Fellowship is a wonderful opportunity for CMSD to advance its work in STEM education, according to Eric Gordon, chief academic officer for the CMSD.
"John Carroll University's past strong relationships with the district make this an exciting partnership," Mr. Gordon says. "CMSD looks forward to working with JCU to prepare high-quality, 21st-century teachers."
Prof. Waner hopes the program brings attention to Carroll and boosts its reputation for science and math.
"This is a good place to become a science or math teacher, especially in an urban setting," he says. JCU
For more information about the teaching fellowship, visit:
---
Leave a Reply