As the weather cools and the leaves turn, we are in the early weeks of another exciting academic year at John Carroll University. As we plan our 125th anniversary events for 2011, this is an appropriate time to reflect on the University's past and think about its bright future. One of the signature anniversary events will combine Commencement and Reunion May 20-22, 2011. Details about our year-long celebration will be available this fall on the JCU Web site, on our Facebook page and in upcoming issues of this magazine.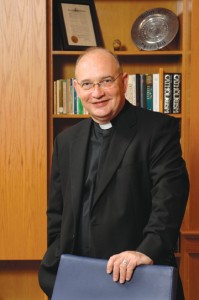 In August, U.S. News & World Report released its "Best Colleges 2011" issue, and John Carroll again ranks No. 7 among universities that grant master's degrees in the Midwest. This is the 22nd consecutive year we have placed in the top 10. I am pleased with the rankings; however, it is the character and success of our graduates that I truly celebrate.
Our students come first at John Carroll – and it's gratifying the rankings highlight their hard work and the commitment of our faculty to inspire minds and nurture dreams. Today's global and economic challenges may be different, but our goals remain the same: provide a quality education, graduate students on time, and develop leaders who will make a difference in the world. John Carroll has always taken our education to the world through our graduates. Now we are much more focused on bringing the world to the undergraduate experience.
Earlier this year, John Day, Ph.D., academic vice president for the University, and I traveled to Mexico City. The Rev. Adolfo Nicolas, S.J., the Superior General of the Society of Jesus, convened an international conference for the leaders of all Jesuit higher education institutions. The inspiring global conference included a presentation by Father General about the challenges Jesuit universities like John Carroll face. We need to expand our understanding and deepen our experience of the distinctive global character of Jesuit education. This can be accomplished through our service activities and study abroad opportunities with other Jesuit universities. We also need to renew our commitment to higher education by preparing more Jesuits for this important work.
We are doing the right things at John Carroll to meet these challenges and position ourselves for success in the future. For example, our cover story highlights new academic opportunities. Three new majors and a new minor all have an interdisciplinary and global approach. The Woodrow Wilson Fellowship feature showcases another example of how John Carroll is transforming science and math education in high-need urban school districts such as Cleveland.
I am mindful that many of our students' educational experiences could not happen without the generous support of our alumni, friends, and loyal benefactors. As such, I wish to thank you for investing your time, energy and financial resources in your alma mater. Your gifts help to inspire minds, transform lives, and enhance the highly regarded reputation of John Carroll University. I am grateful for your continuing support.
Blessings,
Robert L. Niehoff, S.J.
---
Leave a Reply