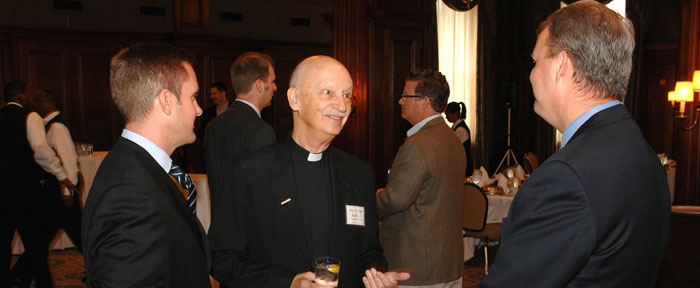 Magis Advisory Group – John Carroll University's Professional Advisory Group for Advancement & Planned Giving
Background:
Magis (pronounced "màh-jis") is a Jesuit phrase that means "the more". It is taken from Ad majorem Dei gloriam, a Latin phrase meaning "for the greater glory of God". Magis refers to the philosophy of doing more for others.
Purpose:
The Magis Advisory Group ("MAG") was created to invite accounting, legal, financial, insurance, real estate and other professionals to advocate for John Carroll University ("JCU"). Members of this prestigious group will assist JCU in fulfilling its mission as a Jesuit Catholic university to inspire individuals to excel in Learning, Leadership and Service, by providing experienced guidance and expertise. MAG members will assist the University Advancement staff, become active participants in upcoming JCU campaigns, and serve as leaders to further advance planned giving efforts, visibility and reputation with their clients and in the community at large.
The approximately 100 members of the MAG will focus on advocating for JCU. The JCU Advancement Committee will facilitate coordination between the JCU Board of Directors and the MAG. The volunteer MAG Chair will have an ex-officio seat on the JCU Advancement Committee.
Membership:
Members must have a passionate interest in the mission of JCU, a keen desire to see it thrive, and a commitment to strongly advocate on its behalf. Membership will include accounting, legal, financial, insurance, real estate and other advisory professionals in their own communities who are JCU graduates, parents or friends, and those who have an interest in JCU's success.
Member Benefits:
Ongoing name recognition on the JCU Planned Giving website.
An annual listing in the JCU Magis newsletter (distribution to over 15,000 readers).
Feature stories in the JCU magazine.
Invitation to spring and fall MAG events.
Invitation to the annual late spring Magis Legacy Society Liturgy & Luncheon.
E-mail updates on breaking major JCU news items.
Member Assistance:
Become a knowledgeable and informed JCU advocate.
Offer constructive ideas and a sophisticated vision.
Communicate the strengths and opportunities of JCU to outside parties.
Seek opportunities to help JCU. (i.e. referring students/internship opportunities, etc.).
Solve problems that may arise and intercept criticism.
Bring information and ideas from outside sources.
Act as a resource to faculty, leadership, and advancement staff.
Act as an ambassador for JCU throughout the year in the community.
Assist with structuring planned gifts to JCU.
Participate actively in the MAG events.
Identify potential donors within their community.
Give financial support and seek it from others.
Benchmark JCU against other similar institutions to help improve performance.
Conclusion:
MAG members will lend their considerable talents, expertise and valuable time to a most worthy cause: securing the future of JCU. Members will gain immense personal satisfaction in leaving their imprint on this remarkable university.