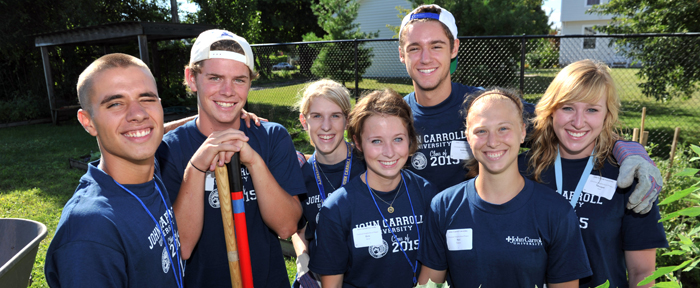 Overview
The Leadership Scholars Program is focused on developing student leaders of remarkable character who seek to become agents for transformative change on campus and in their future professions and communities.This program dismisses the idea that only individuals in formal positions are leaders.
Leadership scholars are required to participate in four years of academic and co-curricular activities, while maintaining a 2.0 GPA. The director of the Leadership Scholars Program will advise students each semester on how to meet the necessary program requirements such that the student can meet the obligations of the scholarship and graduate from JCU in four years. This program allows students to study and/or travel abroad, but the scholarship may not apply to all study abroad programs (see Center for Global Education for additional information).
Outcomes
After completing the Leadership Scholars Program, students will:
have an increased level of self-knowledge;
understand how leadership is exhibited in various contexts;
articulate how experiences in and out of the classroom contribute to their leadership competence;
apply their strengths and values to create positive change; and
be familiar with the skills necessary to be leaders in their chosen professional fields.
Background
Unique in design and scope, the Leadership Scholars Program affords students an opportunity to connect academic coursework and co-curricular experiences in a way that builds the leadership capacity of individuals, student groups, and the undergraduate population. To aid in the students' leadership development, the Leadership Scholars Program offers a cohort-based program that complements classroom learning by helping students live out JCU's values, fully participate in co-curricular experiences both on and off campus, and connect with others interested in advancing our mission, vision, and values. Interdisciplinary by design, the Leadership Scholars Program inspires students to confront the numerous challenges of our time. The Leadership Scholars Award is designed to support the mission of John Carroll University as a Jesuit Catholic institution.
The award is a scholarship designated for those students with high potential to have an impact on the John Carroll community and the world around them. Scholarships are awarded to students who have expressed and/or exhibited a serious interest in, and capacity for, developing their leadership capabilities. Each year, up to 50 first-year students will be selected through a highly competitive process for the Leadership Scholarship, which is valued at $5,000 per year for four years.
Students maintain their eligibility for the scholarship by committing to participate in the academic and co-curricular activities of the Leadership Scholars Program. This program is designed to promote continual development in the area of leadership. Financial need and academic/career field interests are not criteria for selection into the program. As such, students in this program come from different backgrounds, exhibit a range of academic performance, and their scholastic interests represent a variety of academic areas of study. While some students might have held formal leadership positions in high school, this program is designed for students who are interested in further developing their leadership knowledge and skills by applying what they have learned from past experiences to solving problems both on the JCU campus and beyond.